Round Ligament Pain During Pregnancy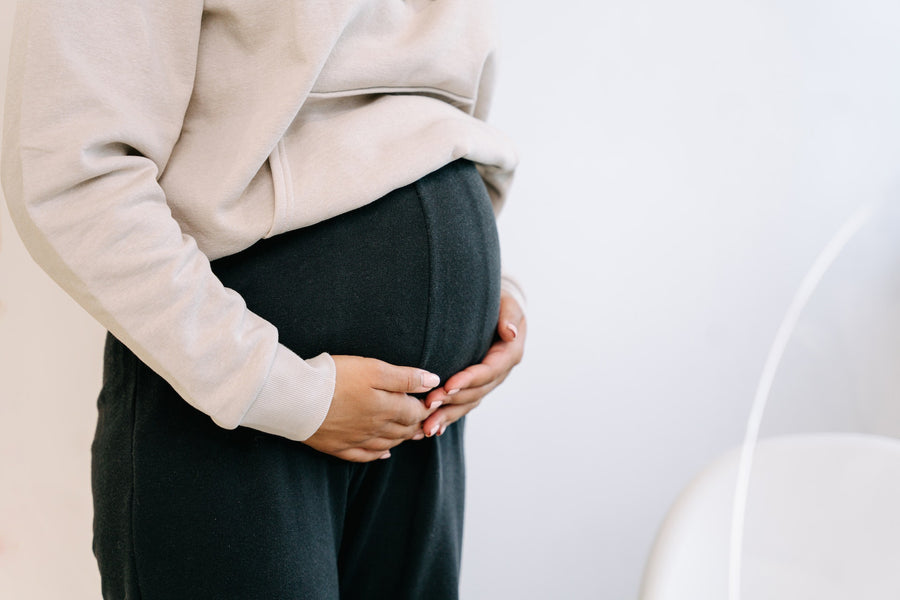 By Dr. Kenosha Gleaton, OBGYN
Round ligament pain is a common and normal sensation experienced for a few weeks to a few months. It is thought to impact up to 30% of pregnancies and is often seen during the second and third trimester. [1] Here's an overview of round ligament pain during pregnancy. 
What Is Round Ligament Pain?
The round ligaments are two ligaments on either side of the uterus. Each of these ligaments is about 10 to 12 centimeters long and together they help hold the uterus in place by connecting the uterus to the pelvis. [2] During pregnancy, the round ligaments increase in diameter and length to adjust to the growing uterus. [3] Round ligament pain is a common complaint during pregnancy and is characterized by uncomfortable sensations in the abdomen area. 
What Causes Round Ligament Pain?
As pregnancy progresses, the body begins to prepare and adjust to a growing baby. As a fetus continues to grow in the womb, the uterus and round ligaments supporting the uterus will begin to stretch. [2-3] Higher levels of progesterone during pregnancy also aid in this smooth muscle relaxation. The stretching and contraction of the round ligaments can cause uncomfortable sensations across the abdomen. 
What Does Round Ligament Pain Feel Like?
Round ligament pain has been described as aching, cramping, stabbing, or a pulling sensation. [2] The pain can be felt in the abdomen, near the hips, or in the groin area. The pain can occur on both sides of the body or just one side of the body, and may last for a few seconds at a time to a few hours. [2-3] Some people report the pain worsening after moving suddenly, such as when coughing, laughing, sneezing, and standing or sitting quickly. [1-3]  Learn more about cramping during pregnancy → 
When Does Round Ligament Pain Start and End?
The onset of round ligament pain can vary from person to person, but it most often begins towards the end of the first trimester and beginning of the second trimester. [1] Round ligament pain can continue throughout the duration of pregnancy but often will resolve after delivery. Postpartum round ligament pain is possible but is not common. [3] 
Preventing and Treating Round Ligament Pain
So what can be done to relieve round ligament pain? Fortunately there are a few different options for pain relief. Many people will also have relief after delivery as the uterus and ligaments reduce to their normal state. [3] 
Warm Compresses and Rest
Resting is one of the best remedies for round ligament pain. If you are experiencing discomfort or cramping, get off of your feet and allow yourself to rest for a bit. Using a warm compress on the area can also be helpful for relieving pain. Natalist offers a calming drink powder, Magnesium Plus, which also supports restful sleep and muscle relaxation! [4-5] Learn more about magnesium for relaxation. 
Pain Medication
Some over-the-counter medications can be helpful for reducing round ligament pain. Acetaminophen is considered safe during pregnancy and is the most prescribed analgesic for round ligament pain. [3] Speak to your healthcare provider before taking any new medications.
Avoiding Certain Movements
Research shows that certain movements can trigger or worsen round ligament pain. Do your best to avoid sudden movements, prolonged standing, and heavy lifting. [2-3] If you are changing positions or about to sneeze or cough, brace yourself and move as slowly as possible. Some people find that leaning forward before laughing, sneezing, or coughing can help prevent pain. [3] 
Stretching or Swimming
Stretching can be extremely useful for reducing any cramping or pulling sensations caused by the round ligaments. Try bending and flexing your hip joint through various exercises. Swimming is another way to relieve pressure on your ligaments and joints. [6] 
Support Your Bump
There are ways to support your bump that may prevent or relieve round ligament pain. Consider getting a belly band to support the bump, or brace your bump yourself when standing or doing certain activities. Maternity belts or elastic bands can be very helpful for relieving pressure on your ligaments and joints. 
Read How to Safely Manage Pregnancy Symptoms for more information. 
When Should I Be Concerned?
Even though round ligament pain is a very common occurrence during pregnancy, it can be unsettling to feel any sort of pain, cramping, or aching sensation in the abdomen. You should always speak to your healthcare provider if you have any concerns about the health of yourself or your baby. Additionally, there are some warning signs you can look out for [2]:
Vaginal bleeding or abnormal discharge
Contractions
Fever or chills
Feeling faint 
Nausea or vomiting unrelated to morning sickness
Severe pain that does not resolve after resting
Difficulty walking
Pressure or pain in the lower back
If you are experiencing any of these symptoms, you should speak to a medical provider right away. 
Support Your Pregnancy With Natalist
Whether you're pregnant for the first time or the fourth time, pregnancy can lead to unexpected symptoms. If you're experiencing round ligament pain, prioritize relaxation with Natalist self-care products like Magnesium Plus, Nausea Relief Tea, Belly Oil, and more. Want to learn more about pregnancy? We've got you covered on the Natalist blog. 
References:
Zachariah SK, Fenn M, Jacob K, Arthungal SA, Zachariah SA. Management of acute abdomen in pregnancy: current perspectives. Int J Womens Health. 2019;11:119-134. Published 2019 Feb 8. doi:10.2147/IJWH.S151501
Round Ligament Pain. Cleveland Clinic. July 2021. URL. 
Chaudhry SR, Chaudhry K. Anatomy, Abdomen and Pelvis: Uterus Round Ligament. [Updated 2022 Jul 25]. In: StatPearls [Internet]. Treasure Island (FL): StatPearls Publishing; 2023 Jan-. Available from: https://www.ncbi.nlm.nih.gov/books/NBK499970/
Arab A, Rafie N, Amani R, Shirani F. The Role of Magnesium in Sleep Health: a Systematic Review of Available Literature. Biol Trace Elem Res. 2023;201(1):121-128. doi:10.1007/s12011-022-03162-1
Blancquaert L, Vervaet C, Derave W. Predicting and Testing Bioavailability of Magnesium Supplements. Nutrients. 2019;11(7):1663. Published 2019 Jul 20. doi:10.3390/nu11071663
Alkatan M, Baker JR, Machin DR, et al. Improved Function and Reduced Pain after Swimming and Cycling Training in Patients with Osteoarthritis. J Rheumatol. 2016;43(3):666-672. doi:10.3899/jrheum.151110
Shop Products From This Article
Extra 10% off your first delivery when you subscribe with code SEPT23
$95 $85