Christine Liu on Sustainable Living and Ways to Reduce Your Environmental Footprint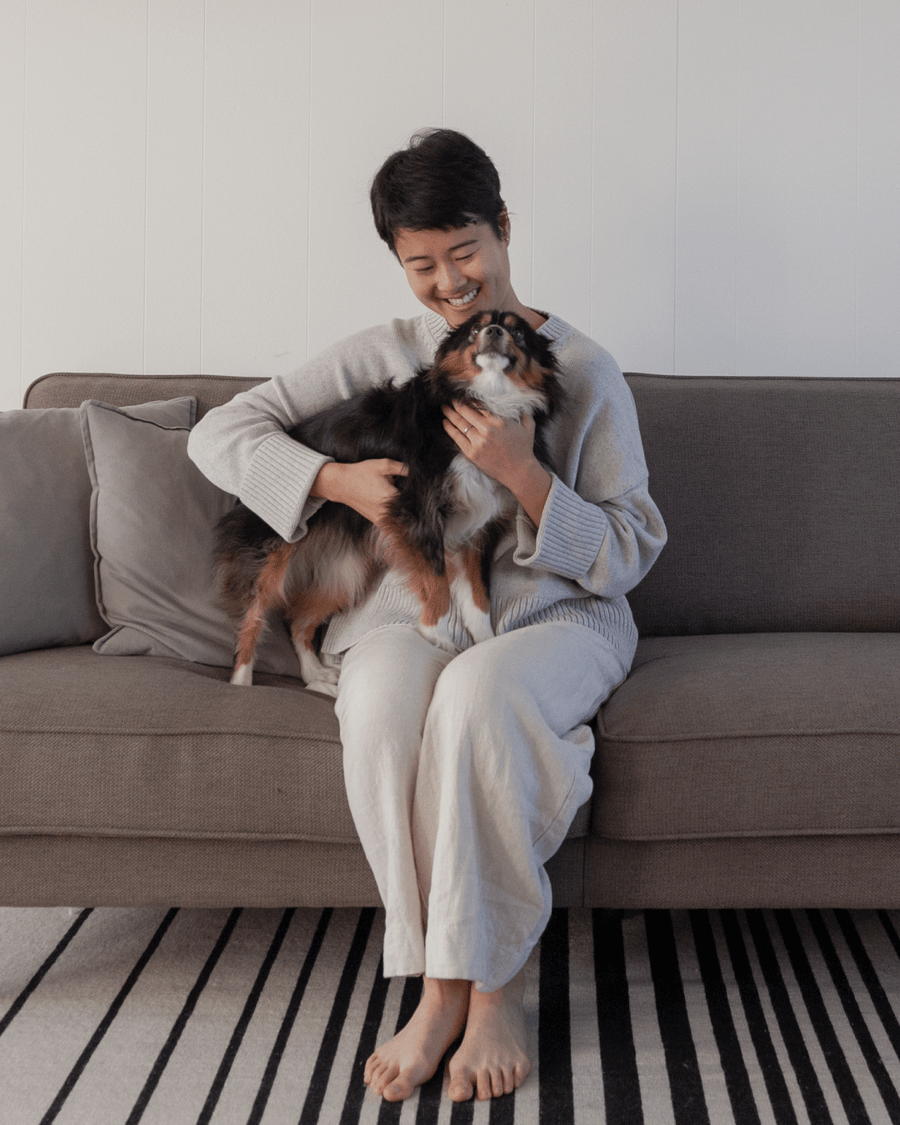 Tell us a little bit about yourself.
I'm a California-based freelancer, creating online content on my blog 'simply by christine,' which focuses on all things slow, simple and sustainable. I've also authored the book Sustainable Home, which is a great primer for anyone new to sustainable living. Outside of my work, you'll find me baking quite a bit, as my husband and I are starting up a new venture called Christine's Cookie Co, artisan cookies made from organic, local ingredients!
Check out Christine's blog simply by christine or follow her on Instagram at @simplybychristine.
What inspired you to start your journey in sustainable living?
I was always interested in how I could make a positive impact in my career, but my journey all started when I was studying packaging engineering in college. It opened my eyes to understand how consumeristic the United States had become, as well as wasteful as packaging would be thrown away within minutes or seconds of use. After studying plastics and understanding their negative impact on our health and the environment, my heart sank even more as a sustainability lecturer mentioned that Americans make up 5% of the world's population, but produce about 40% of the world's waste. It was clear to me that I had to do something to spread awareness about the issue of waste in this world.
Why is sustainability such an important part of your lifestyle?
Sustainability has always been marketed as a way to help protect the planet, but it is a way to protect ourselves and also the people around us. As everything is interconnected, it's so important to be a bit more conscious about the effects our everyday habits and products have.
Are there any misconceptions about sustainable living that you think are important to discuss?
Unfortunately, sustainability has become a marketing trend and often pressures people to buy new things instead of being resourceful and using what they have already. While I love the fact that the movement has grown and there are now alternatives to single use plastic products, it's important to remember that using what you have is the most sustainable option. We can't buy our way out of climate change.
You specialize in sustainable home and lifestyle practices. How might you further translate this mindset for those with children or thinking about having children?
There are three things that come to mind when I think about sustainable living and children.
First, being resourceful. Instead of buying new, consider secondhand clothing, toys, etc. We live in a culture of excess so it's very easy to find gently used items for your children.
Second, choosing products that are safe for your children, and the planet. We want our children to grow up healthy, using products that are safe for their bodies. Oftentimes, this is directly translated into eco-conscious products that are made without harmful chemicals and ingredients. If you have the budget, consider investing in child-safe, eco friendly products such as sunscreen, shampoos, and more.
Lastly, education. It's so important to educate your children when they're young about why you're living more sustainably. I often teach students about zero waste living, and it's amazing to see their creativity and ability to question the status quo. Getting our kids to appreciate the world and environment around them is a great way to help them get involved in your sustainable efforts at home.
Does your commitment to sustainability impact how many children you might want someday?
In some way it does—knowing that children have a large carbon footprint is definitely a reason why environmentally minded folks plan to have no kids at all. However, there's nothing wrong with having children, and if you do plan on having kids, you could be raising a future changemaker that could help better the world! My husband and I are praying about what it would look like to foster or adopt a child first, as it's something I'm quite interested in doing, but I know he's excited about having a mini-me someday.
🌎 Shop Plastic Neutral Fertility and Pregnancy Products
What advice might you have for those who are looking for ways to reduce their environmental footprint?
There are so many ways to think a bit more sustainably in your everyday life, but here are a few starting points!
Refuse non-essential purchases that you don't need for at least 30 days. Keep it in that online shopping cart or wish list. You may find that you're perfectly content without that product after the month. When we refuse the things we don't need, we're reducing the demand for newly manufactured materials and goods, and reducing our consumption of the planet's resources.
If you're looking to reduce waste, start small. The next time you throw something away, see if there's a zero waste alternative.
Learn about what your local government is doing in regards to sustainability. How are they handling waste reduction? Are they bettering public transportation alternatives? How about alternative energies? Get involved, and see what you can do to better the community you live in.