CoQ10 for Egg Quality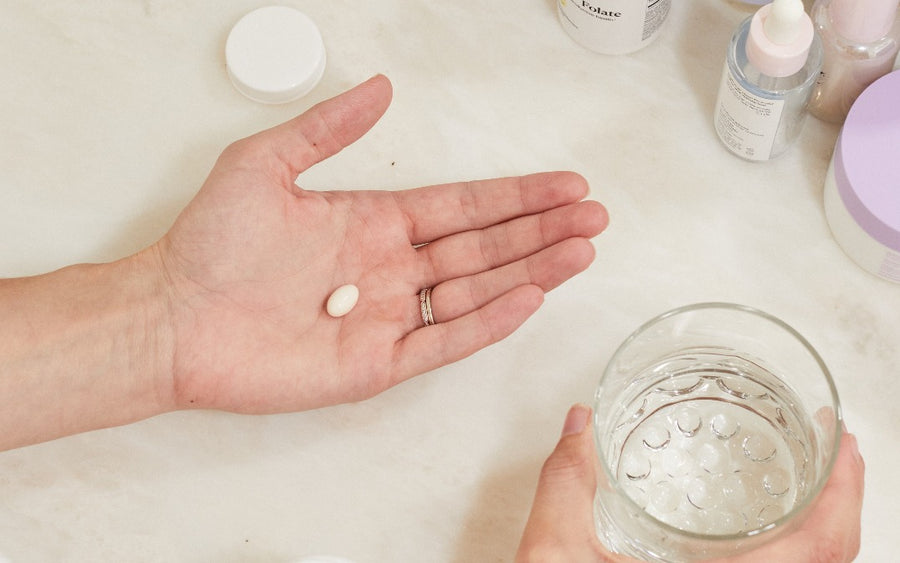 Throughout your internet travels on various TTC forums and blogs, you've probably seen a mention or two about taking fertility supplements like CoQ10. But what exactly is CoQ10? And what does it have to do with those who are TTC? We sat down with OBGYN Dr. Kenosha Gleaton to find out.
Coenzyme Q10, oftentimes referred to as CoQ10, is a powerful antioxidant naturally found in the body and in many food sources. Also known as ubiquinone, CoQ10 is an essential component of cells needed for energy production. It is produced by the body and aids in the growth and maintenance of cells.
CoQ10 has shown a great deal of promise for those experiencing infertility, being linked to improving egg health, reducing oxidative stress, and providing overall fertility support.1 Although better quality and larger human studies are needed, CoQ10 represents little risk, has few side effects, and will likely improve overall health parameters beyond fertility. Here are the most common questions I get about CoQ10 fertility benefits and function.
Is CoQ10 an Antioxidant (and What Does That Mean Anyways)?
CoQ10 is an antioxidant. Antioxidants are substances that protect cells from molecules known as free radicals—which are thought to contribute to heart disease, cancer, stroke, and other age-related illnesses. Antioxidants are also found naturally in many foods including fruits, vegetables, beans, whole grains, and legumes.
Who Is CoQ10 Recommended For?
In the fertility world, we generally recommend Coenzyme Q10 for patients who are suspected to have diminished or low egg quality or ovarian reserve. Women with endometriosis also might find some benefit from it.2 As we get older, our levels of CoQ10 diminish, and we think it is a critical component of keeping eggs healthy. And when you are pregnant, helping those cells to divide and grow appropriately. For this reason, a CoQ10 supplement can sometimes be recommended when it comes to pregnancy and female fertility.
How Much CoQ10 Should Be Taken in a Dosage?
CoQ10 is widely recommended for various ailments in different quantities ranging from 100mg - 1,200mg daily. And while research on this powerful antioxidant has been steady over the last 60 years, there is no universally-accepted dosage for fertility enhancement. Most recommendations suggest 100-200mg per day for age related infertility.
It's a good idea to check with your fertility specialist, OBGYN, or reproductive endocrinologist (REI) regarding whether a specific dosage may best benefit your particular condition. Also, a thorough fertility test can help in this aspect.
Does CoQ10 Enhance Mitochondrial Function in the Egg?
Although studies are limited in human models, a promising study in 2017 evaluated whether CoQ10 levels within oocytes or eggs affect embryo quality and function.3 Higher CoQ10 levels within eggs were associated with better quality embryos, improved embryo function, and higher pregnancy rates.3 The results of this study were statistically significant, indicating that this difference is not simply due to chance.
Is It True That CoQ10 May Improve IVF Outcomes?
A challenging patient scenario for reproductive endocrinologists involves women who are poor responders to ovarian stimulation for IVF fertility treatment. Many of these women receive high doses of injectable drugs in attempts to stimulate their ovaries to produce sufficient eggs for treatment.
A recent meta analysis —a study combining multiple smaller studies—was performed on women who were poor responders in order to evaluate the effect of additional treatments on ovarian response.4 With more than 6,000 women included, this study provides robust clinical support that adding CoQ10 to IVF regimens can increase clinical pregnancy rates and reduce the amount of injectable drugs needed to stimulate ovaries, making it a promising tool for fertility preservation.4
Can Men Benefit From CoQ10?
Since male factor infertility ranges from 30-50% amongst infertile couples (read more on this in our Guide to Male Fertility), it's important to take a comprehensive approach when looking at fertility. CoQ10 has shown promise for enhancing both male and female fertility.
In a meta-analysis published in 2018, researchers concluded that CoQ10 supplementation resulted in better sperm motility along with improved sperm concentrations and sperm count.5 For infertile men dealing with a low sperm count or poor sperm quality, this could be an important addition to their supplement regime. And to no surprise, there's no universally accepted dose; however, most studies support anywhere from 100 mg/day6 to 300 mg/day.7 Men should ask their reproductive endocrinologist or urologist about adding Coenzyme Q10 supplementation to their regimen and their optimal dose.
Our Prenatal for him contains 200 mg of CoQ10 per serving, a dose that could help improve overall reproductive health.
A Powerful Antioxidant
CoQ10 is a powerful antioxidant naturally found in the body and in many food sources. The benefit of this antioxidant stretch to egg and sperm health. It has shown a great deal of promise with the potential to affect various female and male fertility parameters in those experiencing infertility. Although better quality and larger human studies are needed, CoQ10 represents little risk, has few side effects, and will likely improve overall health parameters beyond fertility.
When selecting which CoQ10 supplement is right for you, focus on choosing one that is easily absorbed, highly bioavailable, and free of preservatives and artificial additives.
Sources:
Shop Products From This Article