How to Pick a Good Fish Oil for Pregnancy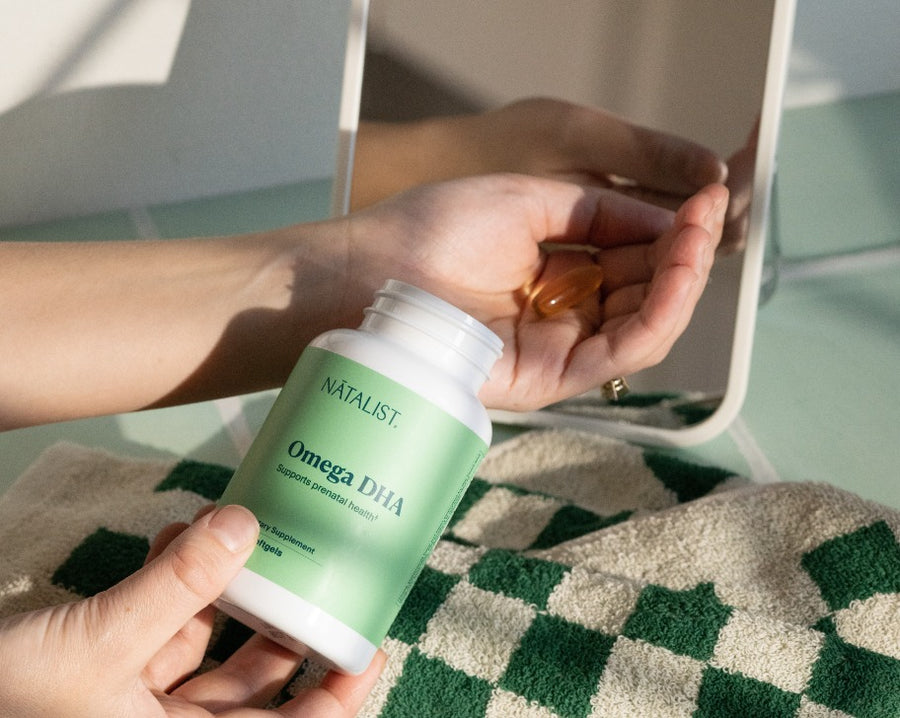 Fish oil contains many nutrients needed for a healthy pregnancy that not only support heart health, but the development of the fetal nervous system. So what kind of supplements should you be taking to promote pregnancy health, and what should you be looking for in a good fish oil?
Supplements to Take for a Healthy Pregnancy
A healthy pregnancy should start with a healthy diet, which is why prenatal vitamins and supplements are so important. A good prenatal supplement routine will include a multitude of vitamins and minerals, including [1-4]:
Folate: vital for a developing neural tube
Choline: linked to improved pregnancy outcomes
Iron: a building block of blood
Calcium: necessary for strong bones and teeth
And of course a DHA supplement, a necessary omega-3 fatty acid that supports fetal development and more. [5] 
The Importance of Fish Oil During Pregnancy
A fish oil pill is packed with two essential omega-3s (DHA and EPA)—essential nutrients for healthy brain and eye development in a pregnant woman as well as for fetal growth and development which is why it should be taken in conjunction with your prenatal vitamin. [5] DHA, an essential fatty acid, is specifically linked to healthy birth weight and developmental milestones, while EPA is correlated with improved heart health and cholesterol. [5-6]
Other Benefits of Fish Oil
In general, fish oil is recommended for improving heart health and reducing the risk of heart attack and stroke. [7] Not only does it contain DHA and EPA, but also vitamins A and D, essential vitamins that improve our immune system and response. [8] 
Are There Vegan Fish Oil Options?
Yes, there are vegan fish oil alternatives. Algae-derived DHA supplementation is achieved through plant-based options that can meet ACOG guidelines. They eliminate the risk of possible environmental toxins, and do not contribute to overfishing, which can be damaging to the planet.
What's the Difference Between DHA and Fish Oil?
Omega 3 fish oil is one great source of DHA. Fish oil from fish such as tuna, salmon, and trout contains two out of the three main omega-3 fatty acids, DHA and EPA. DHA, or docosahexaenoic acid, is the omega fatty acid that supports a healthy pregnancy and fetal development. 
The Best Fish Oil for Pregnancy
The American Pregnancy Association recommends a fish oil supplement that contains at least 300 mg of DHA. Your supplements should also come from a transparent, reputable company to ensure you're consuming purified fish oil that's free of toxins. 
Natalist Prenatal Daily Packets, which include 21 high-quality ingredients, was researched and carefully developed to meet all of pregnancy's demands. 
When to Stop Taking Fish Oil for Pregnancy
Fish oil is a great source of omega-3s and has many health benefits to support your pregnancy. It's possible you've heard that fish oil can lead to increased bleeding during surgeries such as cesarean sections, but a recent study concluded that there is no link to fish oil and increased bleeding during or after surgery. [9] However, it is important to note that this data may not be applicable to pregnant women and those undergoing cesareans specifically, thus more studies are needed. 
And while there's no universal guidance on when to stop fish oil supplementation during pregnancy, it's abundantly clear that the earlier you start, the better.  Especially since the diet of pregnant women is largely deficient in DHA intake, making it difficult to comply with current recommendations without dietary supplementation. [10] 
Omega-3s, DHA, and fish oil are often used interchangeably, and that's because they all do very similar things for your body. DHA is an essential nutrient found in fish oil supplements that supports the development of your baby's brain and eyes. Fish oil also contains vitamins A and D, plus EPA, another important omega-3 fatty acid. The recommended amount of fish oil during pregnancy is at least 300 mg, and it's important you find a reputable supplier that provides purified fish oil, free of any toxins such as mercury or lead. Have more questions? Learn about the differences between omega-3s, DHA, and fish oil.
Sources:
Folic Acid. CDC. June 15 2022. URL. 
Korsmo HW, Jiang X, Caudill MA. Choline: Exploring the Growing Science on Its Benefits for Moms and Babies. Nutrients. 2019;11(8):1823. Published 2019 Aug 7. doi:10.3390/nu11081823
Iron. Fact Sheet for Health Professionals. NIH. URL. 
Calcium. Fact Sheet for Health Professionals. NIH. URL.
Coletta JM, Bell SJ, Roman AS. Omega-3 Fatty acids and pregnancy. Rev Obstet Gynecol. 2010;3(4):163-171.
Preston Mason R. New Insights into Mechanisms of Action for Omega-3 Fatty Acids in Atherothrombotic Cardiovascular Disease. Curr Atheroscler Rep. 2019;21(1):2. Published 2019 Jan 12. doi:10.1007/s11883-019-0762-1
Omega-3 Fatty Acids. Fact Sheet for Consumers. NIH. URL.
Mora JR, Iwata M, von Andrian UH. Vitamin effects on the immune system: vitamins A and D take centre stage. Nat Rev Immunol. 2008;8(9):685-698. doi:10.1038/nri2378
Begtrup KM, Krag AE, Hvas AM. No impact of fish oil supplements on bleeding risk: a systematic review. Dan Med J. 2017;64(5):A5366.
Wierzejska R, Jarosz M, Wojda B, Siuba-Strzelińska M. Dietary intake of DHA during pregnancy: a significant gap between the actual intake and current nutritional recommendations. Rocz Panstw Zakl Hig. 2018;69(4):381-386. doi:10.32394/rpzh.2018.0044
Shop Products From This Article