Is Fish Oil Omega 3? A Guide to Fish Oil vs Omega 3 Supplements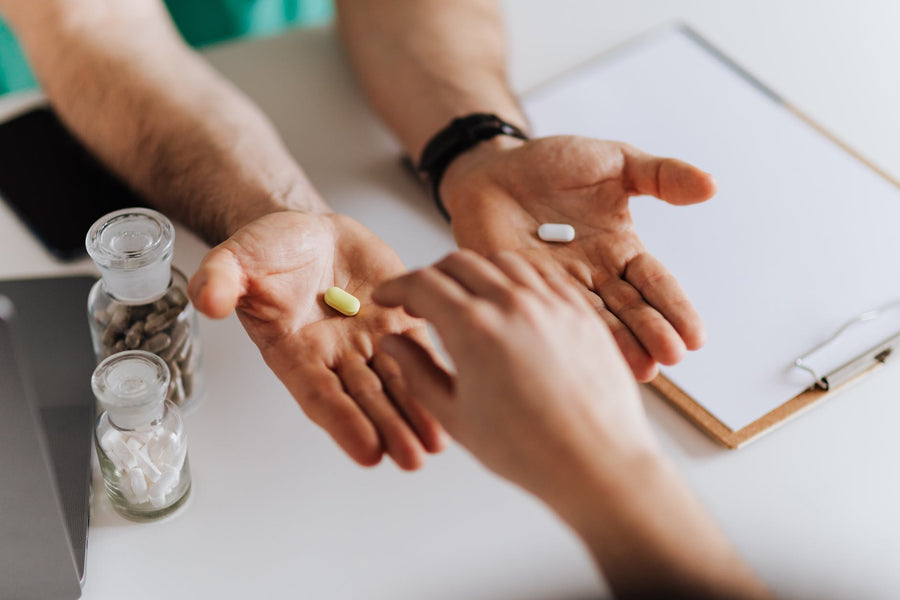 You've probably heard about fish oil and omega-3 fatty acids. Maybe you're even familiar with the term DHA. But as often as these terms are used interchangeably, there are some key differences you should know about. Are fish oil and omega fatty acid supplements the same? What about DHA and EPA? We're here to break down exactly what these nutrients are, why they're important, and how they relate to one another.
Are DHA, Omega-3, and Fish Oil the Same Thing?
Let's break down the major differences between these three supplements. 
Omega-3 Fatty Acids
Omega-3 acids mainly refer to alpha-linolenic acid (ALA), eicosapentaenoic acid (EPA), and docosahexaenoic acid (DHA). These are health-essential fatty acids that our body cannot make enough of, so they must be consumed in our diet or through supplements. Omega-3s can be found in flaxseed, seafood, and fish oil, but there are also many great supplements available to ensure you're getting enough omega. Omega-3 makes up many membranes surrounding our body's cells, specifically the eye, brain, and sperm cells, and is necessary for heart and brain health. [1] 
DHA
Docosahexaenoic acid (DHA) is a type of essential omega-3 fatty acid aiding in the growth and development of the infant brain as well as normal functioning of the adult brain. [2] DHA is also a key component of the eyes and heart. ACOG recommends pregnant women take in about 200-300 mg of DHA daily for improved pregnancy outcomes. [3] Natalist's Omega DHA contains 450mg of DHA and 150mg of EPA, supporting a healthy pregnancy and encouraging early milestones. Did you know DHA can be vegan? Learn more here → 
Fish Oil
Fish oil is found in fish such as salmon, trout, tuna, and sardines. Intake of fish oil has been linked to improved health outcomes such as better heart health and a reduced risk of heart attack and stroke. [1] Fish oil contains two of the major omega-3 fatty acids, DHA and EPA, as well as vitamins A and D.
The Relationship Between DHA, Fish Oil, and Omega-3
To summarize, omega fatty acids include three different types: EPA, ALA, and DHA. Fish oil contains omega-3 fatty acids types DHA and EPA—in addition to many other essential nutrients, vitamins, and minerals the body needs for adult and fetal growth and development. ALA is the only omega-3 that cannot be found in fish oil (but it can be found in nuts and seeds).
Which is Better, Fish Oil or Omega-3?
Truthfully there isn't a "better" option unless you're looking for specific health benefits from your supplement. Omega-3 supplements will give you the benefits of EPA, ALA, and DHA, but often will not contain any other added nutrients. Fish oil supplements give you the benefits of DHA and EPA and often contain other nutrients as well. If you're pregnant, ACOG prioritizes the benefits of DHA for a healthy pregnancy. [3] You should speak to your doctor about your supplements and health needs to determine which option is right for you. 
Pregnancy Health Benefits of Omega-3s
Omega-3s are essential for the healthy development of the brain and eyes in pregnant women as well as for fetal growth and development. DHA intake specifically is linked to healthy birth weight as well as cognitive and motor developmental milestones. [2,3] EPA is correlated with improved heart health and cholesterol.  [4]
With thousands of supplements on the market, many of which contain the same ingredients, it can be difficult to know what's most important for you and your baby. Omega-3s are an essential part of a healthy diet and promote adequate fetal development. To ensure your little one has everything necessary to thrive and grow, commit to taking a prenatal supplement that contains the proper nutrients to support a healthy pregnancy.
References:
Omega-3 Fatty Acids. Fact sheet for consumers. NIH. July 2022. URL. 
Horrocks LA, Yeo YK. Health benefits of docosahexaenoic acid (DHA). Pharmacol Res. 1999;40(3):211-225. doi:10.1006/phrs.1999.0495
Nutrition During Pregnancy. FAQ001. ACOG. June 2023. URL. 
Preston Mason R. New Insights into Mechanisms of Action for Omega-3 Fatty Acids in Atherothrombotic Cardiovascular Disease. Curr Atheroscler Rep. 2019;21(1):2. Published 2019 Jan 12. doi:10.1007/s11883-019-0762-1
Shop Products From This Article