Montgomery's Tubercles: Definition, Causes, Purpose & More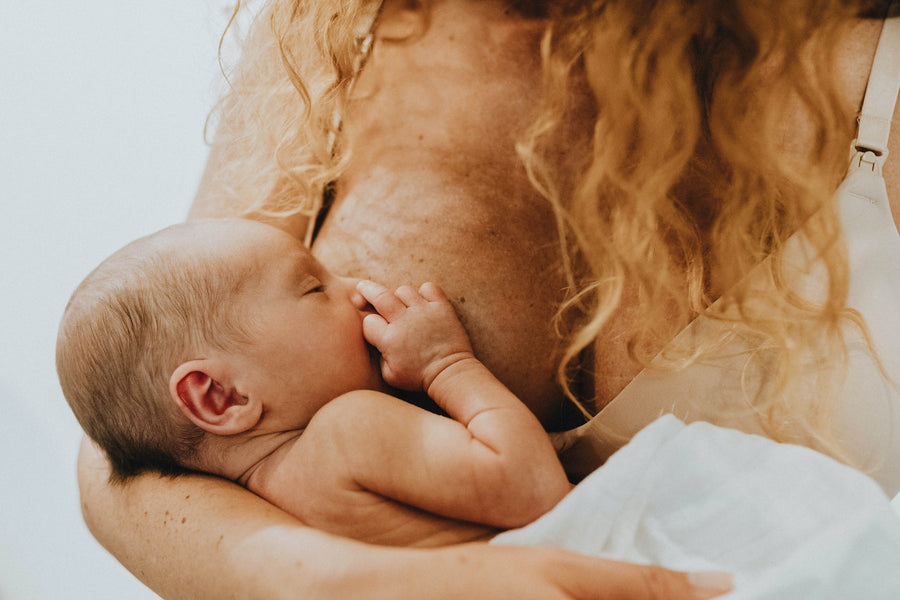 By OBGYN Dr. Kenosha Gleaton
From cracked nipples to tender breasts, it's normal to have questions about the many breast changes that occur during pregnancy and postpartum. Let's talk about Montgomery's tubercles and what they look like, their purpose, and what issues to look out for. 
What Are Montgomery's Tubercles?
Have you ever noticed the small bumps that are found on the surface of the areola? What you're seeing is most likely Montgomery's tubercles, also referred to as the glands of Montgomery. [1] These small bumps are actually the openings of sebaceous (oil) glands and can aid in breastfeeding. [1] Some people will have noticeable Montgomery tubercles prior to pregnancy, while others may not notice the bumps until pregnancy or postpartum. Montgomery tubercles can range in color and may blend in with the areola or have a red, white, or yellow appearance. It's common for people to have more tubercles on one breast than the other. 
Why Are They Called Montgomery's Tubercles?
Montgomery's tubercles are named after an obstetrician, William Featherstone Montgomery. Professor Montgomery published a book focused on breast changes during pregnancy, which included areolar changes as well as the presence of Montgomery's glands. [2] 
The term "tubercle" refers to a small rounded projection or nodule attached to bone, membrane, or skin. The appearance of the gland openings as small nodules or bumps on the breast is where the name Montgomery's Tubercles originated. [3] 
Causes and Occurrences of Montgomery's Tubercles
So what causes the tubercles to appear? We actually have oil glands all over our bodies, including the scalp, face, underarms, etc. In fact, the only places we do not have oil glands are the palms, soles, and dorsum of the feet. [4] So the glands have always been present, but the openings to the glands, or the small bumps you can see on your areola, may only appear during certain times. While some people always have noticeable bumps, up to 50% of people report an increased appearance of Montgomery's tubercles during pregnancy. [5] It's also possible to not have noticeable tubercles at all. 
Aside from pregnancy and breastfeeding, Montgomery's tubercles may make an appearance as a result of [6]:
Puberty
The normal menstrual cycle
Stress
Medications
Change in temperature
Arousal of the nipple
The Purpose of Montgomery's Tubercles
The purpose of all sebaceous glands is to produce and secrete sebum, an oily substance that helps to lubricate the skin, protect against friction, transport antioxidants, protect against light, aid in inflammatory functions, healing, and more. [4] This is especially helpful when breastfeeding as the sebum may aid in healing sore or cracked nipples, lubricating the nipple and areola, and protecting yourself and your baby from certain infections. [4] 
Further research on the purpose of Montgomery's tubercles also suggests that the smell of the sebum produced may actually attract a baby to the breast, making it easier to initiate breastfeeding. [7-8] Studies show that newborns are able to differentiate between the scent of Montgomery's gland secretions and other human, mammalian, and artificial stimuli. 

Montgomery's Tubercles and Pregnancy
Pregnancy symptoms and changes within the body can vary greatly from person to person. Not everyone will experience the same symptoms or have the same timeline. That being said, breast changes are a common symptom of pregnancy and postpartum that can sometimes be a primary indicator of pregnancy. [9] If you are ever concerned about breast changes during pregnancy, be sure to speak to your healthcare provider. 
Potential Issues and Concerns
In some cases, the changes that come with pregnancy and postpartum may also lead to complications. With added use and stress on the nipple, it's normal to experience dried skin, cracking, and soreness, especially if you're new to breastfeeding or are nearing the end of your pregnancy. [10] It's important to know what warning signs to look out for so you can get treatment for an infection or complication quickly. If you ever notice that your breast is red, inflamed, warm to the touch, painful, or if you're having difficulty with your let-down reflex, you should speak to a healthcare provider. Conditions such as mastitis, clogged ducts, and thrush are commonly seen while breastfeeding. There have also been reports of cysts developing from an obstruction of Montgomery's tubercles. Not only can one of these complications lead to pain and discomfort, but they can interfere with feeding your baby. Keep in mind that it is normal to experience some discomfort from time to time as you adjust to postpartum life, but it's always a good idea to run any new symptoms by your provider. Learn if you can take ibuprofen while breastfeeding → 
Can I Remove Montgomery's Tubercles?
If you're unhappy with some of the physical changes your body has gone through since becoming pregnant, you're not alone. There are a lot of things that are out of our control when we're growing a tiny human. It's perfectly normal to have mixed feelings about these changes, but when you can, try and remind yourself of the amazing things your body has and continues to accomplish. Some changes may also revert back to their pre-pregnancy state as time goes on. All this being said, it is possible to get a surgical procedure to remove Montgomery's tubercles, but you should speak to your provider about what surgery might mean for your current or future plans to breastfeed. [11] 
Embracing Natural Changes with Natalist
It can be hard to keep up with all the physical and physiological changes you experience during your fertility, pregnancy, and postpartum journeys. Even though many of these changes are out of our control, we can still appreciate our bodies for getting us through the many beautiful, difficult, and tender moments of life. Shop self-care products including Natalist Nip & Lip Balm, Belly Oil, or Cooling Cream to pamper yourself. 
References:
Khan YS, Sajjad H. Anatomy, Thorax, Mammary Gland. [Updated 2023 July 24]. In: StatPearls [Internet]. Treasure Island (FL): StatPearls Publishing; 2023 Jan-. Available from: https://www.ncbi.nlm.nih.gov/books/NBK547666/
O'Sullivan JF. Two hundred years of midwifery 1806-2006. Ulster Med J. 2006;75(3):213-222.
Vorvick, L. Dugdale, D. Tubercle. MedlinePlus National Library of Medicine. February 2023. https://medlineplus.gov/ency/article/002333.htm
Makrantonaki E, Ganceviciene R, Zouboulis C. An update on the role of the sebaceous gland in the pathogenesis of acne. Dermatoendocrinol. 2011;3(1):41-49. doi:10.4161/derm.3.1.13900
Kumari R, Jaisankar T J, Thappa DM. A clinical study of skin changes in pregnancy. Indian J Dermatol Venereol Leprol 2007;73:141
Aranda-Gutierrez A, Diaz-Perez HM. Histology, Mammary Glands. [Updated 2023 May 1]. In: StatPearls [Internet]. Treasure Island (FL): StatPearls Publishing; 2023 Jan-. Available from: https://www.ncbi.nlm.nih.gov/books/NBK547732/
Shah R, Sabir S, Alhawaj AF. Physiology, Breast Milk. [Updated 2022 Sep 19]. In: StatPearls [Internet]. Treasure Island (FL): StatPearls Publishing; 2023 Jan-. Available from: https://www.ncbi.nlm.nih.gov/books/NBK539790/
Doucet S, Soussignan R, Sagot P, Schaal B. The secretion of areolar (Montgomery's) glands from lactating women elicits selective, unconditional responses in neonates. PLoS One. 2009;4(10):e7579. Published 2009 Oct 23. doi:10.1371/journal.pone.0007579
Motosko CC, Bieber AK, Pomeranz MK, Stein JA, Martires KJ. Physiologic changes of pregnancy: A review of the literature. Int J Womens Dermatol. 2017;3(4):219-224. Published 2017 Oct 21. doi:10.1016/j.ijwd.2017.09.003
Am I Pregnant? Cleveland Clinic. July 2022. https://my.clevelandclinic.org/health/articles/9709-pregnancy-am-i-pregnant
Raj, Roshini. Gallagher, C. What Are Montgomery Tubercles? Health.com. May 2023. https://www.health.com/condition/skin-conditions/montgomery-tubercles
Shop Products From This Article
Subscribe & Save $5.00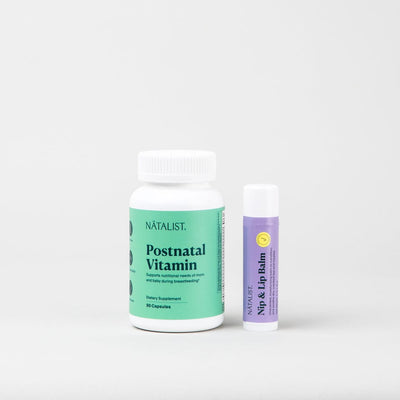 Essentials to support your breastfeeding journey
$55 $45