Can I Take Ibuprofen While Breastfeeding?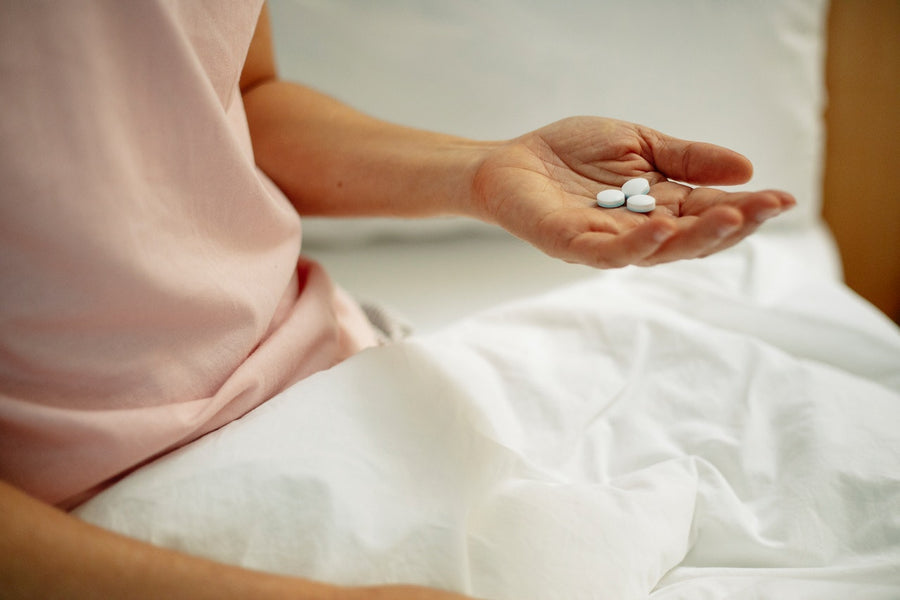 By Dr. Kenosha Gleaton, OBGYN
While it can often be a beautiful experience, breastfeeding has the potential to cause pain and discomfort. It's important to know what medications are safe for use while breastfeeding to protect the health of your baby. Fortunately there are many different options available to aid in pain relief, including medications and natural remedies. 
How Does Ibuprofen Work in the Body?
Ibuprofen is a type of nonsteroidal anti-inflammatory drug (NSAID). Other well known NSAIDs include aspirin and naproxen. NSAIDs work to reduce pain, inflammation, and fever by lowering levels of prostaglandins in the body. [1] Prostaglandins are hormone-like chemicals that the body produces when it detects damage or infection. Prostaglandins play an important role in many different processes, including blood clotting, pain perception, inflammation, menstruation, and more. [1] While the body needs prostaglandins, sometimes excess levels can lead to intense pain or swelling. When someone takes ibuprofen (or other NSAIDs), the medication blocks the effects of prostaglandins, helping to relieve pain or other discomfort. [1] 
Is Ibuprofen Safe for Breastfeeding Mothers?
So, is ibuprofen safe to take while breastfeeding? Whether you're experiencing pain from breastfeeding or something else, finding safe pain management is a concern for many. Fortunately, most research suggests that ibuprofen is okay to take while nursing. [2] 
Research Findings
According to the LactMed lactation database, ibuprofen has very low levels in breastmilk and a short half-life (the amount of time it takes for the active substance in medication to reduce by half), making it a preferred choice as an anti-inflammatory and pain relief agent in breastfeeding people. [2] Multiple studies have measured how much an average dose of ibuprofen, about 400 mg, will transfer into breast milk. Both studies found that the ibuprofen was undetectable. Other studies have found that small amounts of ibuprofen can be transferred to breast milk when taken in larger, more frequent doses. [2] The amount that was transferred was less than one percent of the commonly accepted infant dose of ibuprofen. In conclusion, taking ibuprofen should be considered relatively safe for most breastfeeding people.  [2] There are over 20 documented cases of breastfed infants showing no adverse effects as a result of ibuprofen use. [2] 
Recommended Dosage
When taking any medication (especially when breastfeeding), you should always consult a healthcare provider first to confirm dosage and rule out any potential interactions. The usual adult dose of ibuprofen for pain or fever is 200 to 400 mg orally every four to six hours as needed. [3] The highest dosage mentioned in the Lactation Database is 1,200 mg in one day. [2] You should always follow the instructions provided on the box of your medication or the instructions given to you by your healthcare provider. In some cases, taking medication immediately after breastfeeding can help lower your baby's exposure. [4] 
Precautions and Considerations
As with all medications, it's important to be aware of the potential dangers, side effects, and precautions. 
General Side Effects
Some side effects may occur as a result of taking ibuprofen. These include [5]:
Abdominal pain
Indigestion
Diarrhea
Excess air or gas, causing flatulence, bloating, and belching
Itching skin
Nausea
Vomiting
There are many other potential side effects that may occur. If you do notice any unusual symptoms after taking medication, be sure to visit a healthcare provider. 
When overused, taken incorrectly, or in some rare cases of medication interactions, ibuprofen can cause more severe side effects including kidney and liver complications. [5] If you are taking medication while breastfeeding for the first time, pay special attention to your baby and be wary of any adverse reactions, such as changes in eating or sleeping habits, fussiness, or a rash. [5] 
Special Cases
Ibuprofen may not always be the best choice for people. If you have any underlying conditions or are taking any medications regularly, you should speak to a healthcare provider before adding in a new medication. You should not take any other NSAIDs when taking ibuprofen unless told otherwise by a provider. Medications and conditions that may lead to potential adverse interactions with ibuprofen include [3]:
Aleve
Aspirin
Asthma
GI toxicity
Rash
Thrombosis
Renal toxicity
Anemia
Alternatives to Ibuprofen
Even though ibuprofen is considered safe for use while breastfeeding, it can be helpful to know of alternative options for pain relief. 
Other Safe Medications
There are many other safe medications you may use while breastfeeding. Medications such as acetaminophen and naproxen are also thought to be safe, as well as [4]:
Fluconazole, miconazole (antimicrobial)
Fexofenadine, loratadine (antihistamines)
Famotidine (GI medications)
Fluvoxamine, sertraline, paroxetine (antidepressants)
Find out what cold medicines are safe to use while breastfeeding. 
As always, you should double check with your healthcare provider before taking any of these medications. 
Natural Pain Relief Methods
In addition to pharmaceutical relief, there are many natural pain relief methods available that may be beneficial. There is a large amount of evidence that suggests some approaches such as acupuncture, massage, meditation, yoga, and others can be very helpful for managing pain in some circumstances. [6] Other more common methods for pain relief include using cold or hot packs, resting, and staying hydrated. If you're experiencing pain from cracked nipples while breastfeeding, look into breastfeeding-safe products like Natalist Nip & Lip Balm, designed to moisturize and soothe cracked nipples. Our nipple balm is safe for you and your baby, so there's no need to remove it before breastfeeding. 
Supporting You Throughout Your Pregnancy Journey with Natalist
Natalist offers many products that are safe and designed specifically for pregnant and breastfeeding people. Shop soothing Nip & Lip Balm, Cooling Cream, Belly Oil, and other luxurious self-care products curated to make the pregnancy and postpartum journey a little bit easier. We've been in your shoes before, which is why we're so committed to offering sustainable, evidence-based products. From the highest highs to the lowest lows, we hope to be a useful part of your journey. Keep reading about postpartum life here. 
References:
Prostaglandins. Cleveland Clinic. November 2022. URL. 
Drugs and Lactation Database (LactMed®) [Internet]. Bethesda (MD): National Institute of Child Health and Human Development; 2006-. Ibuprofen. [Updated 2021 Jan 18]. Available from: https://www.ncbi.nlm.nih.gov/books/NBK500986/
Ibuprofen Dosage. Drugs.com. August 2023. URL.
Breastfeeding and medications: What's safe? Mayo Clinic. August 2022. URL. 
Ibuprofen (Oral Route). Mayo Clinic. July 2023. URL. 
Shurtleff, D. Chronic Pain: What You Need To Know. NCCIH and the National Institutes of Health (NIH). January 2023. URL.
Shop Products From This Article
Subscribe & Save $5.00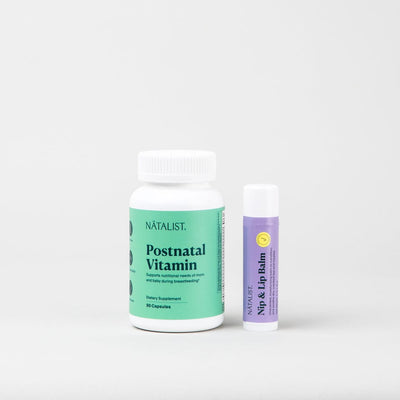 Essentials to support your breastfeeding journey
$55 $45
Subscribe & Save $7.00
Bundle & save on postpartum support
$85 $68