What Cold Medicine Can I Take While Breastfeeding?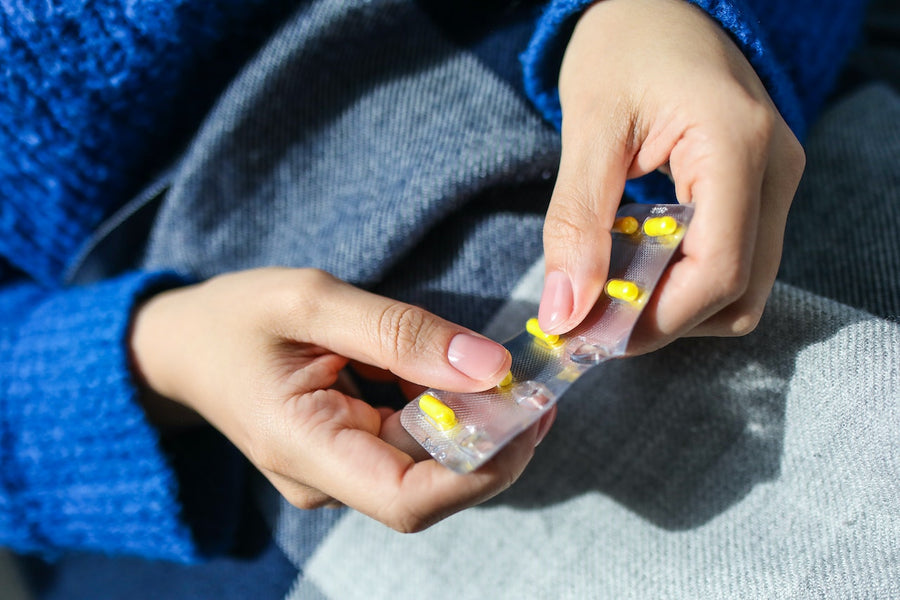 Breastfeeding While Sick
You may be wondering if you can continue to breastfeed while fighting off an illness. The most important step to take is to call your healthcare provider if you are experiencing symptoms of a cold, flu, or other illness. Getting a diagnosis and potential prescription medication may impact whether or not you should be breastfeeding. That being said, the Centers for Disease Control and Prevention (CDC) recommends that breastfeeding continue even while sick with certain illnesses, such as the flu, COVID-19, a cold, etc. [1] In some cases, it may be beneficial to express breastmilk by hand or using a pump and have an uninfected person bottle feed the infant in order to prevent transmission. Many infectious diseases are not spread through breast milk, so continuing to feed your child breast milk may not be harmful, even if being in close proximity to them isn't recommended. [2] 
The amazing thing about breastmilk is that it will change to fit the needs of your child. Breastfeeding boosts your child's immune system and allows antibodies to be passed through breast milk. [3] Continuing to breastfeed regularly is also important for maintaining milk supply. [3] Learn what foods increase milk supply → 
When to Avoid Breastfeeding 
Always speak to your healthcare provider directly if you have questions about breastfeeding. Sources such as the NIH, CDC, and others recommend that you avoid breastfeeding OR speak with a healthcare provider first if you have the following illnesses or conditions [2,4]:
Human immunodeficiency virus (HIV)
Active and untreated tuberculosis
Human T-cell lymphotropic virus type I or type II (HTLV)
Galactosemia
Ebola
Active herpes simplex virus (HSV) infection with lesions present on the breast
Mpox virus infection
Untreated brucellosis 
Active varicella (chicken pox)
When To Continue Breastfeeding
Sources such as the NIH, CDC, and others recommend that breastfeeding continue if infected with the following illnesses [1,2,4]:
There are various factors that should be considered when deciding whether or not to continue breastfeeding, including the age of your child, any underlying conditions impacting yourself or your child, medications, etc. In some cases, it may be beneficial to express milk by hand or pump without actually being close to your child. [2-4] You should always consult a healthcare provider before making any decisions regarding your breastfeeding habits. 
How to Protect Your Breastfeeding Child When Sick
If you have been given the all-clear to breastfeed with an illness, you should still take some precautions to avoid getting your child sick. Even if some conditions aren't spread through breastmilk, they may be spread through breathing, touching, or kissing your child. [3] Some things you can do to protect your child include [3]:
Wash your hands frequently 
Wear a mask
Clean and disinfect any surfaces, including breast milk pumps, milk storage containers, etc. 
Use alcohol-based hand rub 
Wash your chest before nursing if you have coughed or gotten other bodily fluids on it
Allow someone else to feed your child using bottled breastmilk
Taking Cold Medicine While Breastfeeding
Many medicines are safe to take when breastfeeding, however, some may not be recommended. If you do have a cold or other infection and are taking or considering taking any medication, be sure to speak to a healthcare provider about whether you should continue breastfeeding. Here are some medications that have been deemed safe, probably safe, or have shown no increase in adverse effects on breastfed infants [5-6]:
Cough/Cold/Allergies:
Diphenhydramine (Benadryl)
Loratadine  (Claritin)
Oxymetazoline (Afrin Nasal Spray)
Triamcinolone (Kenalog shot)
Flonase, Nasacort, Nasonex (Nasal Sprays)
Fexofenadine (Allegra)
Cetirizine (Zyrtec)
Guaifenesin (Mucinex)
Dextromethorphan (Robitussin DM) 
Benzocaine (Sore Throat Spray)
Methylprednisolone (Medrol/Oral Prednisone)
Budesonide (Rhinocort Nasal Spray)
Pain Relievers:
Acetaminophen (Tylenol)
Ibuprofen (Advil, Motrin)
Limited aspirin
Other Medications Safe for Breastfeeding
Outside of medications commonly taken for colds, allergies, or pain relief, here are some medications deemed safe or probably safe for breastfeeding [5-6]:
Antibiotics/Antifungals:
Fluconazole (Diflucan)
Miconazole (Monistat)
Amoxicillin, Ampicillin
Omnicef, Rocephin, Ceftin, Keflex
GI Meds:
Famotidine (Pepcid)
Cimetidine (Tagamet)
Docusate (Colace)
Loperamide (Imodium)
Antidepressants:
Wellbutrin (Bupropion)
Sertraline, Paroxetine, Escitalopram (Zoloft, Paxil, Lexapro) 
Speak to Your Healthcare Provider
As already stated multiple times, it is always best to speak directly to your healthcare provider about any medications you are taking or wish to take while breastfeeding. Certain doses may need to be altered or your provider may suggest you avoid breastfeeding altogether when taking certain medications. [5] The age of your child, their health, etc. will all determine whether or not you are safe to treat a cold or other illness with medications while nursing. 
Supporting a Healthy Immune System 
Our immune system plays an extremely important role in the body. Without a functioning immune system, the body can't protect against infection and support healthy cells that we need to live. [7] People with autoimmune conditions or compromised immune systems may have difficulty recovering from illnesses, or they may live with chronic pain and other uncomfortable symptoms. [7] While some problems with the immune system are inevitable, we can promote a healthy immune system by [7]:
Quitting smoking
Maintaining a healthy body weight
Eating a balanced diet
Washing our hands often
Getting enough sleep
Avoiding or cutting back on alcohol
Get vaccinations
Manage stress
Supplements for Immune System Health
In order for our immune systems to function properly, it's important to fuel the body with the necessary vitamins and minerals. [8] Research shows that low levels of certain nutrients can weaken our immunity and may increase the risk of infections. Some nutrients that can support immune system health include [8]:
Vitamin A
B Vitamins
Vitamin C
Vitamin E
Vitamin K
Folate
Selenium
Zinc
Copper
Iodine
Iron
Get many of these nutrients in one specially formulated supplement with the Natalist Postnatal Vitamin, made with breastfeeding moms in mind. 
Natalist Can Help
If you are breastfeeding or newly postpartum and are looking for ways to boost your immune system, you may want to take a multivitamin packed with nutrients that support immune system function. Natalist offers many evidence-backed products formulated with those pregnant, TTC, breastfeeding, or postpartum in mind. Shop all postpartum products. 
References:
Shop Products From This Article
Subscribe & Save $7.00
Extra 10% off your first delivery when you subscribe with code SEPT23
$85 $68
Subscribe & Save $5.00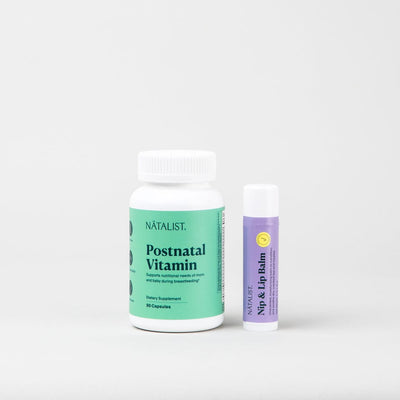 Extra 10% off your first delivery when you subscribe with code SEPT23
$55 $45