7 Natural Depression Remedies While Pregnant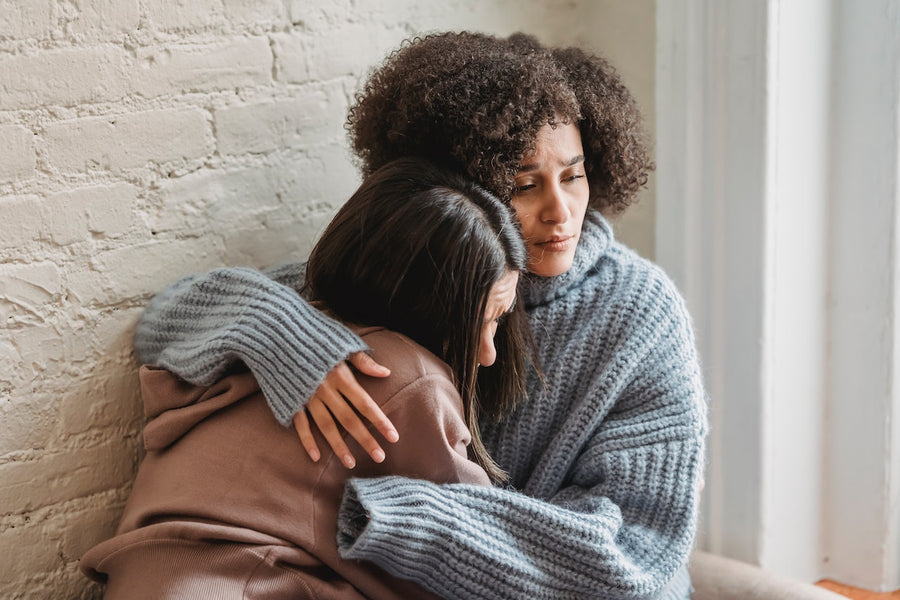 Depression is a common condition that can be mild or very serious. Depression can impact how someone goes about their day-to-day life and has the ability to impact someone's thoughts, feelings, behavior, and health. [1] It's thought that depression impacts about 1 in 10 pregnant people. [1] For some, depression will arise for the first time in their lives during pregnancy or soon after delivery. It's important that anyone struggling with depression speak to a healthcare provider to find a treatment option that works well for them. Untreated depression can lead to negative health outcomes for both mom and baby. [1] 
Factors Increasing the Risk of Depression During Pregnancy
Some people are at a higher risk than others for experiencing depression during pregnancy. Some risk factors include [2]:
An unintended pregnancy
Existing or history of a mental health condition
Life stress
History of depression
Poor social support
Intimate partner violence
Natural Remedies to Combat Depression While Pregnant
So what can be done to manage depression? In this article we are going to touch on some natural remedies that may be helpful for improving symptoms, however, the best way to treat or manage any mental health condition is to see a licensed provider. Therapy is often the first recommended treatment for anyone struggling with depression or anxiety. [1] A therapist or counselor can help you develop effective tools and strategies for managing your depression and may be able to talk to you about medication options. 
For those who are already seeking proper treatment with a professional, additional management options may be helpful. Let's talk about some other remedies. Learn about natural anxiety remedies during pregnancy → 
Seeking Therapy and Counseling
As already mentioned, seeking out professional help should always be the first priority when looking to treat any condition. Therapy is often the first recommendation for someone struggling with depression. [1] There are many different types and methods of therapy, so it may take some time to find a path that works well for you. Many therapists can help you identify any underlying issues or triggers, help you develop healthy ways to address your issues and help you control any troubling symptoms. [1] 
Journaling
There are a lot of changes occurring during pregnancy and you're likely experiencing many different emotions. Some people find that journaling can be very helpful for keeping a clear head and getting all of their thoughts out on paper. [3] Keeping a journal has been shown to help manage anxiety, reduce stress, and cope with depression. [3] It can be very therapeutic to write thoughts out rather than letting them bounce around in your head all day. Seeing some of your fears, thoughts, and feelings on paper can also help you better identify any solutions or triggers you hadn't previously thought about. If you're interested in trying to journal, start by writing a little bit each day. Some days you may have more on your mind than others, and that's okay! Just blocking out the time and space to sit down and prioritize your well-being is a success. [3] 

Adopting a Healthy Diet
Nutritious foods are key for supporting your health during pregnancy. Not only do you need to fuel your body, but your diet can influence your baby's growth and development. Research also shows that certain nutrients can play a role in our brain function, which can impact mental health. [4] One study found that a diet high in fruit, vegetables, whole grains, fish, olive oil, low-fat dairy, and antioxidants was associated with a decreased risk of depression. [5] Meanwhile, high amounts of red meat, processed foods, refined grains, high-fat products, and low amounts of fresh fruits and vegetables were associated with an increased risk of depression. [5] 
Supplements
In addition to eating a balanced and healthy diet, many of the important nutrients needed for fetal development and our general well-being can be found in dietary supplements. It's recommended that all pregnant people take a prenatal vitamin to meet the basic nutritional needs of their child. Some of the nutrients found in prenatal supplements and other vitamins have been linked to improved mental health outcomes. For example, healthy levels of inositol, vitamin D, and omega-3 fatty acids may reduce the risk of depression. [10-12] 
You should always consult your provider before adding any new supplements to your routine. 
Lifestyle Modifications
Not only can diet and exercise improve your well-being, but general lifestyle modifications may have a beneficial effect on your mental health. It's encouraged that anyone struggling with depression find ways to reduce their stress levels, get an adequate amount of rest, lean on their loved ones, and stay active. [1-2] Depression can lead to changes in your day-to-day life, whether it's sleeping too much or too little, losing interest in your hobbies, work, or friends, etc. Treat yourself to some new self-care products, get lunch with a friend, even getting out of your bed during the day is something you can do to feel accomplished. Slowly start challenging yourself and find ways to improve some of your unhelpful habits. I understand this may be easier said than done, so don't be too hard on yourself! Speak to a therapist and your healthcare provider about any other lifestyle modifications you can make to improve your mental health. 
Regular Exercise
There are many benefits associated with regular physical activity, such as improving cardiovascular health to strengthening your bones and muscles. Physical activity during pregnancy may also decrease your risk of gestational diabetes, preeclampsia, and other complications. [6] Studies show that exercise also has therapeutic effects on depression in all age groups and results have even been comparable to traditional treatment options in some people.[7] Not all exercises are safe for pregnancy, so be sure to check with your provider before trying anything new. Some exercises that are usually deemed pregnancy-safe include walking, swimming, modified yoga or pilates classes, and stationary bicycling. [6] 
Sunlight Exposure
Did you know that exposure to the sun can actually improve depressive symptoms in some cases? While it may not be useful for all forms of depression, those with seasonal affective disorder (SAD), have seen promising results from light therapy and increased time outdoors. [8] Those with SAD will notice the onset of depressive symptoms around the time that the seasons change and there isn't as much sunlight during the day. [8] Additionally, there are general health and wellness benefits that have been observed from spending more time in nature. [9] Greater exposure to natural environments has been associated with a decreased risk of heart disease, obesity, mental distress, and diabetes. [9] Learn about vitamin D and depression → 
Natalist's Commitment to Supporting Those Who Are Pregnant
I want to reiterate that while some of these methods can be helpful, you should first talk to a healthcare provider about your symptoms and concerns. Getting professional help for depression, anxiety, and other conditions should be a priority over any home remedies or treatments. That being said, additional management options that may be helpful for depression during pregnancy include journaling, regular exercise, adequate nutrition, and spending time outside. Remember that you aren't alone and there are a lot of people that you can lean on for support. We're rooting for you! 
If you're looking for more ways to support your health and well-being during pregnancy, browse Natalist self-care products and high-quality supplements. Struggling with depression after giving birth? Get tips for postpartum depression self-care. 
References:
Depression During Pregnancy. FAQ515. American College of Obstetricians and Gynecologists. May 2023. https://www.acog.org/womens-health/faqs/depression-during-pregnancy
Depression during pregnancy: You're not alone. Mayo Clinic. January 2022. https://www.mayoclinic.org/healthy-lifestyle/pregnancy-week-by-week/in-depth/depression-during-pregnancy/art-20237875
Watson, L. Ratini, M. Ballas, P. Journaling for Emotional Wellness. University of Rochester. https://www.urmc.rochester.edu/encyclopedia/content.aspx?ContentID=4552&ContentTypeID=1
Selhub, E. Nutritional psychiatry: Your brain on food. Harvard Health. September 2022. https://www.health.harvard.edu/blog/nutritional-psychiatry-your-brain-on-food-201511168626
Li Y, Lv MR, Wei YJ, et al. Dietary patterns and depression risk: A meta-analysis. Psychiatry Res. 2017;253:373-382. doi:10.1016/j.psychres.2017.04.020
Exercise During Pregnancy. ACOG. FAQ 199. March 2022. https://www.acog.org/womens-health/faqs/exercise-during-pregnancy
Xie Y, Wu Z, Sun L, et al. The Effects and Mechanisms of Exercise on the Treatment of Depression. Front Psychiatry. 2021;12:705559. Published 2021 Nov 5. doi:10.3389/fpsyt.2021.705559
Seasonal Depression (Seasonal Affective Disorder). Cleveland Clinic. April 2022. https://my.clevelandclinic.org/health/diseases/9293-seasonal-depression
White MP, Alcock I, Grellier J, et al. Spending at least 120 minutes a week in nature is associated with good health and wellbeing. Sci Rep. 2019;9(1):7730. Published 2019 Jun 13. doi:10.1038/s41598-019-44097-3
Mukai T, Kishi T, Matsuda Y, Iwata N. A meta-analysis of inositol for depression and anxiety disorders. Hum Psychopharmacol. 2014;29(1):55-63. doi:10.1002/hup.2369
Anglin RE, Samaan Z, Walter SD, McDonald SD. Vitamin D deficiency and depression in adults: systematic review and meta-analysis. Br J Psychiatry. 2013;202:100-107. doi:10.1192/bjp.bp.111.106666
Mehdi S, Manohar K, Shariff A, et al. Omega-3 Fatty Acids Supplementation in the Treatment of Depression: An Observational Study. J Pers Med. 2023;13(2):224. Published 2023 Jan 27. doi:10.3390/jpm13020224
Shop Products From This Article