Is Vitamin D Good for Depression and Anxiety?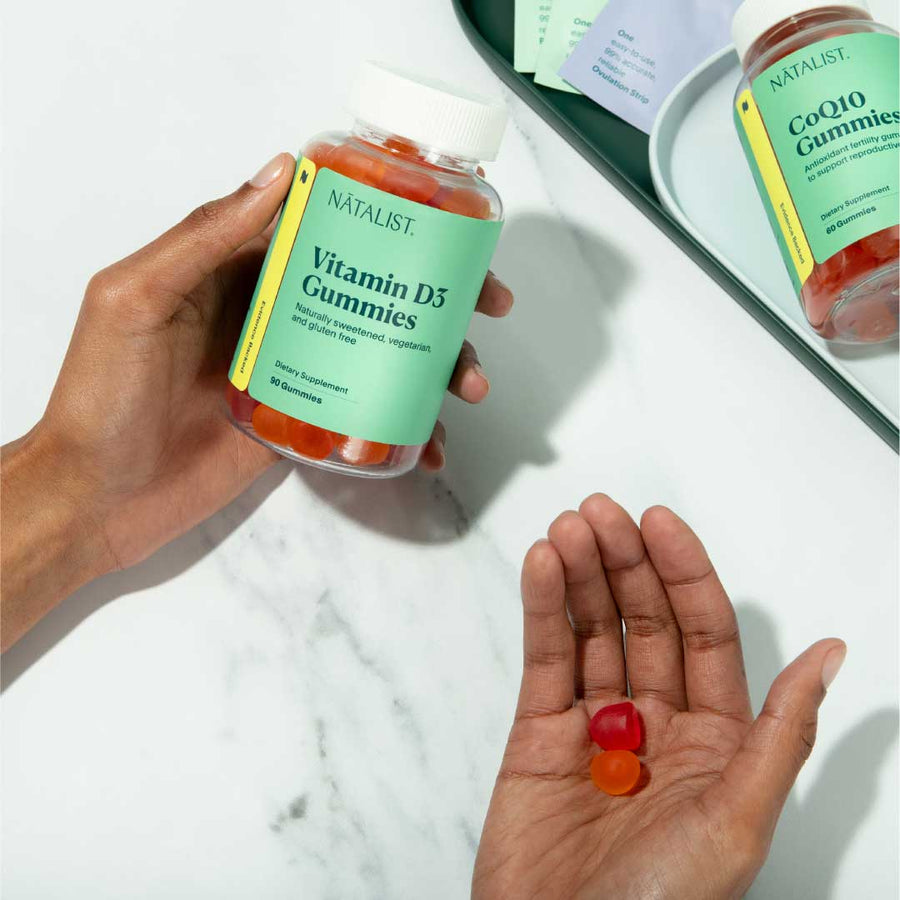 By OBGYN Dr. Kenosha Gleaton
Did you know that World Mental Health Day is on October 10th? October is also depression and mental health awareness month. While it is a commonly stigmatized and minimized topic, mental health is an extremely important part of our well-being that has a profound effect on millions of lives around the world. 
Mental health includes our emotional, psychological, and social well-being and is an important part of how we think, feel, and act in our daily lives. Mental health should always be prioritized and taken as seriously as our physical health. [1] At Natalist, we know that mental health conditions such as depression and anxiety are often interlaced with our fertility and pregnancy journeys. In fact, it's been reported that nearly half of all people assigned female at birth experiencing infertility have a psychiatric diagnosis. [2] We want to remind you that you aren't alone, and there are treatment options available for you. Here's an overview of vitamin D and how it relates to mental health. 
Vitamin D Benefits
Vitamin D is a fat-soluble vitamin that is naturally found in our diet and can be produced following sun exposure. Vitamin D plays many important roles in the body, including calcium absorption in the gut, supporting bone mineralization, preventing cramps, bone remodeling, reducing inflammation, and more. [3] Some research also shows that vitamin D can have positive effects on fertility and pregnancy outcomes in both men and women. [4] There are two main forms of vitamin D found in foods and dietary supplements, known as D2 (ergocalciferol) and D3 (cholecalciferol). These two forms differ slightly in their chemical structure but are both well absorbed in the small intestine. [3] Learn more about vitamin D2 vs vitamin D3. 
Vitamin D and Anxiety
In addition to vitamin D's role in our bone health, anti-inflammatory responses, and fertility, some data suggest that there are mental health benefits associated with healthy vitamin D levels. Some research shows that low levels of vitamin D may be associated with increased symptoms of anxiety and depression. [5] While occasional anxiety is often a normal part of life, some people struggle with long-lasting anxiety disorders that can impact their daily lives. For those who struggle with an anxiety disorder, talk therapy and medications can be extremely helpful for treating or managing their symptoms. Some providers also recommend stress management techniques and support groups for those in need of more treatment or management options. 
Is Vitamin D Good for Anxiety?
Some studies do show a possible correlation between vitamin D supplementation and anxiety. Many studies report that a deficiency in vitamin D is associated with symptoms of anxiety, although the cause-and-effect relationship has not been clarified. [5] Some researchers suspect that a deficiency in vitamin D simply exacerbates the symptoms of existing mental health conditions. A study also found that supplementing with vitamin D was shown to have anti-anxiety effects and improve anxiety symptoms. [5] The bottom line is that vitamin D is a beneficial nutrient for our health and may even improve mental health conditions in some people. If you're interested in using vitamin D to improve anxiety symptoms, speak to a healthcare provider about a safe dosage as well as other treatment options, such as therapy or medication.
Find out if you should stop taking medication for anxiety or depression when trying to conceive→ 
Vitamin D and Depression
You may have heard that vitamin D supplements can improve depressive symptoms, but is there any truth to that claim? We know that vitamin D is involved in some of our brain processes, including certain areas of the brain that may be involved in depression. [4] Researchers are working hard to better understand the connection, if any, that vitamin D has to depression. 
Depression is thought to impact nearly 350 million people around the world. [6] Depression can cause severe symptoms that may interfere with day-to-day activities and how a person feels and thinks regularly. Fortunately, there are treatment options for depression, including medications, talk therapy, brain stimulation therapy, and some alternative treatments. [7] Most healthcare providers recommend starting with talk therapy and progressing to medications or other therapies if needed. [7] It should be noted that alternative treatments, including vitamin D, should always be discussed with a healthcare provider before use. Alternative therapies may be helpful as additional treatment methods, but should never replace established treatment protocol without a provider's approval. 
Is Vitamin D Good for Depression?
So far, various clinical trials and systematic reviews present mixed results. Some data shows a potential link between vitamin D levels and depression, while others can't find a statistically significant connection. [3] 
A meta-analysis performed on about 15 trials identified a statistically significant improvement in depression with the use of vitamin D supplements, as well as an association between depression and vitamin D deficiency. These studies show that a vitamin D deficiency is associated with up to a 14% increase in depression rates, and a significant increase in suicide rates. [8] Other analyses have found few statistically significant results, or weak associations that require further research. [8] All in all, a general consensus is that vitamin D levels may be linked to depression risk or worsening depression symptoms, and supplementation may be helpful for some. 
Vitamin D for Seasonal Depression
Many people who struggle with seasonal affective disorder (SAD) may also benefit from vitamin D supplementation. SAD is a type of depression characterized by the onset of depressive symptoms that tends to begin in late fall or early winter. [9] Naturally, there is a lot of interest in the link between vitamin D levels and SAD as there is often less sun in the winter when the onset of symptoms begins. Research does show that various treatment options such as light therapy, spending more time outside, medications, and therapy can all be effective treatments for SAD. [9] While more research is needed, some data also suggests that vitamin D supplements may be helpful for reducing symptoms. If you are struggling with SAD, speak to your healthcare provider about your options. 
Vitamin D and Postpartum Depression
Similar to anxiety and depressive disorder, some data suggest that low serum vitamin D levels may lead to an increased risk of postpartum depression. [10] Postpartum depression (PPD) is the onset of depressive symptoms for at least two weeks after giving birth. PPD is thought to impact up to 20% of newly postpartum parents and can severely impact day-to-day life. [11] The best treatment options for PPD include talk therapy and antidepressant medications, however, alternative therapies are also being studied. For example, some research shows that correcting a vitamin D deficiency may help with the prevention or recovery of PPD. [10] Data also shows that vitamin B6 levels are also important for serotonin conversion in the brain, which greatly impacts mood. [11] Get self-care tips for postpartum depression. 
Vitamin D for Depression and Anxiety Dosage
If you are interested in supplementing with vitamin D for your mental health, you should speak to a provider directly to get their recommendations on any other treatment options as well as adequate dosage. Because vitamin D isn't a confirmed treatment option for any mental health conditions, there is no standard dosage that can be recommended. The daily recommended dietary allowance for most adults is about 600 IU with a tolerable upper intake level of 4,000 IU. [3] Ensure you are staying within these guidelines to avoid any negative side effects. 
Take Care of Yourself With Natalist Products
Battling any kind of mental health condition can be a difficult, long, and often lonely experience. It can be especially tough if you are currently experiencing infertility or are in the middle of your parenting journey. The best treatment for depression or anxiety is the one that your healthcare provider recommends and brings you the most relief. That being said, prioritizing self-care, nutrition, exercise, sleep, and being outdoors can all also be extremely helpful. If you're in need of fertility or pregnancy-safe care products, you've come to the right place. Check out Natalist self-care bundles and collections to pamper yourself, try out a tasty vitamin D gummy, or stock up on prenatal vitamins and nourishing drink mixes. We're wishing you all the best! 
References:
About Mental Health. CDC. U.S. Department of Health & Human Services. April 2023. https://www.cdc.gov/mentalhealth/learn/index.htm
American Psychiatric Association. Resource Document on Psychiatric Aspects of Infertility, Feb. 2019 https://www.psychiatry.org/news-room/apa-blogs/infertility-the-impact-of-stress-and-mental-health
Vitamin D. Fact Sheet for Health Professionals. August 2022. https://ods.od.nih.gov/factsheets/VitaminD-HealthProfessional
Várbíró S, Takács I, Tűű L, et al. Effects of Vitamin D on Fertility, Pregnancy and Polycystic Ovary Syndrome-A Review. Nutrients. 2022;14(8):1649. Published 2022 Apr 15. doi:10.3390/nu14081649
Akpınar Ş, Karadağ MG. Is Vitamin D Important in Anxiety or Depression? What Is the Truth?. Curr Nutr Rep. 2022;11(4):675-681. doi:10.1007/s13668-022-00441-0
Spedding S. Vitamin D and depression: a systematic review and meta-analysis comparing studies with and without biological flaws. Nutrients. 2014;6(4):1501-1518. Published 2014 Apr 11. doi:10.3390/nu6041501
Depression. NIH. OMB Approval #0925-0648 · Expiration Date 06/30/2024. https://www.nimh.nih.gov/health/topics/depression 
Umhau J.C., George D.T., Heaney R.P., Lewis M.D., Ursano R.J. Low Vitamin D status and suicide: A case-control study of active duty military service members. PLoS One. 2013;8:e51543.
Seasonal Depression (Seasonal Affective Disorder). Cleveland Clinic. April 2022. https://my.clevelandclinic.org/health/diseases/9293-seasonal-depression
Mallory, J. Treating Postpartum Depression. Veterans Affairs. 2020. https://www.va.gov/WHOLEHEALTHLIBRARY/tools/treating-postpartum-depression.asp 
Mughal S, Azhar Y, Siddiqui W. Postpartum Depression. [Updated 2022 Oct 7]. In: StatPearls [Internet]. Treasure Island (FL): StatPearls Publishing; 2023 Jan-. Available from: https://www.ncbi.nlm.nih.gov/books/NBK519070/
Shop Products From This Article