Effective Postpartum Preeclampsia Treatment Methods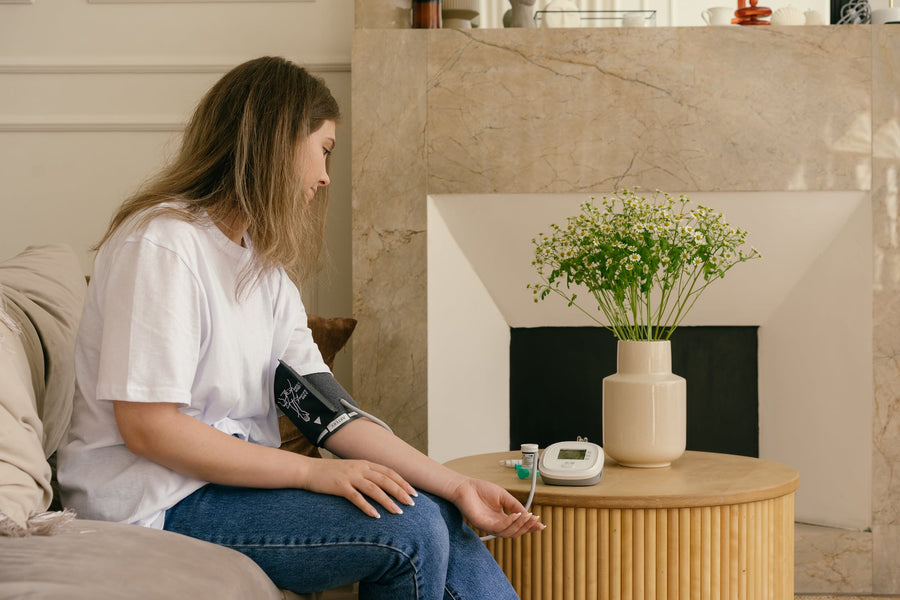 By Dr. Kenosha Gleaton, OBGYN
There are many different health conditions and complications that can arise during and after pregnancy. Educating families on the causes, warning signs, and treatments for these conditions may be helpful in reducing long-term health effects. Let's talk about postpartum preeclampsia and the recommended treatment options. 
What is Postpartum Preeclampsia?
Postpartum preeclampsia is just as the name suggests: preeclampsia that develops during the postpartum period. Preeclampsia is a condition related to high blood pressure during or after pregnancy. [1] Postpartum preeclampsia is most common within a few days after giving birth but can occur up to six weeks after delivery. [1-2] Unfortunately we currently don't have many options for preventing preeclampsia, but early diagnosis and management are likely to provide positive outcomes. [1-2] Learn about recurrent preeclampsia → 
Symptoms of Postpartum Preeclampsia
If someone does have postpartum preeclampsia, they may notice the following after giving birth [1-3]:
High blood pressure (140/90 mmHg or higher)
Rapid weight gain
Nausea and vomiting
Swelling in the face, hands, feet, or limbs
Changes in vision
Severe headache
High levels of protein in the urine
Shortness of breath
Decreased urine output
Abdominal pain
Causes and Risk Factors
The exact cause of postpartum preeclampsia is unknown. Anyone can develop the condition, even if they have not experienced high blood pressure before. We do know that certain factors seem to increase the risk of postpartum preeclampsia [1-2]:
Obesity
Diabetes
Autoimmune conditions 
Multiple pregnancy (twins, triplets, or more)
Maternal age is younger than 20 or older than 40
Family or personal history of preeclampsia or postpartum preeclampsia
High blood pressure during pregnancy
Diagnosis of Postpartum Preeclampsia
If you have experienced any symptoms of postpartum preeclampsia, your healthcare provider may perform one or more tests, including [2]:
Urinalysis to measure protein in the urine
Blood pressure check
Blood test to measure platelet count and check on liver and kidney function
Brain scan to potentially identify a seizure
Importance of Early Diagnosis
Early diagnosis of preeclampsia is key, as immediate medical attention is required to lower blood pressure. High blood pressure for longer periods of time may lead to severe health complications and can be extremely dangerous. [1-3] If you ever notice any strange symptoms or you're concerned about your health during or after pregnancy, it's important to speak to your healthcare provider in a timely manner. 
Treatment Options for Postpartum Preeclampsia
While there is no way to prevent postpartum preeclampsia at this time, we are able to treat the condition with medications and some lifestyle changes. 
Medications for Postpartum Preeclampsia
Some common medications used to manage postpartum preeclampsia include [2]:
Blood thinners, also known as anticoagulants, reduce the risk of blood clots by thinning out the blood.
Blood pressure medication can be used to help lower your BP. 
Antiseizure medications may be used to prevent seizures, which is a common risk for those experiencing postpartum preeclampsia. 
If you're breastfeeding, be sure to let your provider know. Many medications are still safe for use while breastfeeding, but it's important to be aware of any potential risks. 
Lifestyle Changes
It's important to note that the most effective and highly recommended treatments for preeclampsia are prescription medications that help decrease blood pressure, thin out blood, and prevent further complications. [2] That being said, there are some lifestyle changes that can also help with reducing blood pressure. Consuming less salt, drinking plenty of water, and resting are frequently recommended for those dealing with postpartum preeclampsia. [4] 
Preventing Preeclampsia with Supplements and Medications
Some research shows beneficial effects of certain vitamins and medications on hypertensive conditions during and related to pregnancy. To summarize, the following nutrients have shown beneficial effects when comparing preeclampsia risk [1,5,7]:
Calcium
Aspirin
Magnesium 
Omega-3 fatty acids
Folate or folic acid
Many of these essential nutrients are already found in prenatal and postnatal vitamins. If you have questions about your vitamin supplementation, speak to your healthcare provider. 
Potential Complications of Postpartum Preeclampsia
Postpartum preeclampsia does not go away on its own. It's important to get medical attention immediately for early treatment and to avoid any complications. [1-2] Without treatment, there is a high risk of seizures, blood clots, permanent organ damage, stroke, fluid in the lungs, HELLP syndrome, and death. [1-3] HELLP syndrome is a very serious condition that stands for hemolysis (breaking down of red blood cells), elevated liver enzymes, and low platelet count. While rare, HELLP syndrome can lead to very serious complications. Knowing the symptoms of preeclampsia and HELLP syndrome is extremely important [6]:
Blurred vision
Abdominal pain
Fatigue
Swelling or quick weight gain
Nausea and vomiting
Headache
Natalist's Role in Postpartum Health
Managing postpartum life is no easy feat, no matter how many times you've been through the pregnancy and postpartum experience. Taking care of yourself and your baby can be especially difficult if you're experiencing complications or serious conditions such as postpartum preeclampsia. Remember to always advocate for yourself with your healthcare providers and rely on your support system as much as possible. Natalist has got you covered with postpartum essentials like Nip & Lip Balm, comprehensive vitamins and supplements, and Magnesium Plus drink powder to support hydration and nutrient intake. Want to learn more? Visit the Natalist blog. 
References:
Preeclampsia and High Blood Pressure During Pregnancy. FAQ034. ACOG. April 2023. URL. 
Postpartum Preeclampsia. Cleveland Clinic. July 2022. URL. 
Karrar SA, Hong PL. Preeclampsia. [Updated 2023 Feb 13]. In: StatPearls [Internet]. Treasure Island (FL): StatPearls Publishing; 2023 Jan-. Available from: https://www.ncbi.nlm.nih.gov/books/NBK570611/
Preeclampsia. American Pregnancy Association. Accessed July 2023. URL. 
Mallory, J. Supplements Used in Prevention of Preeclampsia and for Labor Preparation. VA. March 2022. URL. 
HELLP Syndrome. Cleveland Clinic. May 2021. URL. 
Bullarbo, M., Ödman, N., Nestler, A. et al. Magnesium supplementation to prevent high blood pressure in pregnancy: a randomised placebo control trial. Arch Gynecol Obstet 288, 1269–1274 (2013). https://doi.org/10.1007/s00404-013-2900-2
Shop Products From This Article
Subscribe & Save $7.00
Extra 10% off your first delivery when you subscribe with code SEPT23
$85 $68