The Differences and Health Effects of Prebiotics and Probiotics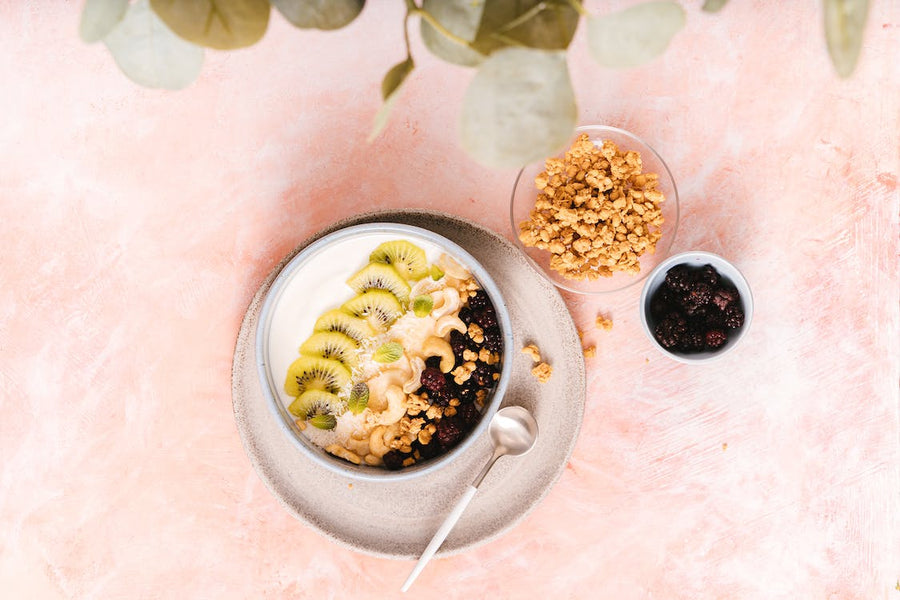 By OBGYN Dr. Kenosha Gleaton
An Overview of the Digestive System
Before we get into the differences between prebiotics and probiotics, let's talk about the basics of the digestive system. The digestive system consists of the gastrointestinal tract, also known as the GI tract, the liver, pancreas, and gallbladder. [1] The digestive system breaks down the food we eat, which is then absorbed and moved throughout the body. Nutrients are carried to different cells in the body while waste is eventually expelled through bowel movements. [1] 
An Overview of the Microbiome
Microflora, also known as gut flora or microbiome, are bacteria and other organisms that live inside the body and help digest and break down food alongside nerves, hormones, blood, and organs. [1] Microflora also helps create nutrients, such as vitamin K, biotin, folic acid, and thiamine. [2] What some people don't realize is that the microbiome is not just related to the gut, but can be found all throughout the body, including the vagina, uterus, skin, mouth, and elsewhere. The microbiome is a crucial part of our health and plays an important role in the immune system, endocrine system, and other physiological processes. [3] 
What Are Prebiotics and Probiotics?
Prebiotics and probiotics are compounds and microorganisms found in food that regulate, grow, and support the gut microflora. [4] In simpler terms, prebiotics and probiotics help maintain a healthy balance of "good" bacteria in the body. 
What is the Difference Between Prebiotics and Probiotics?
Prebiotics essentially act as food for bacteria- they are the compounds in our food that cannot be digested and are used as fuel for the microflora. Probiotics are live bacteria found in foods or supplements that help to maintain or improve the microflora. [4] You've probably heard about "good" and "bad" bacteria before, and the microbiome is a great example. [2] We all constantly have both good and bad bacteria in our bodies, and it's important that the good bacteria overpower the bad bacteria. You can support the good bacteria by consuming them (as probiotics) and fueling them with their own form of food (prebiotics). [4] 
Food Sources of Prebiotic and Probiotic Foods
You can get prebiotics and probiotics through many different foods and supplements. Popular sources of probiotics include yogurt, sauerkraut, pickles, kimchi, sourdough bread, and some cheeses. [5] Prebiotic food sources are typically high in soluble fiber. A few options include potatoes, oats, rice, beans, legumes, bananas, soybeans, onions, garlic, apples, carrots, green beans, apricots, and tomatoes. [6] Learn why fiber is considered the magic pregnancy supplement → 
Supplements
In addition to food sources, there are supplement options for probiotics, prebiotics, and synbiotics, which combine the two. Supplements come in a variety of different options including capsules, gummies, and powders. 
Who Should Take Prebiotics and Probiotics?
We regularly consume both prebiotics and probiotics through our diet, but there are also ways to increase your intake through specific foods or supplements. Some people may benefit more than others by supplementing with synbiotics, such as some with GI related diseases or chronic illness, taking antibiotics, or lacking a fibrous diet. [7] You should always speak to a healthcare provider directly when considering stopping or starting any supplements. 
Who Shouldn't Take Them?
In some cases, prebiotics or probiotics may not be a great option for people. Anyone that is severely immunocompromised, recovering from surgery, suffering from irritable bowel syndrome (IBS), small intestinal bacterial overgrowth, etc. may want to steer clear of either prebiotics, probiotics, or both. [7] Your healthcare provider can give better recommendations on what supplements you should and shouldn't take. 
Can You Take Prebiotics and Probiotics Together?
Yes, you can take prebiotics and probiotics together (also known as synbiotics), in fact, many experts actually encourage that both are taken together to support a healthy gut microbiome. [2-4] Together, prebiotics and probiotics work to fuel and support our healthy gut bacteria. As mentioned, these supplements may not always be encouraged for everyone, so be sure to talk with your healthcare provider before use. Read What Supplements Should I Take for Fertility and Pregnancy? 
Health Effects of Prebiotics and Probiotics 
There have been many studies on synbiotics and their health effects. Research suggests that probiotics can be beneficial for various gastrointestinal diseases, such as IBS, inflammatory bowel disease, diarrhea, and some allergic diseases. [2-4] Studies also suggest that probiotics can help manage obesity, insulin resistance, and fatty liver disease. [4] 
Prebiotics in the diet have also shown beneficial effects on health. Research suggests that a high intake of prebiotics may reduce the risk of some colorectal diseases, improve cholesterol, support the immune system, maintain adequate intestinal pH, and decrease symptoms of peptic ulcers. [2-4] 
Probiotics, Prebiotics, and Fertility
We've established that the gut plays a very important role in our overall health, including the immune and endocrine systems. We also know that there are vaginal and endometrial microbiomes that can fluctuate, similar to the gut microbiome. [8] Research suggests that our microflora interacts with hormones such as estrogen, androgens, insulin, and others. [3] Data also show that an imbalance of the microflora composition may lead to several conditions that can impact fertility, including polycystic ovary syndrome (PCOS), endometriosis, bacterial vaginosis (BV), etc. [3] 
The vaginal and endometrial microbiome regularly fluctuates during the menstrual cycle and during reproductive changes. [9] Abnormal levels of certain bacteria can lead to conditions such as BV or other forms of vaginal dysbiosis (an imbalance in the microflora). [8] Research is still limited, but some studies suggest that taking probiotics can improve vaginal or endometrial health, and may even benefit fertility and other reproductive outcomes. One study found that probiotics helped lower pH values and improved lactobacilli ("good" bacteria). [8] Some researchers have also found that supplementing with oral probiotics improved some hormonal and fertility related disease outcomes. [10] 
Probiotics and Prebiotics During Pregnancy
The use of probiotics and prebiotics is thought to be safe during pregnancy and may even provide some health benefits. Some studies show that probiotics may help lower the risk of gestational diabetes, mastitis, constipation, and postpartum depression. [11] It's also been suggested that probiotics and prebiotics can alter breastmilk, which may help boost infant immune function and support the gut microbiome early in life. [12] While data suggests that prebiotic and probiotic use is safe during pregnancy and breastfeeding, you should always discuss with your healthcare provider before making any changes to your diet or supplement routine. 
Key Takeaways
Microflora, also known as the microbiome, are the bacteria and organisms that live inside the body and help to maintain a healthy balance of good and bad bacteria.
The microflora plays an important role in overall health. It supports immunity, digestion, endocrine function, and more. 
Prebiotics and probiotics are compounds and bacteria that both fuel and work alongside the microflora. 
Prebiotics act as food for the good bacteria in our body while probiotics help maintain or improve the good bacteria. 
There are many studied health effects of taking prebiotics or probiotics, including improved GI health, managing obesity, and improving insulin resistance.
Probiotics and prebiotics may also benefit fertility and pregnancy outcomes, although more research is needed. 
Studies show that probiotics and prebiotics may help prevent BV, lower vaginal pH, and improve symptoms of conditions such as PCOS and endometriosis. 
Research also suggests that probiotics and prebiotics can help prevent pregnancy complications, gestational diabetes, mastitis, and may improve infant health. 
Sources:
Your Digestive System & How it Works.  National Institutes of Health. December 2017. URL. Accessed June 2023. 
Gorbach SL. Microbiology of the Gastrointestinal Tract. In: Baron S, editor. Medical Microbiology. 4th edition. Galveston (TX): University of Texas Medical Branch at Galveston; 1996. Chapter 95. Available from: https://www.ncbi.nlm.nih.gov/books/NBK7670/
Qi X, Yun C, Pang Y, Qiao J. The impact of the gut microbiota on the reproductive and metabolic endocrine system. Gut Microbes. 2021;13(1):1-21. doi:10.1080/19490976.2021.1894070
Markowiak P, Śliżewska K. Effects of Probiotics, Prebiotics, and Synbiotics on Human Health. Nutrients. 2017;9(9):1021. Published 2017 Sep 15. doi:10.3390/nu9091021
How to get more probiotics. Harvard health Publishing. August 24 2020. URL. 
What Are Prebiotics and What Do They Do? Cleveland Clinic. March 14 2022. URL. 
Prebiotics vs. Probiotics: What's the Difference? Cleveland Clinic. March 25 2020. URL. 
Blancafort C, Llácer J. Can probiotics enhance fertility outcome? Capacity of probiotics as a single intervention to improve the feminine genital tract microbiota in non-symptomatic reproductive-aged women. Front Endocrinol (Lausanne). 2023;13:1081830. Published 2023 Jan 19. doi:10.3389/fendo.2022.1081830
Chen X, Lu Y, Chen T, Li R. The Female Vaginal Microbiome in Health and Bacterial Vaginosis. Front Cell Infect Microbiol. 2021;11:631972. Published 2021 Apr 7. doi:10.3389/fcimb.2021.631972
López-Moreno A, Aguilera M. Probiotics Dietary Supplementation for Modulating Endocrine and Fertility Microbiota Dysbiosis. Nutrients. 2020;12(3):757. Published 2020 Mar 13. doi:10.3390/nu12030757
Sheyholislami H, Connor KL. Are Probiotics and Prebiotics Safe for Use during Pregnancy and Lactation? A Systematic Review and Meta-Analysis. Nutrients. 2021;13(7):2382. Published 2021 Jul 13. doi:10.3390/nu13072382
García-Montero C, Fraile-Martinez O, Rodriguez-Martín S, et al. The Use of Prebiotics from Pregnancy and Its Complications: Health for Mother and Offspring-A Narrative Review. Foods. 2023;12(6):1148. Published 2023 Mar 8. doi:10.3390/foods12061148
Shop Products From This Article
Subscribe & Save $2.00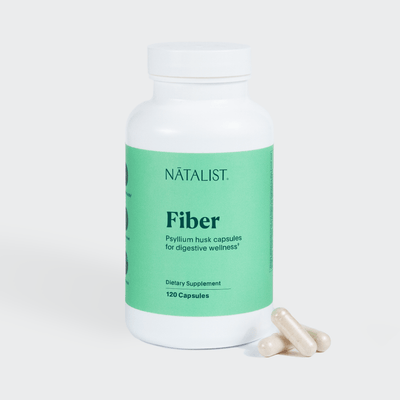 Extra 10% off your first delivery when you subscribe with code SEPT23
$23