10 Pregnancy Gifts for First-Time Moms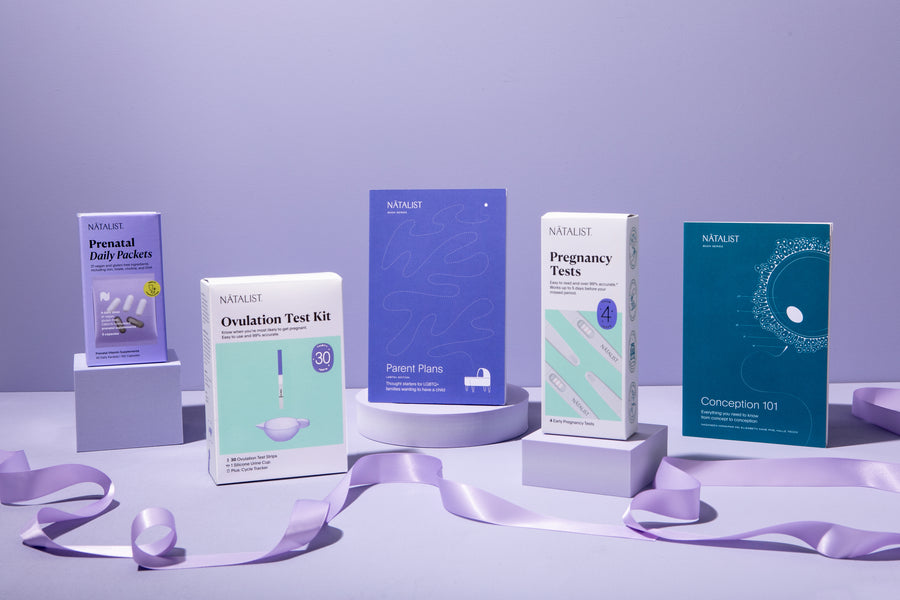 Looking for the perfect gift for a new mom in your life? Here are 10 great gift ideas to support health and wellness during pregnancy and the postpartum period. 
1. Postnatal Vitamins 
Recovering from childbirth, taking care of a newborn, and breastfeeding all take up a lot of energy. It's important that new moms are fueling their bodies with plenty of good nutrients to promote healing and fill in key dietary needs for mom and baby. Natalist Postnatal Vitamins are specially formulated to support unique nutritional needs postpartum, replenish iron, support energy levels, and support baby's development. 
2. Prenatal Vitamins
Have a new mom in your life that's not yet in the postpartum stage? Prenatal vitamins are another great option for supporting nutrition and healthy fetal development. Whether they are an on-the-go kind of person in need of an efficient daily vitamin packet or they're a lover of chewy candy and would appreciate a tasty gummy vitamin, prenatal vitamins are a must-have item for those trying to conceive (TTC) and pregnant. Natalist prenatal vitamins are vegan (daily packets) and vegetarian (gummy vitamins), gluten-free, plastic-neutral, and backed by science. 
3. Breastfeeding Nipple Balm
If anyone deserves a soothing, conditioning product, it's a new mom. Natalist Nip & Lip Balm is perfect for moisturizing chapped, dry, or sore nipples and lips and helps to hydrate the skin. One of the best parts of Natalist nipple balm is that you don't need to remove it before breastfeeding. If you really want to support the complete breastfeeding journey, you can bundle and save with Natalist Breastfeeding Essentials, which includes Nip & Lip Balm as well as the Postnatal Vitamin.
4. Pregnancy and Parenting Books
Pregnancy and parenting are two exciting, scary, confusing, awe-inducing journeys that we could all use some support with. Whether you opt for a Natalist branded book like our Parent Plans or another option, there is bound to be a book out there that your loved one will get something out of. Natalist Parent Plans is a workbook full of thought starters, to-dos, and activities perfect for couples on the road to parenthood. 
5. Herbal Morning Sickness Tea 
Whether or not you've experienced pregnancy nausea yourself, it's pretty obvious that battling morning sickness is not a walk in the park. Products like Nausea Relief Tea are designed to help relieve morning sickness at any time of the day. Natalist herbal morning sickness tea is an organic blend of ginger root and peppermint, created with nauseous moms in mind. This tea is caffeine-free, gluten-free, and vegan. 
6. Anti-Nausea Gummies
Another great pick for those battling nausea and morning sickness, Anti-Nausea Gummies are made with pregnancy-safe ginger and vitamin B6. Swallowing pills can be difficult when struggling with morning sickness, which is why these tasty honey and ginger flavored supplements are a great over-the-counter remedy for pregnant mamas. Not only do they taste great, but these gummies are gluten-free, vegan, non-GMO. 
7. Nourishing and Hydrating Drink Mixes
Who doesn't love a liquid pick-me-up? Drink mixes are a great option for a new mom in your life that not only taste great but provide nourishment during the pregnancy or postpartum period. Natalist offers a Magnesium Plus drink mix, formulated with magnesium, calcium, and vitamin D3 to support relaxation, calcium absorption, and bone health. Not only is it packed full of important nutrients, but Magnesium Plus has a slight raspberry flavor and turns pink when mixed with water. In addition to the magnesium mix, Natalist also offers a Hydration & Energy Electrolyte Mix packed full of key electrolytes like sodium, chloride, potassium, magnesium, and hyaluronic acid. These electrolyte packets are perfect for supporting energy levels and hydration in pregnant or postpartum moms. 
8. Vitamin D3 Gummies
You can gift a new mom some bottled sunshine with Natalist Vitamin D3 Gummies! Not only are these vitamins delicious, but they are extremely useful for anyone TTC, pregnant, or postpartum. It's common for pregnant people to be deficient in vitamin D, especially anyone that is vegetarian, has darker skin, or has limited sun exposure. Research suggests that vitamin D supports healthy bones, teeth, and immune function. These gummies are peach, mixed berry, and strawberry flavored, vegetarian, gluten-free, and free of synthetic colors and artificial sweeteners. 
9. Belly Oil
Want to help pamper a new mom? Pregnancy-safe belly oil is a great gift for anyone wanting a glowing, moisturized belly. Natalist Belly Oil is made with sensitive, skin-safe ingredients like argan oil, coconut oil, shea butter, and olive oil and can be used to nourish, soothe, and hydrate a growing belly. This oil improves skin elasticity as well, which may be helpful for reducing stretch marks (not that they need to be reduced). Another pro? Belly oil can really be used all over, including the legs, thighs, hips, arms, and chest. Those with dry skin will thank you! 
10. Cooling Cream for Swelling Relief
Want another self-care giftable product? You may be interested in this cooling lotion that revitalizes and refreshes swollen feet and ankles. Natalist Cooling Cream is made with anti-inflammatory ingredients that help moisturize and restore tired pregnancy feet. This lotion is made with peppermint, sunflower oil, aloe vera, coconut oil, and many other sulfate and paraben-free ingredients designed with pregnant moms in mind. 
Explore Fertility, Pregnancy, & Postpartum Essentials from Natalist
Whether you yourself are on a fertility or pregnancy journey or you have a loved one that is, Natalist offers a multitude of products to support the journey to parenthood. All of our products are backed by science, made with sustainability in mind, and formulated with only the best ingredients. Offerings include male and female fertility supplements, tests, self-care, and postpartum products. Natalist offers free standard shipping on all US orders of $50 or more as well as all bundles, multi-packs, and duos.
Browse all giftable items
on our website, or
read our blog
for more inspiration and information surrounding pregnancy and fertility.
Shop Products From This Article
Subscribe & Save $7.00
Extra 10% off your first delivery when you subscribe with code SEPT23
$85 $68