Should I Take Postnatal Vitamins If I'm Not Breastfeeding?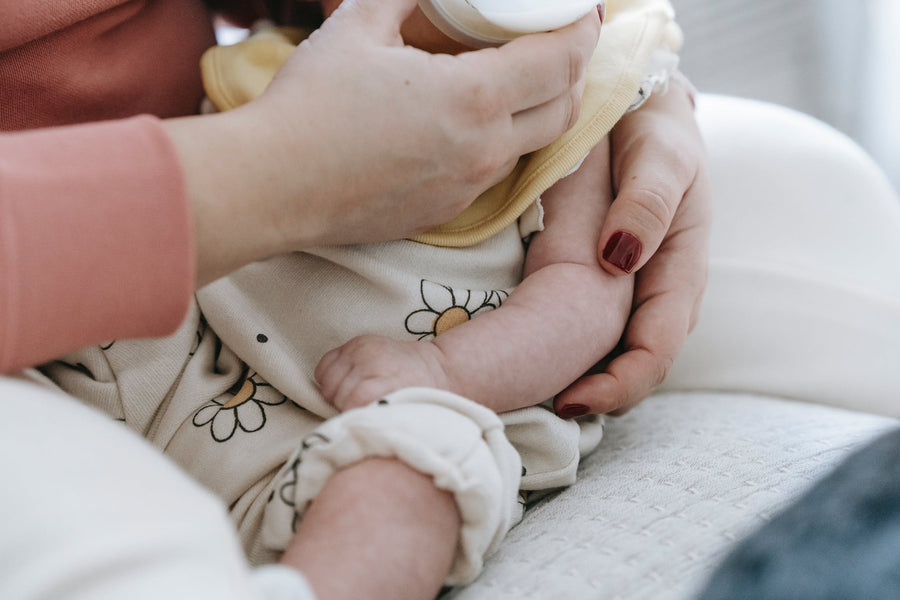 Postnatal vitamins are full of important nutrients, but are they necessary if you aren't breastfeeding? Keep reading to find out. 
By OBGYN and fertility specialist Dr. Kenosha Gleaton
It's important that you're nurturing your body as best as you can in the weeks and months postpartum. Your hormones are changing, your body is healing, and it's likely that you aren't getting a ton of sleep. Let's talk about why postpartum nutrition is so important for everyone, regardless of if you're breastfeeding or not.
What are postnatal vitamins?
Postnatal or postpartum vitamins are similar to prenatal vitamins, but are formulated with different nutritional needs in mind. Postnatals are a blend of vitamins and minerals that can help your body heal after childbirth and support your overall health. Many postpartum vitamins are marketed towards breastfeeding moms for lactation support, but there are plenty of other benefits to taking a postnatal or other multivitamin while postpartum if you aren't breastfeeding.
What's the difference between postnatal vitamins and prenatal vitamins?
Your vitamin routine before and during pregnancy is focused on supporting iron levels, preventing spina bifida, building strong teeth and bones, etc. while your postpartum needs have changed a bit. There are many postnatal vitamins on the market, so the ingredients will vary from brand to brand. Let's compare Natalist Prenatal Daily Packets to Natalist Postnatal Vitamin
| | | |
| --- | --- | --- |
| | Prenatal Daily Packets | Postnatal Multivitamin |
| Vitamin A | 700 mcg | 700 mcg |
| Vitamin C | 48 mg | 50 mg |
| Vitamin D | 50 mg | 25 mcg |
| Vitamin E | 15 mg | 10 mg |
| Folate | 1330 mcg DFE | 500 mcg DFE |
| Biotin | 100 mcg | 20 mcg |
| Choline | 150 mg | 400 mg |
| Iron | 27 mg | 5 mg |
| DHA | 450 mg | 200 mg |
| Iodine | 150 mcg | 150 mcg |
As you can see, the postnatal vitamin is still packed with a lot of vitamins and minerals, but has been tweaked to accommodate specific postpartum needs. Prenatal vitamins usually have much higher concentrations of ingredients such as folate, iron, and DHA to help form the neural tube, nervous system, red blood cells, and so on [1]. When you're postpartum your nutritional needs are more focused on healing your body and supporting energy levels. 
Postpartum nutritional needs 
What do nutritional needs look like for new moms that aren't breastfeeding? The postpartum period is a time of healing and transition, and it's important to give your body the same attention and care you did while you were pregnant. Aside from supporting basic functioning and health of the body, some vitamins and minerals can have specific benefits during the postpartum period. 
Omega DHA
Omega-3 fatty acids are healthy fats that support neurological development during pregnancy, and support mood stabilization and healing postpartum. Research shows that omega-3 fatty acid supplementation may have preventative effects on mood and anxiety disorders, helps with inflammation, and helps to reduce some symptoms associated with postpartum depression [2-3]. 
B vitamins
B vitamins such as B12, B6, B9, and others, are important nutrients for DNA synthesis, oxygen transport, and metabolism [4]. Research shows that supplementation of specific B vitamins can reduce the risk of postpartum depression, reduce fatigue, and support energy levels [4-5]. Data also suggests that B vitamins play an important role in hormone balance, an important part of postpartum healing [8]. 
Vitamin D
The sunshine vitamin, vitamin D, plays an important role in mood, immune function, and bone health. Data suggests that adequate vitamin D intake during and after pregnancy may reduce postpartum depression and boost immune system function [6]. Vitamin D is also considered a multifunctional hormone due to its many roles in the body and may help with reproductive hormone regulation [9-10]. 
Vitamin C
Vitamin C has important properties that support physical healing and immune system function. Vitamin C is an antioxidant and helps synthesize collagen, which is associated with joint pain, wound healing, skin elasticity, and more [7]. 
It's also important to note that many women are at a higher risk and may experience various nutritional deficiencies during pregnancy due to the shared nutritional demands. Continuing a multivitamin regime after childbirth may help address deficiencies or low vitamin levels.
The fourth trimester
There's a reason that the postpartum period is referred to as the fourth trimester. You may no longer be pregnant, but your body is still going through a lot of changes internally and externally. New moms are often encouraged to continue taking their prenatal vitamins after giving birth for at least a few months or until they run out. Even if you aren't breastfeeding, you can benefit from taking a comprehensive postnatal vitamin or general multivitamin. Certain nutrients found in these supplements can help reduce the risk of postpartum depression, improve your hormone regulation, boost your immune system, and support your energy levels. Speak with your healthcare provider for specific recommendations on postpartum nutrition, and be sure to treat yourself to a self-care day. You've earned it! 
References:
Jouanne M, Oddoux S, Noël A, Voisin-Chiret AS. Nutrient Requirements during Pregnancy and Lactation. Nutrients. 2021;13(2):692. Published 2021 Feb 21. doi:10.3390/nu13020692

Su KP, Matsuoka Y, Pae CU. Omega-3 Polyunsaturated Fatty Acids in Prevention of Mood and Anxiety Disorders. Clin Psychopharmacol Neurosci. 2015;13(2):129-137. doi:10.9758/cpn.2015.13.2.129

Hsu MC, Tung CY, Chen HE. Omega-3 polyunsaturated fatty acid supplementation in prevention and treatment of maternal depression: Putative mechanism and recommendation. J Affect Disord. 2018;238:47-61. doi:10.1016/j.jad.2018.05.018

Tardy AL, Pouteau E, Marquez D, Yilmaz C, Scholey A. Vitamins and Minerals for Energy, Fatigue and Cognition: A Narrative Review of the Biochemical and Clinical Evidence. Nutrients. 2020;12(1):228. Published 2020 Jan 16. doi:10.3390/nu12010228

Khodadad M, Bahadoran P, Kheirabadi GR, Sabzghabaee AM. Can Vitamin B6 Help to Prevent Postpartum Depression? A Randomized Controlled Trial. Int J Prev Med. 2021;12:136. Published 2021 Oct 19. doi:10.4103/ijpvm.IJPVM_240_19

Abedi P, Bovayri M, Fakhri A, Jahanfar S. The Relationship Between Vitamin D and Postpartum Depression in Reproductive-Aged Iranian Women. J Med Life. 2018;11(4):286-292. doi:10.25122/jml-2018-0038

Vitamin C- Fact Sheet for Health Professionals. National Institutes of Health. March 26, 2021. Accessed March 2, 2023. URL. 

Kaewrudee S, Kietpeerakool C, Pattanittum P, Lumbiganon P. Vitamin or mineral supplements for premenstrual syndrome. Cochrane Database Syst Rev. 2018;2018(1):CD012933. Published 2018 Jan 18. doi:10.1002/14651858.CD012933

Jukic AMZ, Wilcox AJ, McConnaughey DR, Weinberg CR, Steiner AZ. 25-Hydroxyvitamin D and Long Menstrual Cycles in a Prospective Cohort Study. Epidemiology. 2018;29(3):388-396. doi:10.1097/EDE.0000000000000804

Ellison DL, Moran HR. Vitamin D: Vitamin or Hormone?. Nurs Clin North Am. 2021;56(1):47-57. doi:10.1016/j.cnur.2020.10.004
Shop Products From This Article