What is Virtual Healthcare and How Does it Work?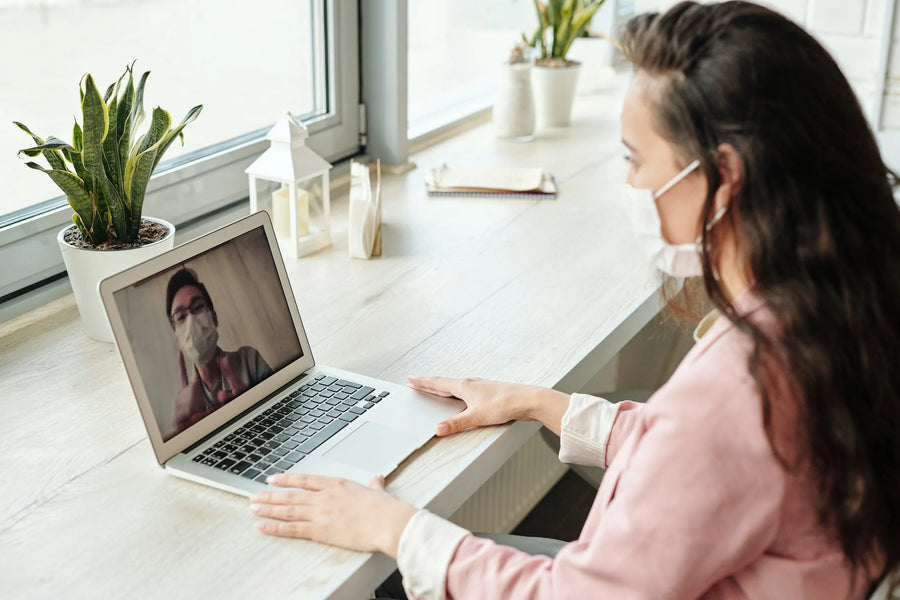 Virtual healthcare and consultations have become a significant part of the healthcare industry. Read on to learn more about what they are and how they work.
The world of healthcare is ever changing, expanding, and adapting. Many people are opting for virtual healthcare visits, in favor of the comfort and accessibility telehealth brings to the table. Let's take a deeper look. 
What is virtual care?
As the healthcare industry continues to evolve and adapt, there are more opportunities for patients and providers to connect outside of a doctor's office. Virtual care visits, also known as virtual healthcare, telehealth, remote visits, telemedicine, etc. involve the use of technology so that patients are able to get their questions answered and symptoms addressed without having to leave the house. Data from a global survey shows that over 70% of patients would be comfortable communicating remotely with their doctor rather than through in-person visits. Virtual care can look like many things— online counseling through video conferencing, a phone call regarding chronic disease management, virtual primary care, the use of tools to measure and record blood sugar, heart rate, etc. for your doctor's review (known as remote patient monitoring), even online chatting with a healthcare provider about your care plan. Over 75% of U.S. hospitals currently utilize telehealth in some capacity, a huge increase compared to ten years ago. 
How does virtual healthcare work?
Virtual medical care can refer to a wide range of services, but in general, there needs to be a HIPAA compliant platform through which the patient and provider can video chat, call, message, or otherwise discuss and disclose health information in a secure manner. You may even be able to complete blood tests through mail-in kits or by visiting a lab directly, without going to a doctor's office. You may be able to get connected to virtual care through your usual doctor's office, or even through a google search for things such as virtual mental health, virtual fertility support, and so much more. 
There will be different processes for different platforms, so getting started with virtual health visits can look a bit different for everyone. The bottom line is that telehealth, virtual care, or whatever you want to call it, can be a convenient and easy way to meet with a provider without having to leave the house. 
What type of healthcare provider will I be meeting with?
Are there actual MDs utilizing telehealth? Absolutely! The type of provider you meet with during a virtual visit is going to vary depending on the services you're seeking out as well as the solution you select. It's possible you could be meeting with healthcare professionals ranging from care coordinators to psychologists to nurses to medical doctors and specialists. If you have specific concerns or questions about who you will be meeting with during your virtual healthcare visit, reach out for clarification. You should be given some basic information about what providers are available or likely to be conducting your visit before you make the appointment. 
How does payment work for virtual care visits?
There isn't a guarantee that all virtual healthcare is going to be covered by your insurance provider. There are quite a few plans that do include telehealth coverage, but terms will vary by plan, provider, and the selected virtual healthcare solution. Some virtual services may not accept insurance at all, but could be HSA/FSH eligible expenses. Be sure to discuss cost and coverage with your insurance company and whatever provider or service you're hoping to utilize to avoid any surprise costs. 
What are the pros of virtual care?
Comfort
A huge advantage of virtual care is being able to connect with a provider in your own home. If you're someone that has medical anxiety or if you just love the idea of not having to change out of your sweatpants, virtual care may be an attractive option.
Limited exposure
No doctor's office or hospital visits means no exposure to the people seeking care for a cold, flu, COVID, or any other contagious illness. On the flip side, if you're the one seeking care for or currently recovering from an illness, you aren't exposing any providers or patients in the process of seeing a provider. 
No waiting rooms
How many times have you been to urgent care or any other appointment, to be left in a cold waiting room for upwards of 15 minutes? Virtual waiting rooms are a bit easier to bear, especially if you're just waiting while home in bed or while you're eating your lunch. 
Efficient
One of the best parts of virtual care is the efficiency. Especially if you have fast visits for chronic illness management, check-ins, or any other quick appointments. You're not spending time in the car driving to and from an office, you don't have to bother with leaving the house or getting ready at all! If your telehealth platform has messaging features also, you can quickly send over a concern or question to your provider and go about your day, without having to call in and make an appointment. 
Accessible
According to a Pew research study, 18% of Americans live over 10 miles from their nearest hospital. Of those that live in far rural areas, it takes 34 minutes on average to reach a care facility. Even if someone doesn't live far from a hospital or doctor's office, specialists can sometimes be hours or states away. Not to mention childcare, accessibility concerns for those with physical handicaps, and more. Virtual care brings healthcare to the patient. 
What are the cons of virtual care?
No physical exams
There are some limitations to what can be done through telehealth. For example, physical exams are impossible to conduct through a computer screen. If there is something that could be more easily or accurately diagnosed through a physical exam or imaging test, telehealth won't do you much good. 
Equipment needs
In order to successfully complete a virtual care visit, you'll likely need access to a computer or smart device as well as the internet. Some virtual care visits may be completed through the phone or a messaging app, but there is a need for some kind of reliable technology. Even equipment like thermometers, blood pressure cuffs, all of the basics used to check your vitals at in-person visits aren't usually available for telehealth. 
Insurance coverage
The popularity of telehealth visits is increasing, and many insurance companies do cover telehealth visits, although many do not. Some virtual services may not accept insurance at all. This is something to consider and look into before committing to a virtual care visit, so be sure to do your research beforehand and contact your insurance company if you have specific questions related to telehealth coverage and cost. 
Just like everything in life, there are going to be pros and cons. Virtual care may not be for everyone, so you should do your research before deciding to move forward with online health care. 
Key Takeaways
Virtual healthcare, also known as telehealth, telemedicine, virtual care, etc. is a way for patients and providers to connect using technology, eliminating the need for in-person visits.

Virtual healthcare can happen over the phone, through video conferencing, messaging, and more.

There are many pros to virtual care, including comfort, accessibility, efficiency, and more.

There are some cons of telehealth, including the inability to provide some physical exams and imaging tests, equipment requirements, and insurance coverage.

Not all insurance plans have telehealth coverage, and not all virtual care services accept insurance. Some are FSH/HSA eligible. 
Sources:
https://www.pewresearch.org/fact-tank/2018/12/12/how-far-americans-live-from-the-closest-hospital-differs-by-community-type/
https://www.hhs.gov/hipaa/index.html
https://www.health.harvard.edu/staying-healthy/telehealth-the-advantages-and-disadvantages
https://newsroom.cisco.com/c/r/newsroom/en/us/a/y2013/m03/cisco-study-reveals-74-percent-of-consumers-open-to-virtual-doctor-visit.html