Can You Take Biotin While Breastfeeding?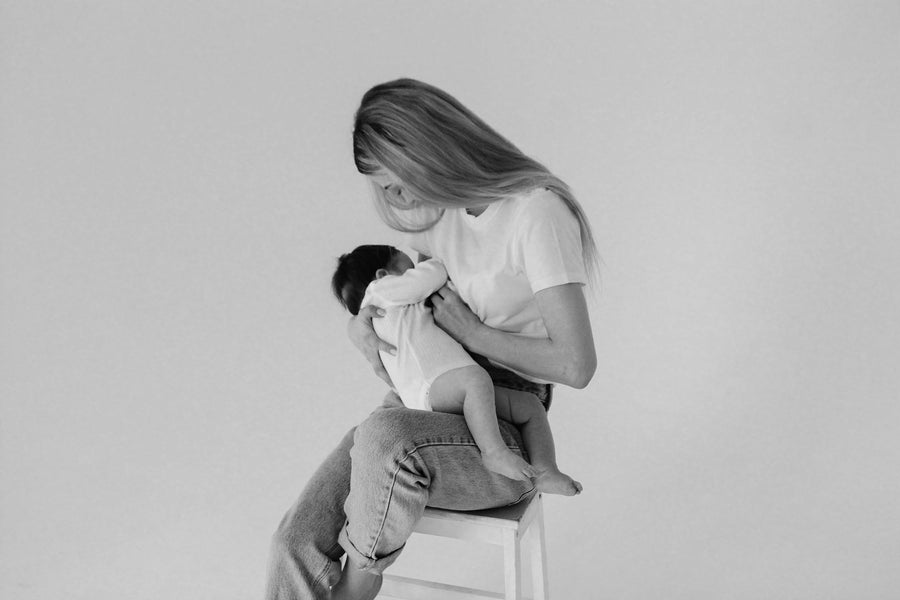 When breastfeeding, it's important to ensure that you are taking the necessary supplements. Read on to learn if you can take biotin while breastfeeding. 
By OBGYN and fertility specialist Dr Kenosha Gleaton
Your body goes through many changes during and after pregnancy, and your hair is no exception. It's common for many people to experience thick and full hair during pregnancy, only to see an increase in hair loss and thinning after giving birth. There are many supplements on the market that claim to support hair health, but can you really trust them? Let's look into biotin, what it can and can't do, and if it's safe to take while breastfeeding. 
What's biotin?
Biotin, also known as B7, is a naturally occurring vitamin necessary for metabolizing, cell signaling, and cell regulating. In other words, biotin is one of the nutrients responsible for the breakdown and use of food and nutrients in the body, and cells' abilities to divide, repair, communicate, and process information. Without enough biotin in the diet, it's possible to experience brittle nails, skin rashes, and thinning hair. Biotin is obtained through many foods, including milk, eggs, avocados, salmon, nuts, grains, mushrooms, and more. Biotin is often seen in supplements marketed for hair and skin health, alongside collagen. 
What does biotin support?
Biotin is a vital nutrient for overall health and should be consumed through a regular diet. Supplementation may also be beneficial for anyone that wants an added boost of biotin in their daily routine!
Breaking down nutrients and supporting heart health 
Biotin is an important nutrient for cardiovascular health! Biotin intake was shown to reduce low-density lipoprotein (LDL) cholesterol in diabetic patients, as well as help regulate blood sugar and support the metabolism of glucose and fatty acids. The breaking down of nutrients is an essential step of metabolism, which keeps the body functioning properly. 
Hair, skin, and nails
Biotin is also an important part of hair, skin, and nail health. A double-blind study found that daily oral supplements containing biotin, collagen, and vitamin D, resulted in hair growth, skin hydration, elasticity, and repairing brittle nails. Biotin deficiencies, while rare, can also cause hair thinning and skin rashes. 
Fetal development
Biotin also supports pregnancy through healthy fetal development. Cellular function and growth rely on biotin both in the womb and out. Pregnancy also puts someone at a higher risk of biotin deficiency, so it's common to see biotin added into prenatal vitamins to support a healthy pregnancy and healthy baby. 
Shop Biotin Plus Gummies, formulated with collagen and antioxidants!
Biotin and hair health
It's true that biotin is necessary for hair growth, however there is limited data to support that biotin supplementation will have many effects on hair growth for the general population. There are some groups that are more susceptible to biotin deficiencies as well as increased hair loss, and this includes those pregnant or breastfeeding. 
It's common to see thick and full hair during pregnancy that begins to shed and thin after giving birth. This is due to the rise and fall in hormones, and is known as telogen effluvium (TE). TE is a condition characterized by a decrease in growing hair follicles, leading to thinning hair and hair loss, and is commonly experienced among postpartum and lactating women. A comparative evaluation of biotin's effects on TE was favorable, showing that supplementation can be very beneficial for the regrowth of hair. 
Tips for postpartum hair loss
In addition to biotin supplementation, there are some things you can try to limit hair loss and encourage growth:
Read more about postnatal hair loss →
Risks of biotin
Biotin is considered a safe supplement and is a naturally occurring nutrient found in many foods, but there are two risks you should be aware of:
Interference with lab results
There are few risks associated with biotin intake, however it is important to note that there are potential complications with lab results when taking high doses of biotin. A 2017 warning from the FDA detailed the effects of biotin supplements on laboratory blood testing. In high amounts, biotin may impact the results of hormone tests, including vitamin D, troponin, and thyroid-stimulating hormone. This can lead to misdiagnosing or unnecessary treatments, so it's important to tell your healthcare provider about any vitamins or supplements you're taking to ensure you receive the best, most effective care. 
Side effects
Other than impacting lab results, risks of biotin are very minor and include potential mild side effects. These may include nausea, upset stomach, or skin breakouts. 
Is biotin safe to consume while breastfeeding?
There are a few groups that are the most likely to suffer from inadequate or deficient biotin levels, including pregnant and breastfeeding women. Marginal biotin deficiency is developed in a third of pregnancies, even with normal biotin intake. It's recommended by multiple sources that breastfeeding and pregnant patients include an adequate amount of biotin (at least 30 to 35 μg/d) into their daily routine to avoid negative effects of deficiency, including hair loss, brittle nails, and skin rashes. 
It is important to note that biotin-only supplements will usually contain higher doses in order to treat biotin deficiency hair, skin, and nail complications, so make sure you're checking the dosage of your biotin supplement and talking with your healthcare provider before use. 
All this to say, yes, biotin is generally considered safe for breastfeeding. However, you should always ask your healthcare provider before adding any new vitamins or supplements into your diet. 
Questions to ask your healthcare provider
If you're concerned about getting enough nutrients while breastfeeding, talk to your doctor about adding in a postnatal supplement to your routine. If you're experiencing hair loss, brittle nails, skin rashes, or any other concerning symptoms, notify your healthcare provider and ask for their recommendations. Biotin has been deemed safe for consumption, but high amounts may not be right for everybody. If you need more support or information on breastfeeding, check out the rest of the Natalist blog. 
Key Takeaways
Biotin is a B-vitamin that is naturally occuring.

Biotin is found in foods such as egg, salmon, dairy, avocados, grains, nuts, and more.

Biotin supports health through cellular signaling, cellular regulation, breaking down nutrients, and maintaining healthy hair, nails, and skin. 

Pregnancy and lactation put someone at a higher risk of biotin deficiency, which is correlated to an increase in hair loss and hair thinning.

Biotin deficiency is rare, but can result in brittle nails, skin rashes, and hair loss.

A rise and fall in estrogen is typically the cause of hair loss postpartum and is a condition known as telogen effluvium (TE).

High amounts of biotin through supplementation may result in inaccurate lab results and minor side effects such as upset stomach, nausea, and acne. 

Biotin supplementation is recommended to pregnant and breastfeeding women to ensure adequate biotin levels in both mom and baby.

Be sure to ask your healthcare provider before you begin taking any supplements, and always report the supplements you are taking to prevent inaccurate lab reporting. 
Shop Products From This Article
Subscribe & Save $5.00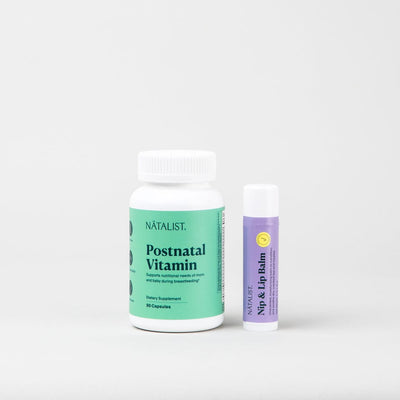 Extra 10% off your first delivery when you subscribe with code SEPT23
$55 $45