Difference Between Biotin and Collagen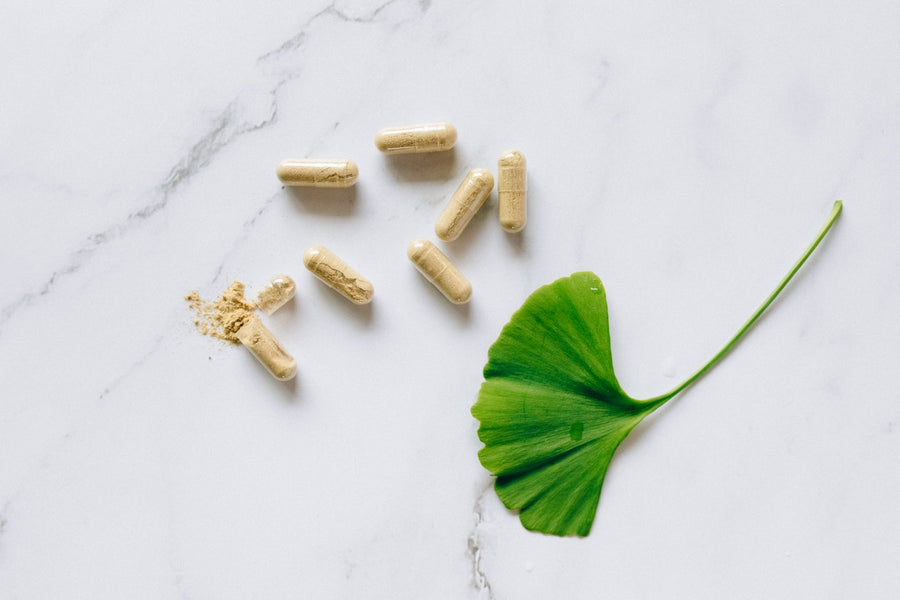 Biotin and collagen can provide many benefits, but what exactly is the difference between biotin and collagen? Read on to learn more.
By OBGYN and fertility specialist Dr. Kenosha Gleaton
Biotin and collagen are often the first ingredients listed on products marketed for nail, skin, and hair health. Let's take a deeper look at what these ingredients are, what they do for the body, and what you need to know before taking them. 
What's biotin?
Biotin is a naturally occurring B vitamin found in the diet as well as supplements. Biotin is a necessary nutrient that the body needs to help break down carbs, fats, and proteins in food. Biotin also plays an important role in cell signaling, protein modifications, gene regulation, and hair follicle health. Biotin can be found in foods such as salmon, beef liver, eggs, avocados, pork, nuts, and seeds. Biotin is essential for many bodily functions, and a biotin deficiency may cause brittle nails, hair loss, and rashes. A biotin deficiency is rare, but those at a higher risk include pregnant individuals and anyone taking anticonvulsants. 
Benefits of biotin
Biotin is commonly marketed as a supplement to improve hair, skin, and nail health. A double-blind study found that daily oral supplementation of vitamins including biotin, collagen, vitamin C, and others, resulted in significant hair growth, thickness, and shine. This oral supplement was also found to benefit skin hydration, smoothness, elasticity, and repair brittle nails. 
A deficiency in biotin can have a negative impact on hair, skin, and nails. In fact, there is an interesting correlation between biotin deficiency during pregnancy, altered biotin metabolism during pregnancy and lactation, and increased hair loss during and after pregnancy. 
Biotin also has many other health benefits, including metabolism support, reducing LDL cholesterol, and regulating blood sugar. Biotin's role in the body supports the synthesis of glucose and fatty acids, as well as other enzymes that break down our food. 
Biotin is also necessary for pregnancy to support healthy fetal development. It's been found that around a third of those pregnant have a mild biotin deficiency. To ensure adequate intake of all essential nutrients during pregnancy, make sure you have a high quality prenatal vitamin. 
Risks of biotin
While biotin is safe to consume and is an essential nutrient for all living things, there are some potential complications of supplementing with biotin. In 2017, the FDA issued a warning regarding biotin supplements throwing off laboratory blood test results. High doses of biotin can impact the testing of hormones such as thyroid-stimulating hormone, vitamin D, and troponin.  These findings were connected to those taking high amounts of biotin, over the AI level of 30 micrograms/day, but not in amounts commonly found in over the counter supplements. 
Other than these findings, most studies have deemed biotin supplementation safe with no adverse effects.
What's collagen?
Collagen is a type of protein that is composed of amino acids, and is actually the most abundant protein in the body. Collagen forms connective tissue, which is vital for our skin, muscles, cartilage, and bones. It's normal for collagen to decrease as we age, but factors such as smoking, sun exposure, and increased stress can quickly lead to decreased or damaged collagen, resulting in thinner and weaker collagen fibers.  
Collagen can be sold as topical or oral products, although topical products are often deemed ineffective due to the size of collagen fibers compared to our skin's outer layers. Oral forms of collagen may be sold as collagen peptides or hydrolyzed collagen. 
Collagen-rich foods are mostly thicker meats such as pot roast and brisket, but can also be found in fish. Other high protein foods are likely to aid in collagen production and include things like meats, poultry, dairy, eggs, soy, and legumes. 
Benefits of collagen
Collagen is often marketed for skin, hair, and nail health along with biotin, vitamin c, and other nutrients. Oral collagen supplements have been shown to support skin elasticity and improve joint health, and there are multiple types of collagen that can benefit the body differently. Type one collagen is useful for skin, tendons, ligaments, and bones. Type three is useful for skin, muscles, blood vessels, organs (including the uterus), tissue formation, and wound healing. Multiple studies have researched the positive effects of oral collagen supplementation on skin elasticity, skin hydration, repair, and appearance of wrinkles and stretch marks. Other studies focused on collagen's effect on joint pain and mobility found that osteoarthritis symptoms improved with daily collagen supplementation. 
Risks of collagen
So far, available research shows no negative side effects in the usage of collagen supplements. As with any nutritional supplements, you may experience some upset stomach, nausea, or bloating. If you notice any reactions or side effects while taking a supplement, monitor closely and talk to your doctor. 
Should you take biotin and collagen together?
Now that you know the difference between collagen and biotin, you may be wondering if you can combine them. Biotin and collagen are both naturally occurring nutrients that are found in the body at any given time and are considered safe to be taken together. Natalist Biotin Plus gummies contain biotin, collagen, zinc, and antioxidants! These supplements can be extremely useful for supporting hair, skin, and nail health, and can also provide many other benefits for the body. Oral supplementation has been found to be successful and helpful in many cases. It is important to discuss with your doctor before adding any supplements to your vitamin routine, and be sure that you are not using collagen or biotin to replace any of your current medications without a doctor's approval. 

Things to consider before taking biotin or collagen supplements
Collagen and biotin can have beneficial effects on hair, skin, and nail health, as well as supporting digestion, joint health, and more. If you're wanting to add biotin or collagen to your vitamin routine, make sure you're aware of exactly how much you're taking. Both biotin and collagen are naturally occurring in the body and are often found in multivitamins or prenatal vitamins. You should try to consume around 30 mcg/day of biotin (or 35 mcg if you're currently breastfeeding). There isn't an official recommendation for daily collagen intake, but this study suggests 2.5 to 15 g of peptides/daily is a healthy and effective dose. There are no official upper limits for collagen or biotin, so you should follow any dosing recommendations given to you by your healthcare provider. 
It's also important to note that biotin intake over 30 mcg/day may lead to inconsistent or false lab results. 
Key Take-aways
Biotin is a B vitamin that is necessary for metabolism, cell signaling, and gene regulation
A double-blind placebo study found that oral supplementation of biotin, collagen, and other nutrients can have huge benefits on hair, skin, and nail health
Biotin can be found in foods such as salmon, beef liver, eggs, avocados, pork, nuts, and seeds
Biotin is beneficial for regulating glucose, decreasing cholesterol, and supporting fetal development
Collagen is a protein that makes up connective tissue, a vital component of our skin, joints, bones, and muscles
Collagen is found in foods such as brisket, pot roast, bone broth, and fish
Collagen has been shown to improve skin elasticity and hydration, as well as improve joint mobility and joint pain
Biotin supplementation exceeding 30 mcg may impact laboratory blood testing, but is otherwise considered safe
You should discuss with your healthcare provider before adjusting your supplement or medication intake
Shop Products From This Article