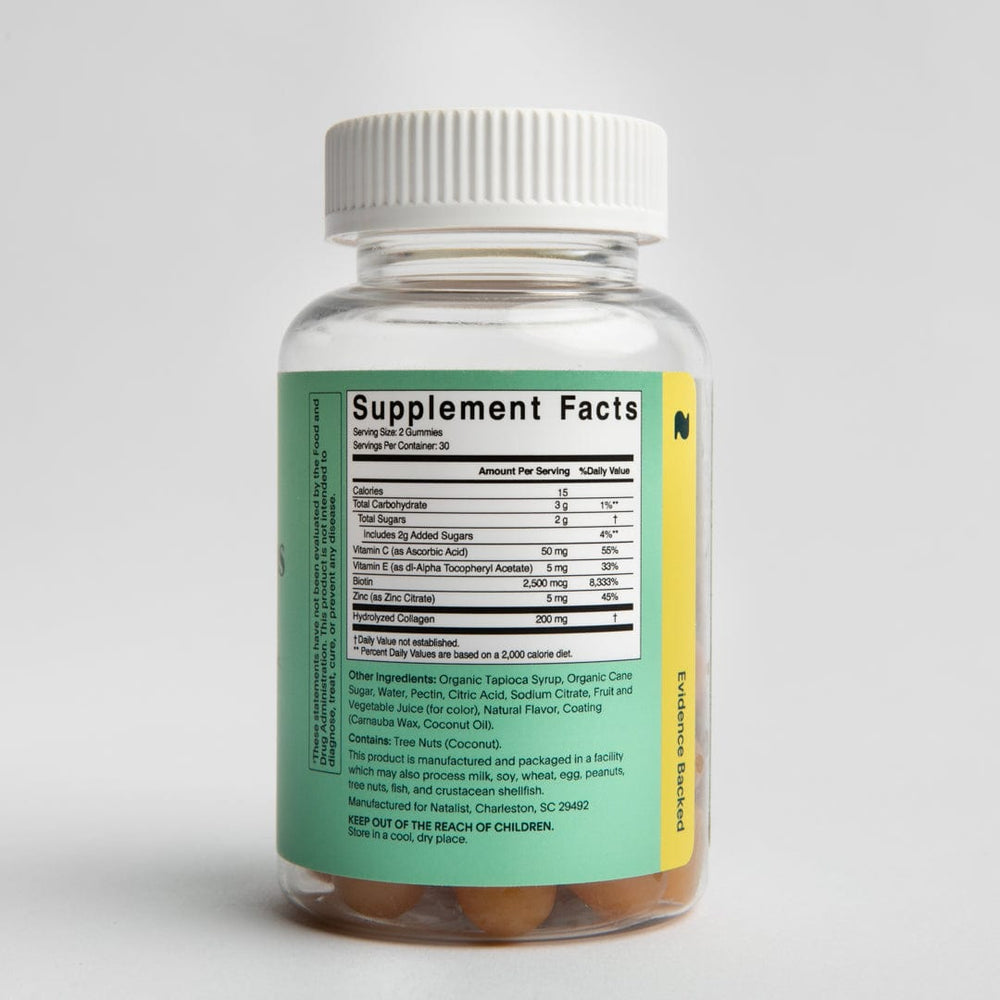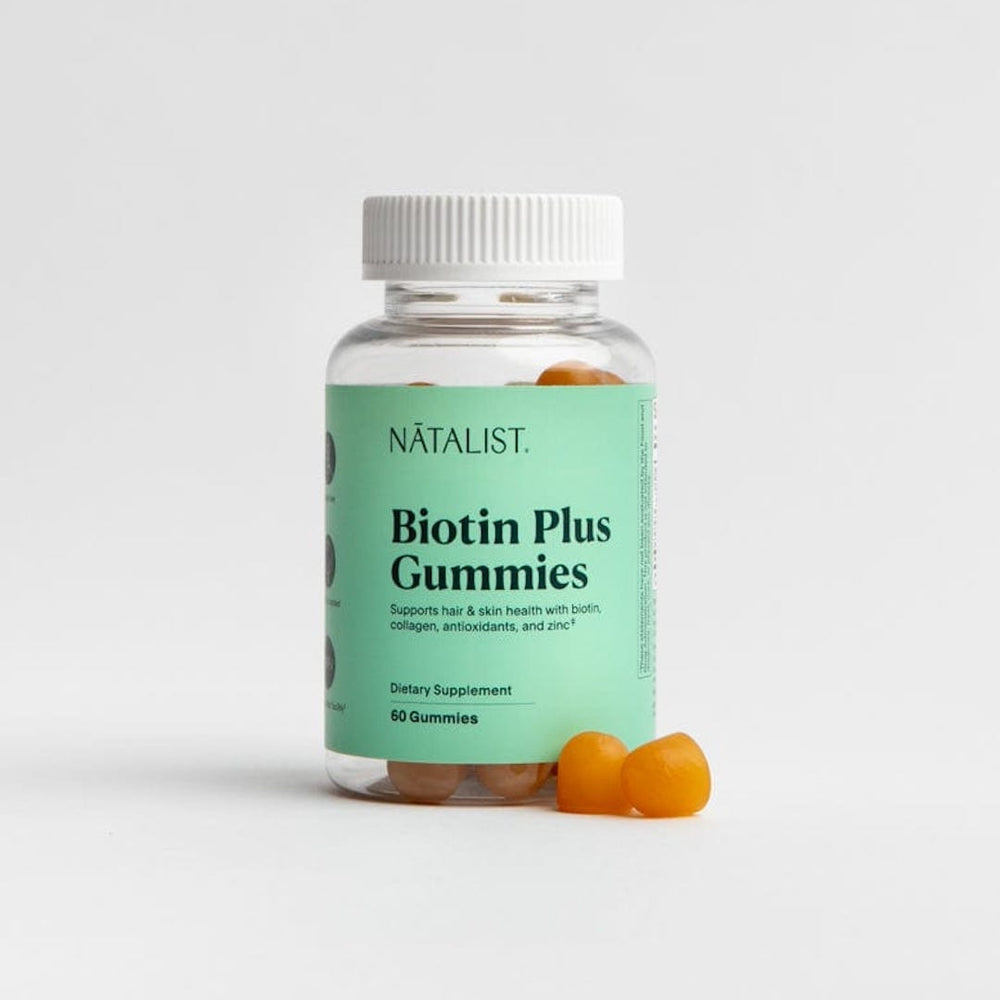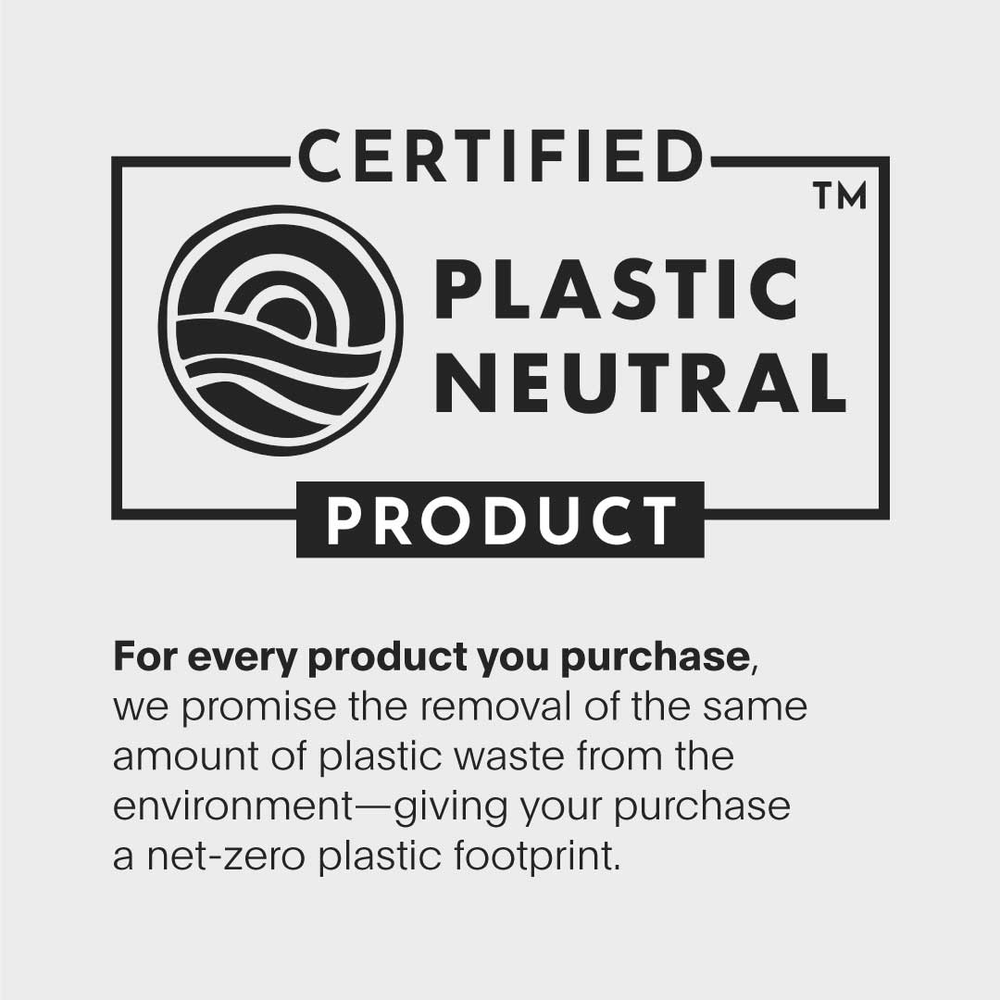 Biotin Plus Gummies
Supports hair and skin health‡

Natalist Biotin Plus Gummies are thoughtfully formulated with biotin, collagen, antioxidants, and zinc to support healthy hair and skin. After giving birth, many new moms experience hair loss due to falling estrogen levels. Our Biotin Plus gummies are formulated with biotin to support hair follicle health, hydrolyzed collagen to support collagen production in the body, and vitamins C, E, and zinc for antioxidant and immune system support. Support your hair and skin health every day with tasty gummies!‡
Product Details
One month supply: 60 gummies
Gluten and gelatin-free
Chewable gummy vitamins for easy consumption
Free from milk, eggs, fish, crustacean shellfish, soy, peanuts, gluten, artificial coloring, artificial preservatives, or artificial flavoring
Why We're Proud
Manufactured in the USA*
100% Plastic Neutral
Evidence Backed
GMP Certified
We do our homework. See the research that is behind our Biotin Plus Gummies.
Natalist vitamins and supplements are formulated with attention to detail. Each ingredient is researched and considered.
Natalist supplements are formulated with premium, high bioavailability ingredients for maximum efficacy and potency.‡
What's different about your Biotin Plus Gummies?
Our biotin gummy vitamins are formulated with biotin to support hair follicle health, hydrolyzed collagen to support collagen production in the body, and vitamins C, E and zinc for antioxidant and immune system support.‡
What are the benefits of Biotin Plus Gummies?
Many new moms experience hair shedding after giving birth due to falling estrogen levels, and studies show that biotin levels are depleted through early and late stages of pregnancy. Our hair gummy vitamins are formulated with 2,500 mcg biotin per serving to support hair health as well as vitamin C and E antioxidants to reduce oxidative stress and help support healthy hair growth.‡
We are committed to manufacturing excellence. Every batch of vitamins is tested for product integrity.
All of our vitamins are made in an FDA Registered and Inspected Facility, which meets or exceeds FDA 21 CFR 111 guidelines.
In addition to testing the raw material components of our vitamins to ensure their purity and accuracy, we also test each batch after it is produced to ensure final product integrity and quality. Testing includes a chemical analysis to ensure accuracy, a microbial analysis (salmonella, E. coli, yeast, and mold) and a heavy metals test (including arsenic, cadmium, and lead).
Biotin Plus Gummies are free of artificial and synthetic dyes. Additionally, Biotin Plus Gummies are manufactured under strict procedures to ensure there is no cross-contamination during manufacturing and storage.
Non-GMO, but that doesn't really matter.
Along with 88% of polled scientists, Natalist believes that the majority of genetically modified foods are safe. That said, we also believe that bioengineered ingredients should be clearly labeled so that consumers can make an informed purchase decision. Transparency is essential in building trust between brands and consumers. Our products clearly state if they do or do not contain genetically modified organisms (GMOs).
Here's some of the research that went into making Biotin Plus Gummies.
Sant'Anna Addor FA, Donato LC, Melo CSA. Comparative evaluation between two nutritional supplements in the improvement of telogen effluvium. Clin Cosmet Investig Dermatol. 2018;11:431-436. Published 2018 Sep 10. doi:10.2147/CCID.S173082
Said HM. Biotin: biochemical, physiological and clinical aspects. Subcell Biochem. 2012;56:1-19. doi:10.1007/978-94-007-2199-9_1
Piraccini BM, Berardesca E, Fabbrocini G, Micali G, Tosti A. Biotin: overview of the treatment of diseases of cutaneous appendages and of hyperseborrhea. G Ital Dermatol Venereol. 2019;154(5):557-566. doi:10.23736/S0392-0488.19.06434-4
Al-Atif H. Collagen Supplements for Aging and Wrinkles: A Paradigm Shift in the Fields of Dermatology and Cosmetics. Dermatol Pract Concept. 2022;12(1):e2022018. Published 2022 Jan 1. doi:10.5826/dpc.1201a18
Asserin J, Lati E, Shioya T, Prawitt J. The effect of oral collagen peptide supplementation on skin moisture and the dermal collagen network: evidence from an ex vivo model and randomized, placebo-controlled clinical trials. J Cosmet Dermatol. 2015;14(4):291-301. doi:10.1111/jocd.12174. https://pubmed.ncbi.nlm.nih.gov/26362110/
Bolke L, Schlippe G, Gerß J, Voss W. A Collagen Supplement Improves Skin Hydration, Elasticity, Roughness, and Density: Results of a Randomized, Placebo-Controlled, Blind Study. Nutrients. 2019;11(10):2494. Published 2019 Oct 17. doi:10.3390/nu11102494
Poljsak B, Dahmane R, Godic A. Skin and antioxidants. J Cosmet Laser Ther. 2013;15(2):107-113. doi:10.3109/14764172.2012.758380
Kogan S, Sood A, Garnick MS. Zinc and Wound Healing: A Review of Zinc Physiology and Clinical Applications. Wounds. 2017;29(4):102-106. https://pubmed.ncbi.nlm.nih.gov/28448263/
This product contains tree nuts (coconut).
This product is manufactured and packaged in a facility which may also process milk, soy, wheat, egg, peanuts, tree nuts, fish, and crustacean shellfish.
Technical Information
Biotin Plus Gummies Usage
Take two (2) gummies daily or as directed by your healthcare provider.
Serving Size: 60 Gummies
Servings Per Container: 30
Ingredients
Total Sugars (includes 2g added sugar)
2 g
Vitamin C (as Ascorbic Acid)
50 mg
Vitamin E (as dl-Alpha Tocopheryl Acetate)
5 mg
Zinc (as ZInc Citrate)
5 mg
Hydrolyzed Collagen
200 mg
Other Ingredients
Organic Tapioca Syrup, Organic Cane Sugar, Water, Pectin, Citric Acid, Sodium Citrate, Fruit and Vegetable Juice (for color), Natural Flavor, Coating (Carnauba Wax, Coconut Oil).
ALLERGEN WARNING: Contains Tree Nuts (Coconut).
Commonly asked questions about Biotin Plus Gummies.
Are your Biotin Plus Gummies Gluten Free?
Yes. Ingredients are not known sources of gluten and do not contain gluten. Our product is tested for gluten, but is not certified gluten free.
How often should I take Biotin Plus Gummies?
Take two gummies daily or as directed by your healthcare provider.
How quickly will I see results?
It takes several months to see results. We recommend taking biotin and collagen gummies for three to six months in order to see improvements in hair health, strength, or growth.
Are Biotin Plus Gummies pregnancy safe?
The Food and Drug Administration (FDA) recommends that pregnant women obtain 30 mcg of biotin each day and lactating women obtain 35 mcg of biotin each day. High doses of biotin can be dangerous to the baby, so additional supplementation of biotin isn't recommended. We recommend speaking with your healthcare provider regarding your daily vitamin and mineral supplementations during pregnancy.
Are Biotin Plus Gummies safe for breastfeeding women?
Will Biotin impact my lab results?
What is the source of your hydrolyzed collagen?
Our hydrolyzed collagen is type 1 and 3 bovine collagen to support healthy collagen formation.‡
Can I get just one month's worth of Biotin Plus Gummies?
Consistency is key for many supplements, so we only offer this product as a subscription purchase. If you want to try it just once, you can place an order and either skip the next shipment, choose a specific date for your next shipment, or cancel. Simply log in to your Natalist account, head over to "Manage Subscriptions," and click "Edit" to get started. Additionally, we are excited to offer exclusive perks to subscribers, including discounted products (up to 50% off) and free shipping on all subscription orders.
‡These statements have not been evaluated by the Food and Drug Administration. This product is not intended to diagnose, treat, cure or prevent any disease. Consult your healthcare provider before adding any supplements to your regimen. * Manufactured in the USA with globally sourced ingredients.