Does Folic Acid Help With Hair Loss?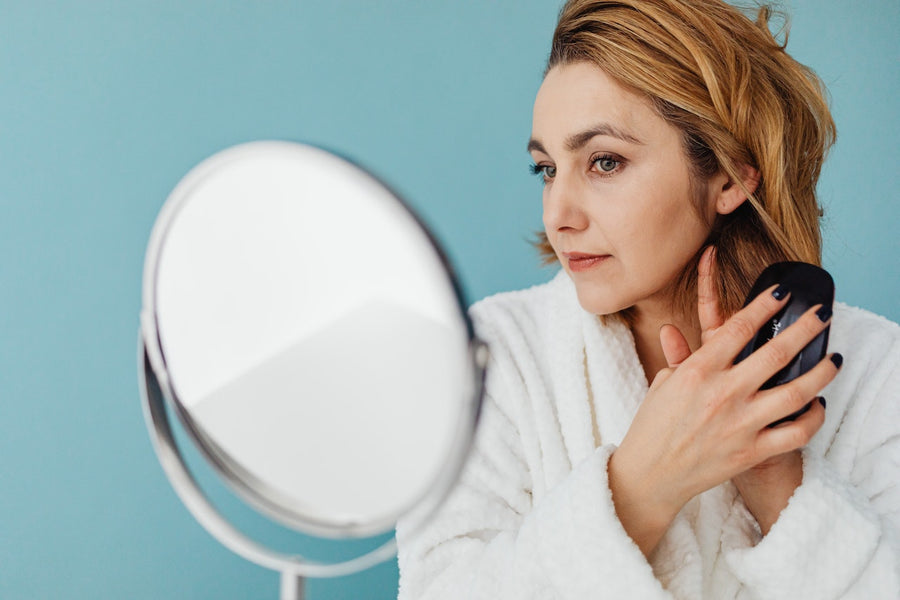 By Dr. Kenosha Gleaton, OBGYN
What Is Folic Acid?
Folic acid is a B vitamin that is naturally found in many foods. Folic acid is vital for creating new cells, breaking down amino acids, and supporting the body through periods of rapid growth, such as pregnancy and fetal development. [1] Folic acid is not only found in the diet but is often found in prenatal vitamins or stand-alone supplements such as folic acid or MTHF folate. 
Benefits of Folic Acid
The body uses folate in many different ways to encourage healthy growth and functioning. One of the major benefits of folic acid is the prevention of neural tube defects. Many providers and organizations, including the Centers for Disease Control (CDC), U.S. Food and Drug Administration (FDA), and the American College of Obstetrics and Gynecology (ACOG), all recommend that those trying to get pregnant or those of childbearing age and not actively preventing pregnancy take a folate supplement. [2-3] This is because vital fetal development happens very early on, and for folate to be effective at preventing NTD, it must be taken within the first few weeks of conception. NTDs include spina bifida and anencephaly and can lead to severe impairments or death. [1] 
Studies also show that folate can benefit cardiovascular health. Supplementing with folic acid has been shown to reduce the risk of stroke, decrease homocysteine levels, and may lower the risk of overall cardiovascular disease. [1] Adequate folate intake may also reduce the risk of some cancers and improve cognitive function. [4]  Read about the differences between folate and folic acid. 
Signs of Folic Acid Deficiency
Eating a balanced diet and consuming adequate amounts of all vitamins and minerals is one of the best ways to support your health. Nutrients like folate play a vital role in our bodily functions and having a deficiency can lead to pregnancy complications, headaches, fatigue, pale skin, and other symptoms. [4] It's recommended that adults consume about 400 mcg of folate every day, pregnant people consume about 600 mcg, and lactating people consume 500 mcg. [4] 
Signs someone may have a folate deficiency include [1]:
Anemia
Weakness
Pale skin
Mouth sores
Fatigue
Irregular heartbeat
Shortness of breath
Difficulty concentrating
Hair loss

What to Know About Hair Loss
Hair loss can be very upsetting for many. There are many different factors that may lead to hair loss, including hormonal changes, genetics, medical conditions, aging, etc. While anyone can experience hair loss, men are more often impacted. That being said, it's not uncommon for newly postpartum women to experience excessive hair shedding after giving birth. This is due to the rise and fall of certain hormones during and after pregnancy, and can lead to thinning hair, patchy hair growth, and general hair loss. [5] This typically lasts about six months but can vary from person to person. [5] 
Folic Acid and Hair Growth
We've covered some of the benefits of folate, but how does folate impact hair and skin health? Research shows that hair loss may occur when someone doesn't consume enough folate. [1,4] This is because folate is an essential nutrient used for cell division and cell maintenance. Without adequate amounts of folate, the body is unable to continue creating and maintaining certain processes. [1] 
Multiple studies have been conducted to better understand the relationship between folate and hair growth. So far, most evidence does not show a significant relationship between the two. One study found that serum folate levels did not differ much between a group suffering from hair loss and the healthy control group. [6] In fact, another study actually found that folic acid levels were higher in about 30% of people suffering from hair loss. [7] 
Some interesting results did come from a Turkish study in 2014. [6] Not only were red blood cell folate concentrations lower in the patient group than in the control group, but genetic testing found that those in the patient group suffering from alopecia were much more likely to have a mutation in the methylene-tetrahydrofolate reductase (MTHFR) gene. [6] The MTHFR gene regulates folate metabolism and influences the way folate works in the body. People with the MTHFR gene mutation have a harder time converting folic acid into MTHF folate, potentially causing lower levels of folate. Drawing conclusions from these findings, people with this gene mutation may be more likely to suffer from hair loss.  [6] While it's not a guaranteed fix, consuming MTHF folate rather than folic acid may make it easier for those with the MTHFR gene mutation to achieve healthy folate levels.
Other Supplements for Hair Loss
If not folic acid, what supplements can actually improve hair growth? More research is still needed- but some data suggests that biotin, iron, vitamin E, and zinc may all benefit hair growth. [8-10] Many of these ingredients can be found in multivitamins, such as postnatal or prenatal supplements. Natalist also offers a Biotin Plus Gummy vitamin to support hair and skin health. Remember to always consult with a professional before taking any new supplements, especially if you are breastfeeding, pregnant, or trying to conceive. 
Key Takeaways
To summarize current research, folate supplementation is highly recommended for certain groups of people and folic acid plays an important role in various cellular processes. While a deficiency in certain vitamins, including folic acid, may lead to hair loss, no significant link has been confirmed between folic acid supplementation and hair growth. Some data does show that a certain gene mutation may increase the risk of hair loss, although more research is needed. Adequate nutrition and the addition of certain vitamins and minerals, like zinc, biotin, vitamin E, and others, may support hair growth in some people. If you are concerned about your hair loss, speak to a healthcare provider about the potential cause and any treatment options that may be right for you. In the meantime, browse our collection of products and supplements to support your nutrition before, during, and after pregnancy. 
References:
Folate (Folic Acid) – Vitamin B9. Nutrition Source. Harvard School of Public Health. March 2023. https://www.hsph.harvard.edu/nutritionsource/folic-acid/
Folic Acid Basics. CDC. June 2022. https://www.cdc.gov/ncbddd/folicacid/about.html
Nutrition During Pregnancy. ACOG. FAQ001. June 2023. https://www.acog.org/womens-health/faqs/nutrition-during-pregnancy
Folate, Fact Sheet for Health Professionals. NIH. November 2022. https://ods.od.nih.gov/factsheets/Folate-HealthProfessional/#h7
Postpartum Hair Loss. Cleveland Clinic. June 2022. https://my.clevelandclinic.org/health/diseases/23297-postpartum-hair-loss
Almohanna HM, Ahmed AA, Tsatalis JP, Tosti A. The Role of Vitamins and Minerals in Hair Loss: A Review. Dermatol Ther (Heidelb). 2019;9(1):51-70. doi:10.1007/s13555-018-0278-6
Guo EL, Katta R. Diet and hair loss: effects of nutrient deficiency and supplement use. Dermatol Pract Concept. 2017;7(1):1-10. Published 2017 Jan 31. doi:10.5826/dpc.0701a01
Sant'Anna Addor FA, Donato LC, Melo CSA. Comparative evaluation between two nutritional supplements in the improvement of telogen effluvium. Clin Cosmet Investig Dermatol. 2018;11:431-436. Published 2018 Sep 10. doi:10.2147/CCID.S173082
Piraccini BM, Berardesca E, Fabbrocini G, Micali G, Tosti A. Biotin: overview of the treatment of diseases of cutaneous appendages and of hyperseborrhea. G Ital Dermatol Venereol. 2019;154(5):557-566. doi:10.23736/S0392-0488.19.06434-4
Glynis A. A Double-blind, Placebo-controlled Study Evaluating the Efficacy of an Oral Supplement in Women with Self-perceived Thinning Hair. J Clin Aesthet Dermatol. 2012;5(11):28-34.
Shop Products From This Article