Magnesium for PCOS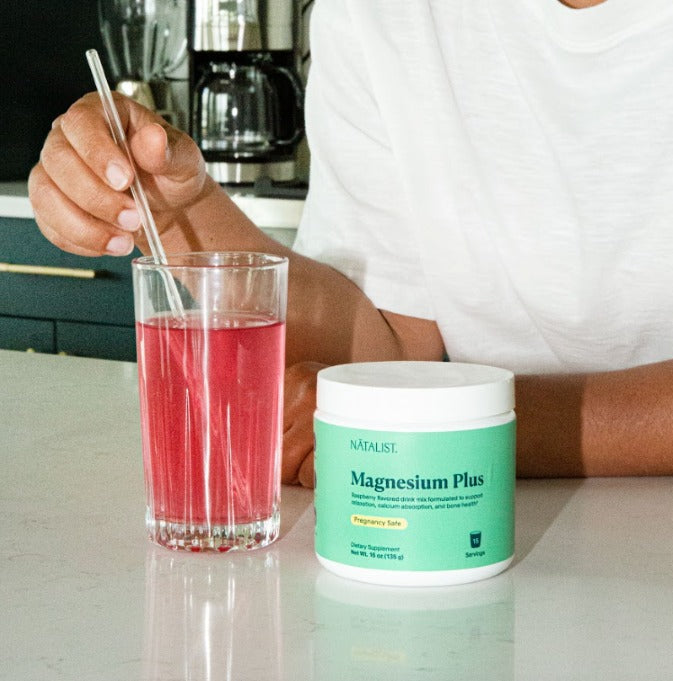 By OBGYN Dr. Kenosha Gleaton
There are many ways to support your health when living with a condition such as PCOS. From lifestyle changes to hormonal birth control, you've likely heard of many common treatment options. New research also suggests that certain minerals, such as magnesium, may be useful for targeting certain PCOS symptoms. Keep reading to learn more about magnesium for PCOS! 
PCOS Overview
Polycystic ovary syndrome (PCOS) is a hormonal condition affecting up to 15% of people assigned female at birth (AFAB). [1] PCOS is a syndrome, meaning it is diagnosed by a cluster of related symptoms and does not necessarily have a direct cause. [2] There are three symptoms that are used to diagnose PCOS, however only two out of three need to be present in order to receive a diagnosis [1,3]:
Anovulation: Menstrual cycles in which ovulation does not occur, which means neither of the ovaries releases a mature egg. One sign that anovulation may be occurring is the absence of a menstrual period or irregular periods. 
High levels of male hormones, also known as androgens
Cystic or enlarged ovaries
Symptoms of PCOS
Along with the diagnostic criteria for PCOS, there are many other signs and symptoms that may arise, including [1,3]:
Irregular periods- no periods, frequently missed periods, irregular cycles, very heavy periods, etc. 
Infertility
Thinning hair
Excess hair growth, specifically male-pattern hair growth (the face, chest, stomach, and upper thighs)
Severe, late-onset acne
Oily skin
Obesity, weight gain, difficulty losing weight
Patches of thick, dark, and velvety skin
Those with PCOS also tend to have chronic inflammation and insulin resistance, which can worsen or cause symptom onset. Get a full breakdown of PCOS signs and symptoms. 
Treating PCOS
There is no cure for PCOS, however there are ways to manage the condition. [1] Your provider will take into account your symptoms when determining the best treatment method. A combination of medications and lifestyle changes may be recommended to improve symptoms. Common PCOS management methods include an increase in physical activity, weight loss, hormonal birth control, insulin-sensitizing medicines, and androgen blocking medications. [1] 
Magnesium for PCOS
Magnesium is an essential mineral found in the body that aids in many processes, including muscle and nerve function, energy production, blood sugar levels, and more. [4] Magnesium supplements are often used to replenish low magnesium levels, commonly seen in people who are pregnant, diabetic, have gastrointestinal issues, are alcohol dependent, and older adults. Magnesium has been shown to improve cardiovascular health, bone health, migraine headaches, and may reduce the risk of insulin resistance. [5] 
Recent research focused on the use of magnesium for PCOS symptoms has led to positive results. One study found that supplementing with magnesium improved the quality of life for many with PCOS. The components that were measured included energy/fatigue, emotional well-being, social functioning, general health, and physical functioning. [6] A different study also concluded that magnesium supplementation was able to improve BMI and reduce androgen levels in women with PCOS. [7] This is especially important as obesity and high androgen levels are two factors that can greatly influence the severity of PCOS symptoms. Other research also suggests that magnesium supplementation can have a positive impact on insulin resistance, lipid profiles, and oxidative stress commonly seen in people with PCOS. [8] By improving insulin homeostasis, the risks of obesity, type 2 diabetes, and other complications are lowered. People with PCOS may also have chronic low-grade inflammation, however, magnesium supplementation may be useful in protecting the body from inflammatory and oxidative damage. [1,8]  
To summarize, magnesium is an important mineral that supports a wide range of health benefits. We're still learning more about magnesium's effects, but current data suggests that magnesium supplementation may impact many common factors associated with PCOS and PCOS symptoms, including insulin resistance, obesity, energy levels, androgen levels, and inflammatory stress. 
What Type of Magnesium Is Best for PCOS?
There are many different forms of magnesium that vary in their medical uses and bioavailability. We are still learning more about the specific effects of various magnesium forms, but some research does suggest that magnesium gluconate has the best absorption rate with the lowest risk of side effects. [8-9] You should speak to your healthcare provider directly if you are considering starting any new supplements. Magnesium Plus drink mix contains magnesium gluconate as well as calcium and vitamin D for optimal absorption and bone health. Read more about Magnesium Gluconate vs. Glycinate. 
How Much Magnesium Should I Take?
There isn't enough information available to suggest a certain dosage of magnesium for PCOS management. Generally, adults over the age of 18 are recommended to consume anywhere from 310-420 mg of magnesium every day. [4-5] If you're hoping to conceive or are currently pregnant, NIH recommends consuming about 350-360 mg of magnesium. [4-5] Keep in mind that you likely get some magnesium through your regular diet, as well as in any multivitamins you may be taking. Always consult with a healthcare provider before trying any new vitamins or supplements.
Food Sources of Magnesium
Magnesium is not just found in dietary supplements but is found in a variety of foods, such as [5]:
Legumes
Nuts and seeds
Whole grains
Green leafy vegetables
Fortified foods
Milk, yogurt, and some other dairy products
Magnesium for Fertility Support
Not only does magnesium benefit PCOS symptoms and factors, but magnesium may be useful for those trying to conceive or pregnant, with or without PCOS. Those with PCOS may have an increased risk of pregnancy complications such as gestational diabetes, hypertension, and preeclampsia. [10] Research shows that maintaining adequate magnesium levels during pregnancy is likely to decrease the risk of many of these pregnancy complications, including gestational diabetes, hypertension, preeclampsia, preterm labor, and others. [11] Magnesium supplementation can also be beneficial for those pregnant or TTC without PCOS. 
Natalist PCOS Support
At Natalist, we're committed to providing high-quality products that support your fertility, pregnancy, and postpartum journey. We know that PCOS can be a large barrier for many people when trying to conceive, which is why we have several products that may support your ovarian health, cycle regularity, and general well-being. Shop the Cycle Support Bundle to encourage healthy ovulation, or look into one of our magnesium-rich products, including our Magnesium Plus drink mix, Prenatal Vitamins, or Hydration & Energy Electrolyte packs. 
References:
Polycystic Ovary Syndrome (PCOS). Cleveland Clinic. February 2023. https://my.clevelandclinic.org/health/diseases/8316-polycystic-ovary-syndrome-pcos
Calvo F, Karras BT, Phillips R, Kimball AM, Wolf F. Diagnoses, syndromes, and diseases: a knowledge representation problem. AMIA Annu Symp Proc. 2003;2003:802.
American College of Obstetricians and Gynecologists. (2015). Polycystic ovary syndrome. Retrieved October 2023 from http://www.acog.org/Patients/FAQs/Polycystic-Ovary-Syndrome-PCOS
National Institutes of Health. Office of Dietary Supplements - Magnesium Health Professional Fact Sheet. Updated June 2022. https://ods.od.nih.gov/factsheets/Magnesium-HealthProfessional/ 
National Institutes of Health. Office of Dietary Supplements - Magnesium Health Consumer Fact Sheet. Updated March 2021. https://ods.od.nih.gov/factsheets/Magnesium-Consumer/#h4
Jaripur, M., Ghasemi-Tehrani, H., Askari, G. et al. The effects of magnesium supplementation on abnormal uterine bleeding, alopecia, quality of life, and acne in women with polycystic ovary syndrome: a randomized clinical trial. Reprod Biol Endocrinol 20, 110 (2022). https://doi.org/10.1186/s12958-022-00982-7
Farsinejad-Marj M, Azadbakht L, Mardanian F, Saneei P, Esmaillzadeh A. Clinical and Metabolic Responses to Magnesium Supplementation in Women with Polycystic Ovary Syndrome. Biol Trace Elem Res. 2020;196(2):349-358. doi:10.1007/s12011-019-01923-z
ElObeid T, Awad MO, Ganji V, Moawad J. The Impact of Mineral Supplementation on Polycystic Ovarian Syndrome. Metabolites. 2022;12(4):338. Published 2022 Apr 8. doi:10.3390/metabo12040338
National Center for Biotechnology Information (2023). PubChem Compound Summary for CID 71587201, Magnesium gluconate. Retrieved October 9, 2023 from https://pubchem.ncbi.nlm.nih.gov/compound/Magnesium-gluconate.
Boomsma CM, Fauser BC, Macklon NS. Pregnancy complications in women with polycystic ovary syndrome. Semin Reprod Med. 2008;26(1):72-84. doi:10.1055/s-2007-992927
Zarean E, Tarjan A. Effect of Magnesium Supplement on Pregnancy Outcomes: A Randomized Control Trial. Adv Biomed Res. 2017;6:109. Published 2017 Aug 31. doi:10.4103/2277-9175.213879
Shop Products From This Article
Subscribe & Save $3.00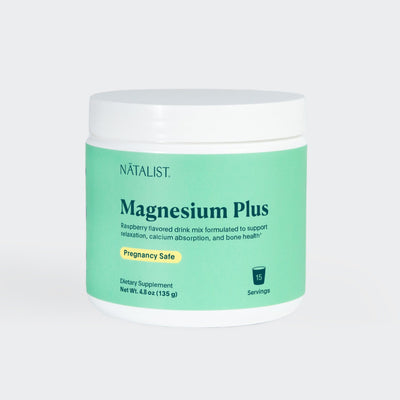 Pregnancy-safe drink mix to support relaxation‡
$32