Riboflavin for Pregnancy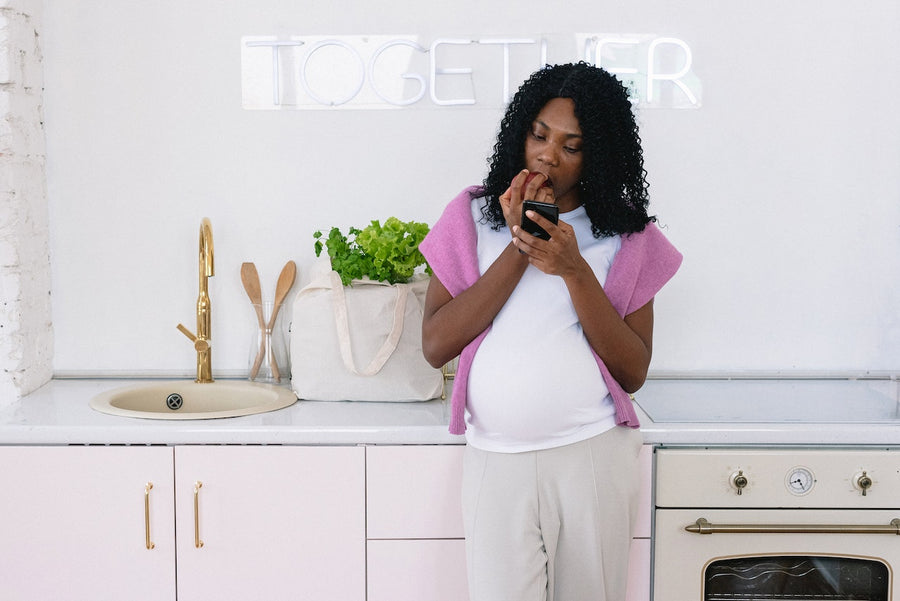 By OBGYN Dr. Kenosha Gleaton
What is Riboflavin?
Riboflavin (vitamin B2) is one of many B vitamins essential for proper bodily function, including energy production, cellular function, metabolism, and more. [1] Riboflavin is a water soluble vitamin, meaning it is easily absorbed and easily removed. Because of this, the body is easily able to maintain the proper balance of riboflavin. Not only is riboflavin obtained through diet or supplements, but the body naturally produces riboflavin in the large intestine. [1]  Learn more about B Vitamins and Pregnancy
Food Sources
Riboflavin is a naturally occurring vitamin that can be found in a variety of foods. Some of the richest sources of riboflavin include beef liver, eggs, fortified oats and cereals, yogurt, milk, almonds, and cheese. [1] In the United States, the largest dietary contributors of riboflavin are milk, bread, ready-to-eat cereals, and meat. [1] 
Benefits of Riboflavin During Pregnancy
Maternal and Fetal Health
Riboflavin is a vital nutrient for the regular functioning of the body, and it plays an important role in healthy fetal development. Research shows that a deficiency in riboflavin may result in adverse effects, such as preeclampsia and birth defects. Other data also show a correlation between riboflavin intake during pregnancy and infant length and birth weight. [1] B2 and other B vitamins are essential for good vision, growing the placenta, and providing energy. [2] 
Treating Migraine Headaches
There is also data that supports riboflavin's effects on migraine headaches and cancer prevention. [1] Researchers found that in some cases, riboflavin supplements were able to reduce the frequency of migraine attacks and reduce intensity of migraine headaches. Other studies found conflicting results, but the overall consensus is that riboflavin is "probably effective" for preventing migraine headaches. [1] 
Cancer Prevention
Riboflavin's role in cellular function has led some researchers to study its effects on DNA damage and cancer risk. Results are fairly mixed, but there are some promising studies supporting the use of vitamin B2 to prevent cellular damage and potentially lower the risk of some types of cancer. [1] More research is needed to clarify the relationship between riboflavin and cancer risk. 
To summarize, riboflavin is necessary for the metabolism of fats, drugs, and steroids, and plays a major role in cellular growth, development, and function. [1] Adequate levels of riboflavin are necessary for a healthy pregnancy, and extremely low levels of riboflavin may be associated with poor fetal outcomes and preeclampsia. While more research is needed, there are some studies suggesting that riboflavin may be useful for treating migraine headaches and reducing cancer risk in some populations. [1] 

How Much Riboflavin to Take During Pregnancy
Riboflavin is naturally produced in the body and is found in many different foods, multivitamins, and fortified products. Unless you've been told otherwise by a healthcare provider, you likely don't need to consume any additional supplements during pregnancy if you're already taking a comprehensive prenatal multivitamin. The recommended dietary allowance for riboflavin in adults ranges from 1 mg to 1.3 mg, 1.4 mg for pregnant adults, and 1.6 mg for those breastfeeding. [1] If you're concerned about your intake of any vitamins or minerals, speak to your healthcare provider. 
Can You Take Too Much B2?
Fortunately there are many water soluble vitamins, including B vitamins, that are unlikely to cause any toxic effects. Water soluble vitamins are easily removed from the body through our urine, so the risk of taking too much is fairly low. Your body will use the nutrients it needs and get rid of any excess. There is actually no established upper limit for riboflavin due to the low risk of toxicity.  [3]  Read Is B12 Safe During Pregnancy? 
Riboflavin Deficiency Symptoms
It is rare to see a riboflavin deficiency, especially in the United States when we have many different fortified foods packed with nutrients such as vitamin B2. [1] If someone does have a riboflavin deficiency, they often have an underlying disease or endocrine abnormality that is causing the inadequacy. There are some groups that may be at a higher risk of riboflavin inadequacy, including vegetarian athletes, pregnant or lactating people, vegans, and those with riboflavin transporter deficiency. [1] Some signs of a vitamin B2 deficiency include [1]:
Skin disorders
Excess blood
Swelling in the mouth or threat
Mouth lesions
Swollen or cracked lips
Hair loss
Reproductive problems
Nervous system or organ failure
Sore throat
Itchy or red eyes
If you ever experience uncomfortable or strange symptoms, speak to your healthcare provider to rule out serious conditions and determine the root of the cause. 
Support Pregnancy Nutrition with Natalist Prenatal Vitamins
Consuming an adequate amount of vitamins and minerals during pregnancy is vital for healthy fetal development, including nervous system development, immune function, bone health, and more. [2] On top of eating a balanced diet, many healthcare providers recommend taking a prenatal multivitamin. Whether you prefer gummy vitamins or convenient daily packets, Natalist has got you covered with evidence-based, high-quality prenatal vitamins containing riboflavin, choline, B12, and more. Learn more about nutrition and pregnancy on the Natalist blog. 
References:
Riboflavin. Fact Sheet for Health Professionals. National Institutes of Health. May 11, 2022. URL. 
Nutrition During Pregnancy. American College of Obstetricians and Gynecologists. FAQ001. June 2023. URL. 
Dietary Reference Intakes for Calcium and Vitamin D. Institute of Medicine (US) Committee to Review Dietary Reference Intakes for Vitamin D and Calcium; Ross AC, Taylor CL, Yaktine AL, et al., editors. Washington (DC): National Academies Press (US); 2011.
Shop Products From This Article