What to Know About CoQ10 During Pregnancy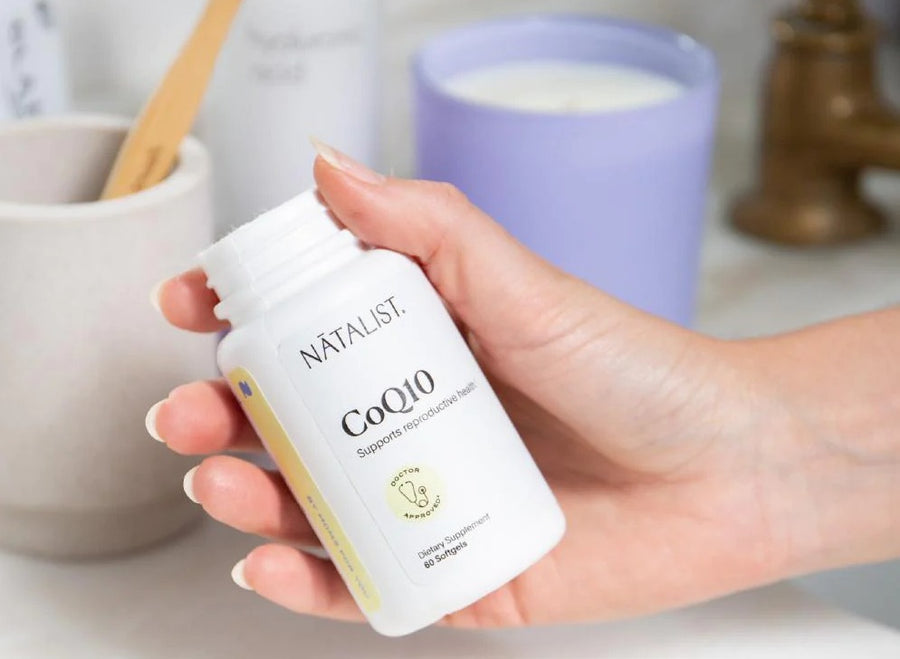 You may have started taking CoQ10 when trying to conceive and are wondering when to stop. In this article, we will discuss the safety of CoQ10 and how long to take it.
By OBGYN and fertility expert Dr. Kenosha Gleaton
Coenzyme Q10, CoQ10, is an antioxidant that supports quite a few functions in the body. As a powerful fat-soluble antioxidant, CoQ10 can help protect cells from free radical damage and supports metabolic function, but we'll focus on CoQ10 and pregnancy here. Sufficient CoQ10 levels also help support healthy egg quality and have been shown to improve IVF fertility treatment outcomes. You may have started taking CoQ10 supplements when trying to conceive and are wondering when to stop. In this article, we will discuss the safety of CoQ10 and how long to take it.
Is CoQ10 safe?
Data from clinical studies indicate that CoQ10 is highly safe for use as a dietary supplement. Overall, studies indicate that CoQ10 supplementation is well tolerated with limited side effects. Doses up to 3,000 mg/day did not cause serious adverse effects in humans; however, gastrointestinal symptoms may appear when the dose is increased beyond 1,200 mg/day.
CoQ10 (ubiquinone specifically) is considered "possibly safe" to use during pregnancy. The safety has not been established due to a lack of large studies. Therefore, you should discuss with your OBGYN taking CoQ10 if pregnant.
Can CoQ10 cause miscarriage?
There's no research showing that CoQ10 can cause miscarriage. Some suggest taking a "small" amount of CoQ10 during pregnancy because there is an association between low CoQ10 levels and miscarriage. However, you shouldn't take a Coenzyme Q10 supplementation while pregnant unless you have discussed it with your OBGYN.
How much CoQ10 is safe to take while pregnant?
Okay, so how much CoQ10 should I take during pregnancy? Since eggs don't stop aging while you're pregnant, some women continue to take a small amount of CoQ10 (120 mg per day) during pregnancy. Our CoQ10 gummies contain 200 mg per serving for optimal results. We asked one of our Medical Advisors, the "Egg Whisperer" Dr. Aimee what she thinks:
"I tell all of my fertility patients to start taking CoQ10—and to continue taking it until they are finished having children."
That being said, you shouldn't use a CoQ10 supplement or any supplement without discussing it with your doctor first.
Cholestasis and CoQ10
Intrahepatic cholestasis of pregnancy (ICP) is a pregnancy specific liver disorder with potentially serious consequences for the fetus, like increased rate of premature deliveries, fetal distress, and perinatal mortality. One animal study showed that CoQ10 (ubiquinone specifically) reduced oxidative stress. The authors concluded that CoQ10 may be a therapeutic option for women with ICP. Another small human study recognized the association between CoQ10 deficiency and ICP, suggesting that CoQ10 supplementation may prevent the risk of oxidative stress in ICP.
Preeclampsia and CoQ10
Preeclampsia is a potentially dangerous pregnancy complication characterized by high blood pressure. One study concluded that CoQ10 reduces the risk of developing preeclampsia in women at risk for the condition. If you are at risk for preeclampsia, talk to your doctor about steps you can take to ensure a healthy pregnancy and delivery.
Should you continue to take CoQ10 when pregnant?
Aside from helping protect cells from free radical damage and supporting metabolic function, Coenzyme Q10 supplementation may also improve egg quality and even fertility treatment in some cases. If you have been taking CoQ10 supplements while trying to conceive or through fertility treatments, we recommend stopping as soon as you are pregnant UNTIL you discuss it with your doctor.
Shop Products From This Article