Benefits of Ginger During Pregnancy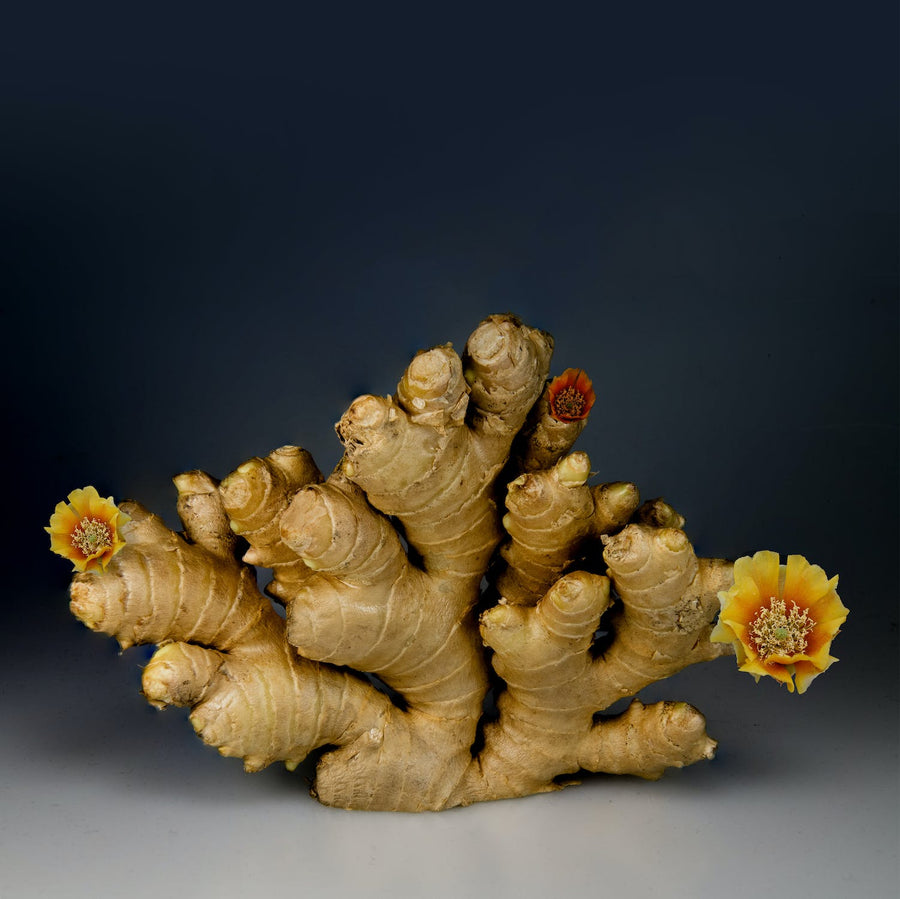 By Dr. Kenosha Gleaton, OBGYN
Ginger is a plant-based, whole food spice that has been used for centuries. [1] Ginger root is related to other common root spices such as turmeric and cardamom. The compounds that give ginger its taste, smell, and medicinal properties are gingerols, shogaols, and parasols. [1] Ginger is also high in vitamin C, vitamin B6, magnesium, fiber, and other micronutrients. Not only is ginger used in many cuisines for its distinctive taste, but ginger has also been shown to have medicinal properties. [1] 
Benefits of Ginger 
The promising effects of ginger have been studied for years. Research suggests that ginger may be beneficial for reducing nausea, preventing chronic disease, relieving pain, soothing the digestive system, and more. [1] Let's take a look at ginger's potential benefits during pregnancy. 
Morning Sickness Relief
Nausea and vomiting during pregnancy is a common and unpleasant symptom. Fortunately there are some ways to combat morning sickness through lifestyle changes, dietary changes, and medications. One example of an easy dietary change is to incorporate more ginger into your daily routine through meals, herbal teas, and supplements. Data shows that ginger is a pregnancy-safe option for reducing nausea and vomiting. [2] The presence of vitamin B6, gingerols, and shogaols are likely the cause of ginger's antiemetic effects. [2] Research also suggests that ginger may be helpful for reducing nausea caused by chemotherapy treatment, oral contraceptive use, and some gastrointestinal disorders. [2-4] Read more about ginger for morning sickness → 
Blood Sugar Regulation
Did you know that up to 10% of pregnant people in the United States every year will develop gestational diabetes? [5] When the body is unable to make enough insulin during pregnancy, gestational diabetes can occur. It's common to experience some insulin resistance during late pregnancy, but gestational diabetes puts you at a higher risk of having high blood pressure, and may put your baby at risk of developing type 2 diabetes later in life, or being born prematurely. [5] While ginger can't prevent or cure gestational diabetes, research does show that ginger supplementation can help regulate blood sugar and may result in improved insulin levels. [6] 
Antioxidant Effects
Free radicals are unstable molecules that have the potential to cause oxidative stress and damage various tissues and cells, leading to chronic diseases and cancer. [1] Oxidative stress also has the potential to negatively impact male and female fertility. [7] Antioxidants help protect the body from free radicals and reduce oxidative stress in the body, decreasing the risk of chronic conditions. Research shows that ginger has numerous antioxidants and may be helpful for preventing cancer, heart disease, neurodegenerative disease, and more. [8] 
Swelling Relief
Swelling often occurs as a result of inflammation or fluid buildup in the body. Swelling in the feet and ankles is another common symptom of pregnancy that occurs in the second or third trimester. [9] While the effects of ginger on pregnancy-specific swelling are still lacking, there is evidence that ginger has anti-inflammatory effects. [1] Ginger has been shown to reduce inflammation and swelling in people with osteoarthritis, rheumatoid arthritis, and general muscular discomfort. [8,10] (Shop Cooling Cream for swelling relief!) 
Pain Reduction
Some people experience cramping or pain during pregnancy as a result of abdominal tightening, the uterus expanding, and labor. [9] Pain is also common after giving birth. Research shows that ginger has pain-reducing effects by inhibiting prostaglandins (hormone-like lipids that are responsible for cramping and labor induction) and decreasing inflammation in the body. Ginger has successfully reduced pain associated with PMS, menstruation, headaches, general muscle pain, and postpartum pain. [3,11] 
Gas and Constipation Relief
The first trimester of pregnancy sometimes causes uncomfortable bloating and gas. Studies show that ginger has carminative (gas relieving) effects and can successfully decrease flatulence, bloating, and intestinal cramping. [12] Ginger also helps to accelerate gastric emptying, relieving gastrointestinal symptoms and potentially aiding in constipation. [13] 
Incorporating Ginger into Your Diet
There are many ways to consume ginger, including ginger teas and juices, ginger supplements, candies, or even fresh ginger. You can also blend ginger to add to a smoothie or sauce when cooking. Fortunately, most of the health benefits of ginger are present in all of its different forms, meaning you can also opt for ginger paste, pickled ginger, ginger powder, etc. 
How Much Ginger is Safe to Consume While Pregnant?
You should always speak to your healthcare provider directly if you have concerns or questions about your diet or supplements. Most research shows that consuming under 1,000 mg/day of ginger has not resulted in any negative pregnancy outcomes. [14] 
Side Effects of Ginger
Overall, ginger is considered a safe and natural spice to consume, however some side effects are possible. Studies have shown that consuming high amounts of ginger (over four grams) may cause heartburn, diarrhea, reflux, low blood pressure, and in some cases may prolong pre-existing bleeding. [1]  It's recommended that ginger consumption stay below 1,000 mg/day during pregnancy to avoid any negative effects. [14] 
Important Takeaways
Ginger has been used for centuries for its therapeutic properties 
Ginger is high in many nutrients, including vitamin C, fiber, and magnesium
Ginger has antioxidant, anti-inflammatory, and carminative effects
Research shows that ginger may improve nausea and vomiting during pregnancy
Blood sugar regulation may be improved by ginger, potentially lowering insulin and fasting blood sugar levels
The anti-inflammatory and antioxidant effects of ginger may improve swelling, bloating, and pain experienced during pregnancy and postpartum
Ginger can protect the body from free radicals, lowering the risk of oxidative stress
Ginger is thought to be safe for consumption during pregnancy in amounts lower than 1,000 mg/day.
Increased amounts of ginger may cause side effects such as heartburn, diarrhea, reflux, and excessive bleeding.
References:
Modi M, Modi K. Ginger Root. [Updated 2022 Nov 28]. In: StatPearls [Internet]. Treasure Island (FL): StatPearls Publishing; 2023 Jan-. Available from: https://www.ncbi.nlm.nih.gov/books/NBK565886/
Lete I, Allué J. The Effectiveness of Ginger in the Prevention of Nausea and Vomiting during Pregnancy and Chemotherapy. Integr Med Insights. 2016;11:11-17. Published 2016 Mar 31. doi:10.4137/IMI.S36273
Khayat S, Kheirkhah M, Behboodi Moghadam Z, Fanaei H, Kasaeian A, Javadimehr M. Effect of treatment with ginger on the severity of premenstrual syndrome symptoms. ISRN Obstet Gynecol. 2014;2014:792708. Published 2014 May 4. doi:10.1155/2014/792708
Semwal RB, Semwal DK, Combrinck S, Viljoen AM. Gingerols and shogaols: Important nutraceutical principles from ginger. Phytochemistry. 2015;117:554-568. doi:10.1016/j.phytochem.2015.07.012
Gestational Diabetes. Centers for Disease Control and Prevention. December 30 2022. URL. 
Hajimoosayi F, Jahanian Sadatmahalleh S, Kazemnejad A, Pirjani R. Effect of ginger on the blood glucose level of women with gestational diabetes mellitus (GDM) with impaired glucose tolerance test (GTT): a randomized double-blind placebo-controlled trial. BMC Complement Med Ther. 2020;20(1):116. Published 2020 Apr 19. doi:10.1186/s12906-020-02908-5
Agarwal A, Gupta S, Sikka S. The role of free radicals and antioxidants in reproduction. Curr Opin Obstet Gynecol. 2006;18(3):325-332. doi:10.1097/01.gco.0000193003.58158.4e
Mashhadi NS, Ghiasvand R, Askari G, Hariri M, Darvishi L, Mofid MR. Anti-oxidative and anti-inflammatory effects of ginger in health and physical activity: review of current evidence. Int J Prev Med. 2013;4(Suppl 1):S36-S42.
Changes During Pregnancy. American College of Obstetricians and Gynecologists. PFSI026. October 2020. URL. 
Bode AM, Dong Z. The Amazing and Mighty Ginger. In: Benzie IFF, Wachtel-Galor S, editors. Herbal Medicine: Biomolecular and Clinical Aspects. 2nd edition. Boca Raton (FL): CRC Press/Taylor & Francis; 2011. Chapter 7. Available from: https://www.ncbi.nlm.nih.gov/books/NBK92775/
Mozafari S, Esmaeili S, Momenyan S, Zadeh Modarres S, Ozgoli G. Effect of Zingiber officinale Roscoe rhizome (ginger) capsule on postpartum pain: Double-blind randomized clinical trial. J Res Med Sci. 2021;26:105. Published 2021 Nov 29. doi:10.4103/jrms.JRMS_544_20
Nikkhah Bodagh M, Maleki I, Hekmatdoost A. Ginger in gastrointestinal disorders: A systematic review of clinical trials. Food Sci Nutr. 2018;7(1):96-108. Published 2018 Nov 5. doi:10.1002/fsn3.807
Tianthong W, Phupong V. A randomized, double-blind, placebo-controlled trial on the efficacy of ginger in the prevention of abdominal distention in post cesarean section patients. Sci Rep. 2018;8(1):6835. Published 2018 May 1. doi:10.1038/s41598-018-25200-6
Ebrahimi N, Maltepe C, Einarson A. Optimal management of nausea and vomiting of pregnancy. Int J Womens Health. 2010;2:241-248. Published 2010 Aug 4. doi:10.2147/ijwh.s6794
Shop Products From This Article
Subscribe & Save $3.00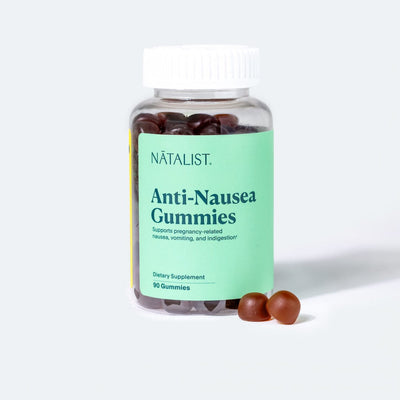 Extra 10% off your first delivery when you subscribe with code SEPT23
$32