Everything You Need to Know About Clomid® For Men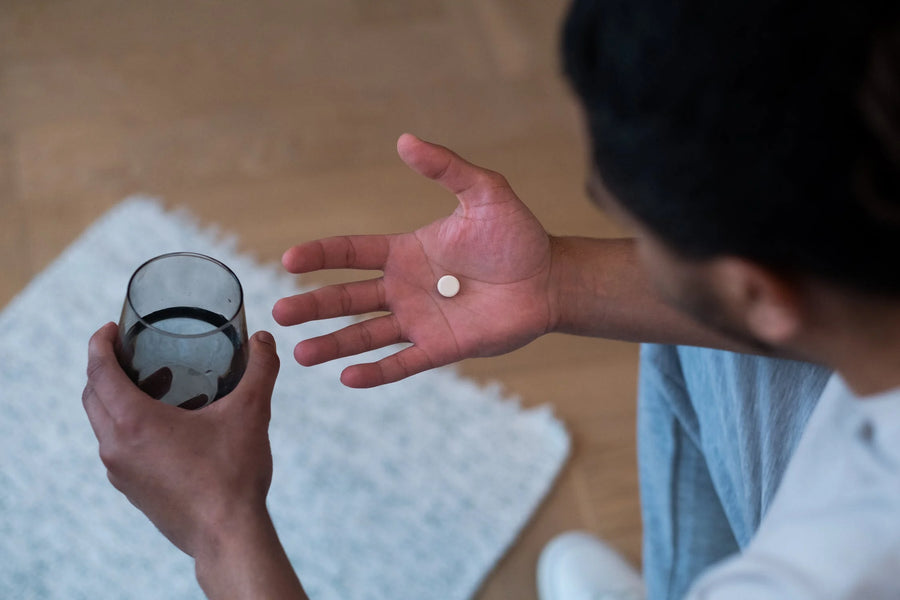 You may have heard of Clomid® to treat infertility in women – it's one of the most common fertility medications out there. But did you know that it's sometimes used to treat male infertility too? [1] In this guide, we'll discuss the use of clomiphene citrate (that's the generic name for Clomid®) in men and other ways to support male fertility.
What is Clomid® for? And why is it usually prescribed? 
Clomid® (clomiphene citrate) is a medication that is FDA-approved for treating ovulatory dysfunction (or anovulation) in women who desire pregnancy. Though not an on-label usage, it is also sometimes prescribed by clinicians for use in men. [1]  Clomiphene citrate is a selective estrogen receptor modulator. That means it works by binding to receptors in the brain to increase the production of follicle stimulating hormone (FSH) and luteinizing hormone (LH) — this is true for all people, regardless of sex. [1] 
What is the point of increasing production of FSH and LH?
In people with ovaries, FSH and LH help support ovulation. Clomiphene citrate is usually prescribed to those who are not ovulating regularly, either because of polycystic ovarian syndrome (PCOS) or other reasons. [1] It works by stimulating the ovaries to produce more eggs, which can then be fertilized and lead to a pregnancy.
In people with testes, FSH helps increase sperm production and LH works to increase testosterone. Because of this, clomiphene citrate is sometimes prescribed to increase sperm density in those with oligospermia (low sperm count) or azoospermia (no sperm) due to low testosterone levels. [2] Some providers prescribe Clomid® to men struggling with fertility or to simply correct abnormal hormone levels. 
Can men take Clomid®? 
Yes, men (and others assigned male at birth) can take Clomid®, but only when evaluated and prescribed by a healthcare provider. Clomiphene citrate is sometimes prescribed off-label to treat infertility in men. "Off-label" means the FDA has not evaluated if a drug is safe and effective for treating that condition, but has evaluated whether the drug is safe and effective for some other use. 
Why do bodybuilders take Clomid®?
Bodybuilders sometimes take Clomid®, off-label, to help increase their testosterone levels. Testosterone is a key hormone involved in muscle growth and recovery, so increasing levels can help bodybuilders achieve their goals of building muscle mass and strength. [3] 
It is not recommended to use Clomid® as a performance-enhancing drug. It is not approved by the FDA for use in this manner, and its safety and efficacy for increasing testosterone levels in men has not been well established. Additionally, Clomid® can have potential side effects such as hot flashes, headaches, nausea, and visual disturbances (more on that below).
How can Clomid® potentially help treat low T in men? 
Low testosterone (low T), or male hypogonadism, is a medical condition in which the body does not produce enough of the hormone testosterone. Testosterone replacement therapy (TRT) is the standard treatment for hypogonadism, but may not be a good option in men wishing to preserve fertility. [4]
Enter: Clomid®, which is sometimes used as a treatment for men with low testosterone levels who want to preserve reproductive function. [5] Because Clomid® works by blocking estrogen receptors in the brain, it triggers the pituitary gland to increase the production of LH and FSH which then stimulate the testes to produce more testosterone. [1,5]
However, it's important to note that Clomid® is not FDA approved for treating low testosterone in men. It's considered to be off-label use, and it's important to talk to your healthcare provider before starting any treatment. 
Does Clomid® work for male fertility?
Some studies suggests that Clomid® can help some men with infertility, but more research is needed to understand its efficacy.
A randomized, placebo-controlled trial of 60 men with oligoasthenozoospermia (low sperm counts), found that those assigned to clomiphene citrate (25 mg/day) and vitamin E (400 mg/day) for six months saw a significantly higher pregnancy rate. [6] In fact, the treatment group experienced a 36.7% pregnancy rate, nearly three times that of the control group (13%). But because the men were taking both clomiphene citrate and vitamin E, it's impossible to understand the efficacy of either drug alone from this study. 
A literature review of nine clinical studies found that the majority of the studies demonstrated a statistically significant increase in sperm concentrations for men taking clomiphene citrate. [7] However, only one of those studies showed a statistically significant impact on the pregnancy rate.
While these are two promising studies, it's clear that more research is needed before Clomid® becomes standard treatment for male infertility.
Clomid® side effects in men
So how does Clomid® make a man feel? It depends on the guy. One study of 400 men taking Clomid® found that just 8% reported side effects. [8]
These side effects included:
Changes in mood
Blurry vision 
Breast tenderness
Weight gain
Acne
Other side effects impacting 0.25% of patients included hypertension, increased hematocrit, altered taste, flushing, polydipsia, nausea, arthralgias, and asthma. [8] You should always talk to your healthcare provider when and if symptoms occur. 
Other ways to support male fertility
The cause of infertility is shared pretty equally among men and women: roughly a third is attributed to women alone, a third is attributed to men alone, and the remaining third is attributed to a combination of the two. [9] So while the emphasis is so commonly on the female, it's actually equally important for men to optimize their fertility. Here are some drug-free ways to support male fertility: 
Get to a healthy weight. 
In general, men who are considered obese are at a higher risk of having fertility challenges. [10] In a review of 30 studies that included 115,158 men, researchers found [11]:
Obesity was associated with more incidence of sperm with DNA fragmentation and abnormal shape (among other sperm-related issues). 
The rate of live births per in vitro fertilization (IVF) cycle for obese men was reduced compared with men who were not considered obese.
There was a 10% absolute risk increase of pregnancy that resulted in miscarriage. 
Cut back on the alcohol.
Binge drinking is not good for your fertility or other aspects of your health. Drinking excessively can lower testosterone levels, cause erectile dysfunction, and decrease sperm production. [12] There's also evidence that alcohol abuse and acute intoxication are associated with sexual dysfunction. [13] Since The American College of Obstetricians and Gynecologists (ACOG) recommends women stop drinking altogether when trying to conceive, now would be a good time to switch to mocktails in solidarity.  (Read Can I Drink During IVF) 
Consider starting a male prenatal.
The Male Prenatal Daily Packets were carefully developed using peer-reviewed studies that reflect the latest research in male fertility, nutrient deficiencies, and pregnancy outcomes. The formula development of these prenatals for males was led by a Harvard-trained urologist and a registered dietitian-nutritionist. Not only were the specific ingredients selected for the male prenatal vitamin based on strength of evidence, but the dosages of each ingredient are also evidence based to ensure adequate impact on sperm health. (Read A Urologist's Guide to Male Fertility)
TL;DR
Clomid® (clomiphene citrate) is only FDA-approved for infertility treatment in females, but is sometimes prescribed for males too. While there are some promising studies on the benefits of Clomid® for male fertility, more research is needed. That being said, there are other evidence-backed ways to support male fertility including getting to a healthy BMI, cutting back on alcohol, and getting the right nutrients. When it comes to getting pregnant, sperm is half the equation. If you have any concerns about sperm health, talk to your healthcare provider about what you can do.
References:
Mbi Feh MK, Wadhwa R. Clomiphene. [Updated 2022 Jun 27]. In: StatPearls [Internet]. Treasure Island (FL): StatPearls Publishing; 2022 Jan-. URL. 
Dabaja AA, Schlegel PN. Medical treatment of male infertility. Transl Androl Urol. 2014;3(1):9-16. doi:10.3978/j.issn.2223-4683.2014.01.06
Wein H, Contie V. Understanding How Testosterone Affects Men. National Institutes of Health. September 2013. Accessed February 2023. URL. 
Ide V, Vanderschueren D, Antonio L. Treatment of Men with Central Hypogonadism: Alternatives for Testosterone Replacement Therapy. Int J Mol Sci. 2020;22(1):21. Published 2020 Dec 22. doi:10.3390/ijms22010021
Dadhich P, Ramasamy R, Scovell J, Wilken N, Lipshultz L. Testosterone versus clomiphene citrate in managing symptoms of hypogonadism in men. Indian J Urol. 2017;33(3):236-240. doi:10.4103/iju.IJU_372_16
Ghanem H, Shaeer O, El-Segini A. Combination clomiphene citrate and antioxidant therapy for idiopathic male infertility: a randomized controlled trial. Fertil Steril. 2010;93(7):2232-2235. doi:10.1016/j.fertnstert.2009.01.117
Willets AE, Corbo JM, Brown JN. Clomiphene for the treatment of male infertility. Reprod Sci. 2013;20(7):739-744. doi:10.1177/1933719112466304
Krzastek SC, Sharma D, Abdullah N, et al. Long-Term Safety and Efficacy of Clomiphene Citrate for the Treatment of Hypogonadism. J Urol. 2019;202(5):1029-1035. doi:10.1097/JU.0000000000000396
Hull MG, Glazener CM, Kelly NJ, et al. Population study of causes, treatment, and outcome of infertility. Br Med J (Clin Res Ed). 1985;291(6510):1693-1697. doi:10.1136/bmj.291.6510.1693
Durairajanayagam D. Lifestyle causes of male infertility. Arab J Urol. 2018;16(1):10-20. Published 2018 Feb 13. doi:10.1016/j.aju.2017.12.004
Campbell JM, Lane M, Owens JA, Bakos HW. Paternal obesity negatively affects male fertility and assisted reproduction outcomes: a systematic review and meta-analysis. Reprod Biomed Online. 2015;31(5):593-604. doi:10.1016/j.rbmo.2015.07.012
Muthusami KR, Chinnaswamy P. Effect of chronic alcoholism on male fertility hormones and semen quality. Fertil Steril. 2005;84(4):919-924. doi:10.1016/j.fertnstert.2005.04.025
Van Heertum K, Rossi B. Alcohol and fertility: how much is too much?. Fertil Res Pract. 2017;3:10. Published 2017 Jul 10. doi:10.1186/s40738-017-0037-x
Shop Products From This Article
Extra 10% off your first delivery when you subscribe with code SEPT23
$125 $110