Getting Pregnant With NCCAH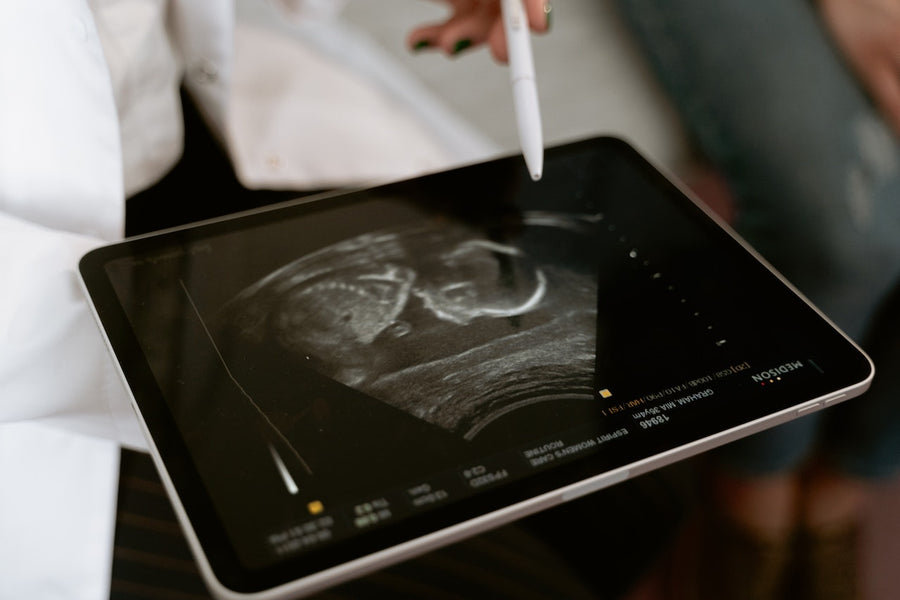 By Halle Tecco, MBA, MPH
If you or your partner has been diagnosed with nonclassic congenital adrenal hyperplasia (NCCAH), you may have questions about what this condition means for fertility and pregnancy. NCCAH is a milder form of congenital adrenal hyperplasia (CAH), and while it can present certain challenges when it comes to conception and pregnancy, it doesn't mean that having a baby is out of reach. [1] 
In this guide, we'll explore what NCCAH is, how it may affect your fertility, and what you can do to improve your chances of having a healthy pregnancy. You'll find health information, practical tips, and reassuring insights that can help you navigate this unique path to parenthood.
Whether you're just beginning to think about starting a family or you've been trying for a while, this article is designed to support you every step of the way. 
What Is NCCAH?
NCCAH is a less severe form of congenital adrenal hyperplasia (CAH), a genetic disorder characterized by malfunctioning adrenal glands. [1-2] NCCAH occurs in 1:500 (0.2%) to 1:100 (1%) of births worldwide. [1] Sometimes NCCAH has similar symptoms to PCOS, but it's actually very different. Read my article NCCAH vs PCOS for more information. 
Symptoms of NCCAH include [2]:
Irregular or absent menstruation: This can be one of the main symptoms, with cycles that may be unpredictable or absent altogether. (Shop this bundle for cycle support)
Hirsutism: This refers to excessive hair growth in areas such as the face, chest, or back.
Acne: Abnormal hormone levels may lead to persistent or severe acne.
Androgenic alopecia: Characterized by female pattern hair loss, alopecia can also be a symptom of NCCAH, resulting from the overproduction of androgens (male hormones).
Infertility: People with NCCAH may experience difficulties in conceiving, partially due to irregular menstrual cycles or other hormone-related factors.
NCCAH is complex, and there are a variety of symptoms that can manifest differently in each person. If you have concerns, you should talk to your provider. NCCAH is generally diagnosed by clinical findings and genetic testing. [4] 
How Does NCCAH Impact Fertility?
Despite being less severe than its classical variant, NCCAH still presents significant challenges, particularly regarding fertility. In fact, data regarding fertility in those with NCCAH estimates that 11% deal with infertility. [1]
In people with NCCAH, one of the primary concerns is the higher levels of progesterone. This increase can alter the conditions in the uterus, a process known as endometrial receptivity, and change the movement within the fallopian tubes, referred to as tubal motility. [4] These changes may interfere with ovulation, the process where an egg is released for fertilization, making conception more challenging. [3]
Living with NCCAH, especially when considering starting a family, can feel overwhelming. The complexities of the condition and its impact on fertility may present unique hurdles. The good news is that NCCAH is manageable! [3] Collaboration with healthcare providers who specialize in NCCAH can lead to effective treatment plans that address your individual needs and concerns. Whether it's through hormone treatments, lifestyle adjustments, or support from fertility specialists, those with NCCAH have access to various tools and resources that can help them navigate their fertility journey with confidence and optimism. [1-3] 

Can You Get Pregnant With NCCAH?
Navigating the path to pregnancy with NCCAH may seem challenging, but it is far from insurmountable. With the right medical guidance, personalized care, and understanding of the condition, many families succeed. The good news is that pregnancy rates for people with NCCAH who seek fertility care are high, between 65% and 95%. [3] 
Providers often prescribe glucocorticoid (GC) therapy, which is also a first-line therapy for autoimmune diseases, to those with NCCAH who are trying to conceive. [1] It's important to note that NCCAH is a genetic disorder, so there is a risk of giving birth to an infant with the classical form of the disease. Both partners can get genetic carrier screening to assess the risk of giving birth to a child with the classical form of CAH. [1] 
By remaining proactive, advocating for yourself, asking lots of questions, and following prescribed treatment plans, you can approach pregnancy with optimism. And if you're still feeling lost, consider joining support groups or a specialized fertility psychologist who can provide invaluable encouragement and expertise. 
Preparing For a Healthy Pregnancy
When planning to grow your family, your overall health is critical. Being in good health lays the foundation for your well-being throughout pregnancy and postpartum, but also that of your future child. [5-6] 
One essential step that applies to anyone hoping to conceive is the daily intake of a comprehensive prenatal vitamin. [5] These vitamins are specially formulated to include key nutrients that support both maternal health and the development of the baby. [5] Look for vital components like DHA, folate, iron, and calcium, which play a crucial role in the early stages of pregnancy. [5] Starting these vitamins even before conception ensures that your body is primed with the necessary nutrients from the very beginning of your pregnancy. 
In addition to prenatal vitamins, it's important to consider weight management when trying to conceive. Being above or below average weight may add more stress to your fertility journey. [6-7] Being overweight doesn't mean you can't have a healthy pregnancy, but careful considerations during labor and delivery, as well as careful management of diet, exercise, vitamins, and regular prenatal care, are important. [6] Obesity can introduce some increased health risks including gestational hypertension, preeclampsia, gestational diabetes, and obstructive sleep apnea. [6] Being underweight also comes with higher risks, including having a baby with a low birth weight and the risk of preterm birth. Both low-birth-weight babies and preterm babies are at risk of problems during labor and after birth. [7] 
Lastly, now is the time to stop the use of substances such as tobacco, alcohol, marijuana, illegal drugs, and prescription drugs taken for nonmedical reasons, as they can pose serious risks to both your pregnancy and your fetus. [5,7] These risks can manifest in various ways, including birth defects, low birth weight, preterm birth, and even stillbirth. [5,7] And it's not just you, your partner and anyone else you live with should also refrain from smoking around you during pregnancy. [7] Secondhand smoke can expose your fetus to toxic chemicals, and it has been linked to an increased risk of sudden infant death syndrome (SIDS). [7] If you have a male partner, it is also important for him to give up harmful substances before you try to get pregnant. Habits such as smoking, drinking alcohol, and using drugs may damage a man's sperm cells, leading to potentially harmful effects on the fetus. [7] The joint effort to eliminate exposure to these substances is a vital step in ensuring the health and well-being of your future child. [7] 
Fertility books like Conception 101 are the perfect tool to help you achieve your goals and learn everything you need to know about having a baby.
Does NCCAH Negatively Affect Pregnancy?
In patients with NCCAH who have not been treated, miscarriage rates seem to be higher compared to those who do not have NCCAH. [3] Fortunately, these rates tend to return to normal after treatment with glucocorticoids. This highlights the importance of proper medical care and treatment for those with NCCAH, especially when trying to conceive and during pregnancy. [3]
Babies born to mothers with NCCAH are more likely to be small for their gestational age (SGA), especially when both parents have NCCAH. [3] This means the babies may be smaller than expected for the time they've spent in the womb. The good news is that long-term follow-up of these children has generally shown normal physical and intellectual development. [3] 
Summing It Up
NCCAH presents its own set of challenges and considerations, especially when it comes to fertility and pregnancy. Yet, with an understanding of the condition, collaboration with specialized healthcare providers, and a proactive approach to care, many with NCCAH have successfully embarked on the journey to parenthood. 
The high pregnancy rates among those with NCCAH who seek fertility care demonstrate that having a baby is a very attainable goal. Knowledge, proper medical guidance, personalized treatment plans, and a strong support network are essential components to ensuring a healthy pregnancy and a bright future for your family. If you or your partner has been diagnosed with NCCAH, know that you are not alone and that the right support and resources are available to help you achieve your dreams of building a family. Shop pregnancy and fertility products such as prenatal vitamins for men and women, test kits, and more on the Natalist website. We wish you all the best!
References:
Livadas S, Bothou C. Management of the Female With Non-classical Congenital Adrenal Hyperplasia (NCCAH): A Patient-Oriented Approach. Front Endocrinol (Lausanne). 2019;10:366. Published 2019 June 6. doi:10.3389/fendo.2019.00366
Trapp CM, Oberfield SE. Recommendations for treatment of nonclassic congenital adrenal hyperplasia (NCCAH): an update. Steroids. 2012;77(4):342-346. doi:10.1016/j.steroids.2011.12.009
Chatziaggelou A, Sakkas EG, Votino R, Papagianni M, Mastorakos G. Assisted Reproduction in Congenital Adrenal Hyperplasia. Front Endocrinol (Lausanne). 2019;10:723. Published 2019 Oct 23. doi:10.3389/fendo.2019.00723
Teede HJ, Misso ML, Costello MF, et al. Recommendations from the international evidence-based guideline for the assessment and management of polycystic ovary syndrome. Fertil Steril. 2018;110(3):364-379. doi:10.1016/j.fertnstert.2018.05.004
Good Health Before Pregnancy. ACOG. Last updated: 2020. Accessed August 2023. URL.
Obesity and Pregnancy. ACOG. Last updated: January 2023. Accessed August 2022. URL.
Good Health Before Pregnancy: Prepregnancy Care. ACOG. Last updated: December 2021. Accessed August 2022. URL.