Are Prescription Prenatal Vitamins Better Than Over the Counter Ones?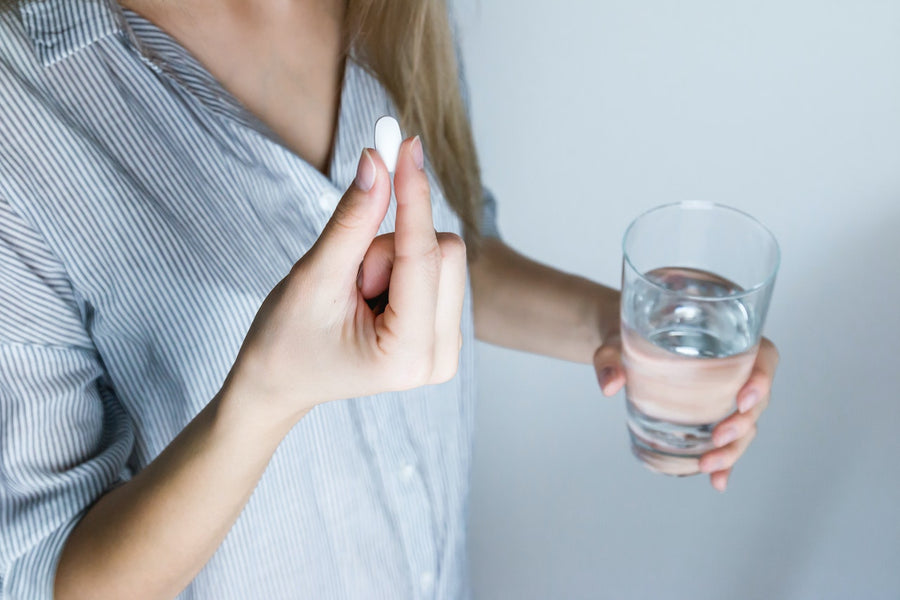 Originally published 08/26/2019. Updated for accuracy and relevancy on 08/26/2023.
Prescription prenatals vs OTC prenatal vitamins, which one is right for you? Read our guide.
The Importance of Prenatal Vitamins
Most people can agree that prenatal vitamins are considered an important addition to a nutritious diet around the time of pregnancy. In fact, both the Centers for Disease Control & Prevention (CDC) and the American College of Obstetricians and Gynecologists (ACOG) recommend prenatal vitamins both before conception and throughout pregnancy. [1-2] 
Put simply, prenatal multivitamins are vitamins that contain more folate and iron than your standard multivitamin since these nutrients are especially important to the growth of the developing fetus. What might be news to some women, however, is that there are both over-the-counter and prescription prenatals. 
So, on top of the sheer number of prenatal supplement options on store shelves to choose from, women have to also decide if they want a prescription or over-the-counter prenatal. Way to make a hard decision even harder, right? We've got you covered with this explanation of the main differences (or lack thereof) between over-the-counter and prescription prenatals.
Let's start with what these prenatals have in common. First and foremost, no matter what type of prenatal multivitamin you end up taking or how you end up obtaining it, it is always recommended that you take it daily and start it prior to getting pregnant. There are certain nutrients in prenatal vitamins that are important in the first month after conception. Many women don't realize they're pregnant in those first four weeks, so it's recommended to be on a prenatal if you may be getting pregnant soon.
What Makes a Prenatal Vitamin "Prenatal?"
As mentioned before, a prenatal vitamin is "prenatal" because it typically has higher amounts of certain nutrients per dose (folate and iron, most notably) than a regular old multivitamin. Why these particular nutrients?
In the case of folate, research has shown that low levels of folate can lead to a higher chance of neural tube defects, which are defects of the brain and spine. [3-4] Neural tube defects are the second most common major congenital anomaly (after cardiac anomalies) and can have varying short and long-term outcomes. There are two types of folate commonly used in prenatal vitamins: folic acid and MTHF folate. Read about the key differences between folate and folic acid. 
Key Nutrients to Look For In a Prenatal Vitamin
When looking for prenatal supplements, it's important to ensure they include folate as well as the following key vitamins and nutrients. 
Iron
Iron supports fetal growth and development by preventing anemia. [5-6] Iron deficiency anemia occurs when a mom's blood doesn't have enough red blood cells to carry oxygen throughout her body. In addition, some research suggests that prenatal vitamins decrease the risk of having a baby who is small for his or her gestational age. [7] 
Omega 3 Fatty Acid
 Another important nutrient is omega-3 fatty acids, of which the most important type is docosahexaenoic acid (DHA). Omega DHA is an integral component of the cell membranes in the brain and retina and helps to promote brain development in the baby. [8] Unfortunately, due to (valid) concerns of mercury and other contaminants in fish, most women in the US are not getting enough DHA from their diet. ACOG recommends that both a woman trying to conceive and a pregnant woman consume at least 200 mg of DHA during pregnancy. [1] Since it's unlikely that this can be met through diet alone, you should consider taking a prenatal that contains DHA or a separate DHA supplement in addition to a regular prenatal vitamin.
 Calcium and Vitamin D
Calcium and vitamin D are two more very important players in this game. They become especially critical during the third trimester when a fetus's bones are growing quickly. One study looked at vitamin D and calcium supplementation in pregnant teens and found that optimal intake of both nutrients was needed to maximize fetal bone growth. [9] Another study looked at maternal vitamin D levels and found that low vitamin D can lead to changes in the fetus' bone development as early as 19 weeks! [10] And there are plenty more studies out there that support these findings. Of note, vitamin D deficiency is growing increasingly more common due to women staying indoors more and the increased use of sunscreen for cancer prevention. It is even more prevalent in women of color so don't be surprised if your provider suggests additional supplementation on top of what may be in your prenatal supplement to get your vitamin D level back in the normal range.
Either prescription or over-the-counter, any vitamin that claims to be a prenatal should have folate, iron, calcium, and vitamin D. Omega-3 fatty acids, most importantly DHA, are not always included but are easy to augment through an additional supplement. 
Are Prescribed Prenatals Better Than OTC?
A prenatal multivitamin supplement has many benefits from encouraging a healthy pregnancy to providing essential nutrients and vitamins. But you might be wondering if prescription or OTC prenatal multivitamins are better. I will preface this by saying I am happy to leave it up to my patients to determine whether they want a prescription or not. What matters most to me is that they are taking a prenatal vitamin consistently and that they are without side effects.
Many times when I'm prescribing prenatal vitamin supplements, I'm not choosing a specific brand over another. I look at the specific quantity of each nutrient and choose a prenatal that has all the doses we know are effective for pregnancy.
The only time this changes is if I have a patient who has had a neural tube defect in a prior pregnancy because then the recommended dose of folate is much higher and therefore easier to reach with a prescription prenatal. 
One thing to remember is that the Food and Drug Administration (FDA) doesn't regulate the safety or effectiveness of any over-the-counter prenatal vitamins before they become available on the market. As a result, not all over-the-counter prenatal vitamins are created equal. This makes it important to do your homework on an over-the-counter prenatal and make sure that you are buying from a trusted brand. 
The only other big difference is actually a pretty important one to consider—cost and convenience. Over-the-counter prenatals range widely based on ingredient quality, so make sure to read the label carefully. Generally, you get what you pay for. (Read our post Prenatal Vitamins: Why They Matter & How to Find the Best One For You). 
One last option to consider—convenience. Both options can be sent to your home or easily called in and picked up from your local pharmacy. Where they may be a difference is in how often you need to take the prenatal vitamin each day. A prescription prenatal with higher doses per pill could allow you to take it fewer times per day, but higher doses can also be more likely to cause gastrointestinal side effects. For those more susceptible to morning sickness or nausea when taking prenatal supplements, consider trying a gummy prenatal vitamin, which tends to be more gentle on the stomach.
Which Prenatals Do Doctors Recommend?
I'll leave you with what I always tell my patients in the office: the best prenatal is the prenatal that you can take every day! So once you've found your prenatal vitamin, just stay consistent with it, and you'll be one step closer to a healthier, safer pregnancy.
References:
 Folic Acid Recommendations. CDC. June 2022. URL. 
 Nutrition During Pregnancy. FAQ 001. American College of Obstetricians and Gynecologists. June 2023. URL. 
Smithells RW, Sheppard S, Schorah CJ. Vitamin deficiencies and neural tube defects. Arch Dis Child. 1976;51(12):944-950. doi:10.1136/adc.51.12.944
Prevention of neural tube defects: results of the Medical Research Council Vitamin Study. MRC Vitamin Study Research Group. Lancet. 1991;338(8760):131-137.
Carles G, Tobal N, Raynal P, et al. Doppler assessment of the fetal cerebral hemodynamic response to moderate or severe maternal anemia. Am J Obstet Gynecol. 2003;188(3):794-799. doi:10.1067/mob.2003.177
American College of Obstetricians and Gynecologists. ACOG Practice Bulletin No. 95: anemia in pregnancy [published correction appears in Obstet Gynecol. 2020 Jan;135(1):222]. Obstet Gynecol. 2008;112(1):201-207. doi:10.1097/AOG.0b013e3181809c0d
Salcedo-Bellido I, Martínez-Galiano JM, Olmedo-Requena R, et al. Association between Vitamin Intake during Pregnancy and Risk of Small for Gestational Age. Nutrients. 2017;9(12):1277. Published 2017 Nov 23. doi:10.3390/nu9121277
Coletta JM, Bell SJ, Roman AS. Omega-3 Fatty acids and pregnancy. Rev Obstet Gynecol. 2010;3(4):163-171.
Young BE, McNanley TJ, Cooper EM, et al. Maternal vitamin D status and calcium intake interact to affect fetal skeletal growth in utero in pregnant adolescents. Am J Clin Nutr. 2012;95(5):1103-1112. doi:10.3945/ajcn.111.023861
Mahon P, Harvey N, Crozier S, et al. Low maternal vitamin D status and fetal bone development: cohort study. J Bone Miner Res. 2010;25(1):14-19. doi:10.1359/jbmr.090701
Shop Products From This Article