Selenium & Your Thyroid: Exploring the Connection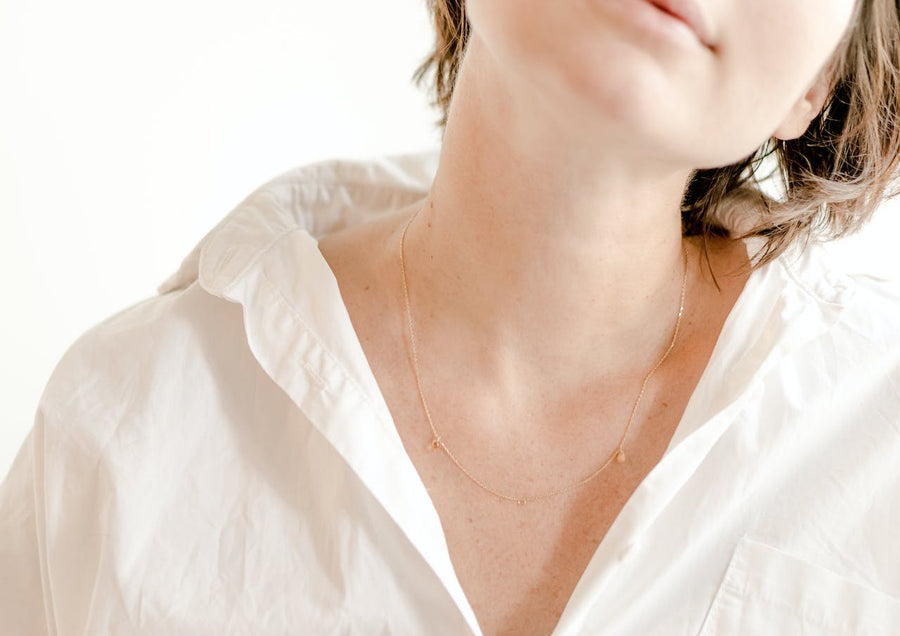 By OBGYN Dr. Kenosha Gleaton
What Is Selenium?
Selenium is a trace element that is essential for a healthy, functioning body. Selenium is necessary for many processes, including DNA production, reproduction, functioning of the thyroid, and more. [1] Selenium is naturally found in many foods, including brazil nuts, seafood, meat, eggs, dairy, breads, cereal, and other grain products. [1] It's also common to see selenium in multivitamins and prenatal vitamins. 
Is Selenium Good for Your Thyroid?
The thyroid gland has the highest selenium concentration than any other organ in the body and relies on selenium for proper functioning. [1] In case you need a refresher, the thyroid is an endocrine gland that is responsible for making and releasing many different hormones. [2] The thyroid has control over many of the body's important functions, including metabolism, fertility, digestion, the nervous system, cardiovascular system, and more.  [2] 
The thyroid relies on selenium for metabolism of thyroid hormones, removing oxygen free radicals in the thyroid, converting certain thyroid hormones (such as T4 to T3), intracellular production of thyroid hormones, and more. [3] Without selenium, the important hormones produced by the thyroid may become imbalanced, which can significantly impact other health conditions and may lead to thyroid disease. [1,3] Research shows that adequate levels of selenium or selenium supplementation may lead to positive results or aid in treatment outcomes for various conditions related to the thyroid, including hypothyroidism, Hashimoto's thyroiditis, thyroid cancer, and Graves' disease. [1,3] Learn more about improving thyroid function → 
Test your thyroid hormones and other important fertility hormones at-home with the Natalist Women's Fertility Test! 
Selenium's Protective Role
As mentioned already, one of selenium's important roles in thyroid health is its antioxidant activity. Antioxidants are substances that can protect the cells from damage by neutralizing free radicals, which are unstable and highly reactive atoms. [4] Free radicals can be produced from breaking down food, exposure to pollutants or radiation, and are even produced in the thyroid during the production of thyroid hormones. [3,4] When they're able to inflict enough damage, free radicals can contribute to the development of cancer, heart disease, chronic inflammation, and other conditions. [4] This is why consuming and supporting antioxidant function is so important. In the thyroid, selenium works to fight off free radicals to potentially slow or improve conditions like Grave's disease, hyperthyroidism, etc. Some research also suggests that selenium's antioxidant properties are the reason selenium may decrease the risk of cognitive decline and cancer. [1,3] 
The Benefits of Selenium Supplements
There have been many observed benefits of adequate selenium intake over the years. There are a few specific areas in which selenium supplements may be beneficial: cancer, cognitive decline, thyroid disease, and heart disease. [1] Some research also suggests that selenium may benefit fertility and pregnancy. Learn more about selenium benefits during pregnancy and selenium for fertility → 
A few randomized controlled trials focused on selenium supplementation and cancer have yielded conflicting results. A Cochrane Review was able to summarize that selenium may be useful for preventing certain types of cancer, such as gastrointestinal cancer. Some research also supports the theory that selenium may reduce the risk of prostate cancer. [1] 
Some studies have also found that selenium supplementation may lower levels of cholesterol, but more research is needed to determine if selenium has an impact on the risk of heart disease. Additionally, selenium supplementation has been shown to reduce the risk of cognitive impairment in older adults and when combined with other minerals and vitamins, was found to improve memory and fluency. [1] Lastly, we've seen many observed benefits on thyroid function from adequate selenium intake. Research findings are very promising so far, but more data is needed to better understand the effects of selenium supplementation. [1] 
Selenium and Iodine: A Vital Partnership
Selenium and iodine work very closely together to maintain a healthy thyroid. Iodine is another trace element that is found in some types of salt and is used to make thyroid hormones. [5] Selenium's antioxidant effects allow it to protect the thyroid against iodine-induced cell damage. While we need iodine to produce thyroid hormones, too much iodine can worsen autoimmune conditions and lead to other negative health effects. [5] Selenium and iodine work together to maintain healthy thyroid hormone levels. [1,3,5] 
Who Should Not Take Selenium?
While selenium is a necessary mineral for our health, selenium supplementation may not be right for everyone. Some medications can interact with selenium, such as some chemotherapy medications. [1] You should always consult a healthcare provider before taking any new medications or supplements. If you have a diet that is high in selenium, additional supplementation may not be right for you. Adults should not consume more than 400 mcg of selenium a day to avoid toxicity symptoms like kidney failure, heart attacks, gastrointestinal distress, etc. [1] Always be mindful of your diet and any added selenium in multivitamins, including male prenatal vitamins or female prenatal vitamins. 
Dietary Sources of Selenium
Brazil nuts are one of the richest sources of selenium, containing over 500 mcg of selenium per ounce, which is about 6-8 nuts. [1] One serving of brazil nuts provides almost 1,000% of the recommended daily value. Other rich sources of selenium include [1]:
Tuna
Halibut
Sardines
Ham
Shrimp
Enriched pasta
Chicken
Rice
Cottage cheese
Egg
Bread
Oatmeal
Milk
Yogurt
It's important to stay within the recommended dietary guidelines for selenium when planning your diet or looking for supplements that contain selenium. High intakes of selenium over a long period of time may lead to negative health effects, including a garlic odor in the breath, metallic taste in the mouth, hair loss, brittle nails, nausea, skin rashes, fatigue, and other symptoms. [1] 
Recognizing Selenium Deficiency
Selenium deficiency has been found to negatively impact human growth, reproduction, and may lead to the onset of Kashin-Beck disease, a condition characterized by heart failure, enlarged joints, and deformities. [1,6] Fortunately, selenium deficiency is very rare in the United States and Canada due to selenium-rich soil and enriched food products. [1,6] That being said, certain groups are at an increased risk of selenium deficiency, including people living in selenium-deficient regions (parts of China and some European countries), people undergoing kidney dialysis, and those living with HIV. [1] Symptoms of low selenium intake include [1,6]:
Depressed mood, anxiety, and confusion
Concurrent vitamin E deficiency
Muscle weakness
Infertility
Impaired immune system
Confusion or brain fog
If you are concerned about your selenium levels, you should speak to a healthcare provider. 
Natalist Vitamins and Supplements
At Natalist, we know how important it is to maintain a healthy diet. Whether you are hoping to get pregnant, you are pregnant, or you're breastfeeding, vitamins and minerals play an important role in your health and wellness. Selenium is just one of many trace minerals that can have a large influence on your thyroid health, fertility, and other bodily processes. Maintain adequate levels of selenium and other nutrients with high-quality, evidence based supplements for men and women. Natalist Male Prenatal Daily Packets include 100 mcg of selenium, and Female Prenatal Daily Packets include 55 mg. As always, be sure to speak to your healthcare provider before trying any new supplements. Keep reading about nutrition on the Natalist blog. 
References:
Selenium Fact Sheet for Health Professionals. National Institutes of Health (NIH) Office of Dietary Supplements (ODS). March 2021. https://ods.od.nih.gov/factsheets/Selenium-HealthProfessional/
Thyroid. Cleveland Clinic. June 2022. https://my.clevelandclinic.org/health/body/23188-thyroid
Ventura M, Melo M, Carrilho F. Selenium and Thyroid Disease: From Pathophysiology to Treatment. Int J Endocrinol. 2017;2017:1297658. doi:10.1155/2017/1297658
Pham-Huy LA, He H, Pham-Huy C. Free radicals, antioxidants in disease and health. Int J Biomed Sci. 2008;4(2):89-96.
Iodine Fact Sheet for Health Professionals. National Institutes of Health (NIH) Office of Dietary Supplements (ODS). October 2023. https://ods.od.nih.gov/factsheets/Iodine-HealthProfessional/
Shreenath AP, Ameer MA, Dooley J. Selenium Deficiency. [Updated 2022 Jul 19]. In: StatPearls [Internet]. Treasure Island (FL): StatPearls Publishing; 2023 Jan-. Available from: https://www.ncbi.nlm.nih.gov/books/NBK482260/
Shop Products From This Article