The Role & Importance of Selenium During Pregnancy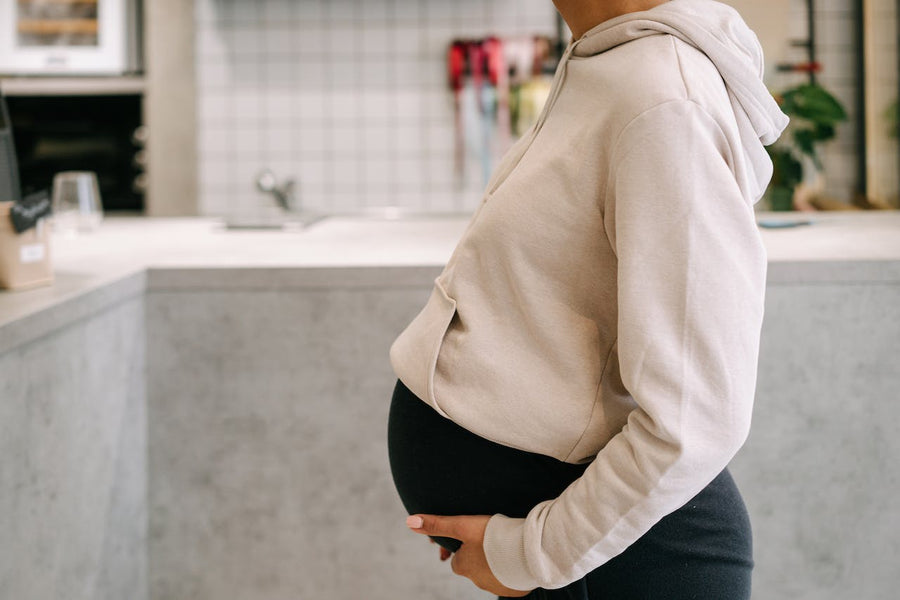 By Dr. Kenosha Gleaton, OBGYN
Why Is Selenium Essential?
Selenium is an essential element that the body uses to aid in DNA production, reproduction, thyroid function, protection from cellular damage, and more. [1] Let's talk more about the important functions of selenium. 
Antioxidant and Immune System Regulator
Selenium has important antioxidant properties that protect the body from dangerous free radicals. Free radicals are unstable and highly reactive atoms that are produced from basic metabolism, exposure to pollutants like cigarette smoke, hormone production, and more. [2] Free radicals are thought to play a role in the development of heart disease, cancer, and other conditions. [2] Fortunately, antioxidants like selenium work to neutralize free radicals and protect the cells from damage. [1] Learn more about antioxidants and fertility. 
Selenium is also an important part of a healthy immune response and immunoregulation. Selenium helps the body initiate an immune response and may help regulate chronic inflammation, a condition associated with diseases such as arthritis, endometriosis, Alzheimer's, and others. [3-4] A healthy immune response is extremely important for fighting off disease and other pathogens in the body. [3] Immunoregulation is also vital to avoid excessive immune responses, including autoimmune symptoms or conditions. [3] 
Thyroid Function and DNA Production
Selenium is also necessary for healthy thyroid function and DNA production and repair. [1] The thyroid gland is a very important part of our endocrine system and is responsible for making, regulating, and releasing many different hormones. [5] The thyroid has a large influence on other bodily systems, including reproduction, digestion, the nervous system, etc. [5] With the help of selenium, the thyroid is able to metabolize hormones while staying protected from free radicals. Selenium is also thought to exhibit protection against DNA damage by increasing the activity of DNA repair enzymes. [6] These effects on DNA repair are the reason selenium supplements may play a role in the prevention of some cancers. [1,6] 
Is Selenium Safe During Pregnancy?
Selenium is a safe and necessary mineral for a healthy pregnancy. [7] Selenium can be found naturally in the diet but is also found in supplement forms. It's always recommended that you speak to a healthcare provider before taking any new supplements, especially during pregnancy. In many cases, there isn't a need for a standalone selenium supplement, as a comprehensive prenatal vitamin paired with a balanced diet will likely include all of the selenium you need. It's important to avoid overconsumption of any vitamins and minerals during pregnancy to avoid potential toxicity symptoms. [1] 
How Much Selenium Is Needed During Pregnancy?
It's recommended that everyone, regardless of age, consume a certain amount of selenium in their diet every day. [1] During pregnancy, the Food and Nutrition Board (FNB) recommends that at least 60 mcg of selenium be consumed daily. This amount increases to 70 mcg when breastfeeding to ensure both mom and baby are receiving plenty of nutrients. [1,7] The FNB also established upper limits for selenium to help consumers avoid toxicity symptoms such as hair loss or nail brittleness. The UL for selenium in adults, including those pregnant or breastfeeding, is 400 mcg. [1,7] Check the ingredients on your prenatal vitamin or any other supplements you're taking to get a better idea of how much selenium you are consuming on a regular basis. Don't forget to take into account any dietary selenium as well! 
Selenium and Pregnancy
Getting adequate vitamins and minerals during pregnancy is very important for supporting healthy outcomes. This includes selenium, which can improve thyroid health, fight off oxidative damage, and may improve some fetal outcomes. [8] Research shows that abnormal levels of selenium are associated with miscarriage, pre-eclampsia, gestational diabetes, and preterm birth. [8-10] Multiple studies have found that low levels of selenium early on in pregnancy are associated with infants that are small for gestational age and born with a low birth weight. [10-11] 
Selenium's impact on thyroid health can also relate to pregnancy outcomes. A study found that selenium supplementation during pregnancy was able to decrease the progression of some thyroid diseases, specifically those tied to autoimmune thyroiditis. [1] Autoimmune thyroiditis is a common cause of hyperthyroidism and hypothyroidism in pregnant people and can lead to damaging pregnancy outcomes, including preeclampsia, preterm birth, heart failure, congenital malformations, and other complications. [12] 
Is Selenium Important in Prenatal Vitamins?
When choosing a prenatal vitamin, it's important to find a supplement that has all the vitamins and minerals you need in dosages that are aligned with authorities in prenatal nutrition. Selenium is one of many minerals that is recommended during pregnancy according to the American College of Obstetrics and Gynecology (ACOG), FNB, and the American Academy of Pediatrics. [7] While many of us consume selenium naturally in our diet, having a prenatal that contains some selenium is a great way to ensure you're meeting the recommended daily guidelines. As we've discussed, adequate selenium intake has the potential to improve maternal and fetal health outcomes. Natalist Prenatal Daily Packets include 55 mcg of selenium, plus they're vegan, gluten-free, and easy to digest. 
Selenium-Rich Foods for Expecting Mothers
Selenium can be found in a variety of foods, including meats, grains, nuts, dairy products, and more. [1] The amount of selenium found in certain foods can vary depending on the richness of the soil in any given area. Here are some selenium-rich foods that are likely safe to eat during pregnancy [1]:
Brazil nuts (in very small amounts)
Tuna
Halibut
Sardines
Ham
Enriched pasta and grain products
Chicken
Cottage cheese
Egg
Milk
Yogurt
Keep in mind certain foods may require additional safety precautions, including seafood, cheese, and Brazil nuts. Brazil nuts are very nutrient-dense, but provide very high amounts of selenium. [1] Stick to only eating one or two Brazil nuts a day to avoid selenium toxicity. Ensure all eggs, meat, and seafood are prepared properly, and avoid eating fish high in mercury or other toxins. If you have questions about your nutrition during pregnancy, speak to your healthcare provider. 
Natalist: Supporting You During Your Pregnancy
At Natalist, we know how important it is to maintain a healthy diet. Selenium is just one of many nutrients that are required for a healthy body and a healthy pregnancy. Research suggests that selenium can benefit both male and female fertility, and adequate selenium levels have been shown to support thyroid health, pregnancy, and other conditions. Whether you are hoping to get pregnant, you are pregnant, or you're breastfeeding, vitamins and minerals play an important role in your health and reproductive journey. Maintain adequate levels of selenium and other nutrients with high-quality, evidence-based supplements for men and women. Natalist Male Prenatal Daily Packets include 100 mcg of selenium, and Female Prenatal Daily Packets include 55 mg. As always, be sure to speak to your healthcare provider before trying any new supplements. 
References:
Selenium Fact Sheet for Health Professionals. National Institutes of Health (NIH) Office of Dietary Supplements (ODS). March 2021. https://ods.od.nih.gov/factsheets/Selenium-HealthProfessional/
Pham-Huy LA, He H, Pham-Huy C. Free radicals, antioxidants in disease and health. Int J Biomed Sci. 2008;4(2):89-96.
Huang Z, Rose AH, Hoffmann PR. The role of selenium in inflammation and immunity: from molecular mechanisms to therapeutic opportunities. Antioxid Redox Signal. 2012;16(7):705-743. doi:10.1089/ars.2011.4145
Inflammation. Cleveland Clinic. July 2021. https://my.clevelandclinic.org/health/symptoms/21660-inflammation
Thyroid. Cleveland Clinic. June 2022. https://my.clevelandclinic.org/health/body/23188-thyroid
Yildiz A, Kaya Y, Tanriverdi O. Effect of the Interaction Between Selenium and Zinc on DNA Repair in Association With Cancer Prevention. J Cancer Prev. 2019;24(3):146-154. doi:10.15430/JCP.2019.24.3.146
Guidelines for Perinatal Care. Eighth Edition. AAP, ACOG. Elg Grove Village, IL. 2017. ISBN 9781934984697. https://www.acog.org/clinical-information/physician-faqs/-/media/3a22e153b67446a6b31fb051e469187c.ashx
Biswas K, McLay J, Campbell FM. Selenium Supplementation in Pregnancy-Maternal and Newborn Outcomes. J Nutr Metab. 2022;2022:4715965. Published 2022 May 4. doi:10.1155/2022/4715965
Pieczyńska J, Grajeta H. The role of selenium in human conception and pregnancy. J Trace Elem Med Biol. 2015;29:31-38. doi:10.1016/j.jtemb.2014.07.003
Dahlen CR, Reynolds LP, Caton JS. Selenium supplementation and pregnancy outcomes. Front Nutr. 2022;9:1011850. Published 2022 Oct 31. doi:10.3389/fnut.2022.1011850
Lewandowska M, Sajdak S, Lubiński J. The Role of Early Pregnancy Maternal Selenium Levels on the Risk for Small-for-Gestational Age Newborns. Nutrients. 2019;11(10):2298. Published 2019 Sep 26. doi:10.3390/nu11102298
Galofre JC, Davies TF. Autoimmune thyroid disease in pregnancy: a review. J Womens Health (Larchmt). 2009;18(11):1847-1856. doi:10.1089/jwh.2008.1234
Shop Products From This Article