We Created the Prenatal Vitamin We Always Wanted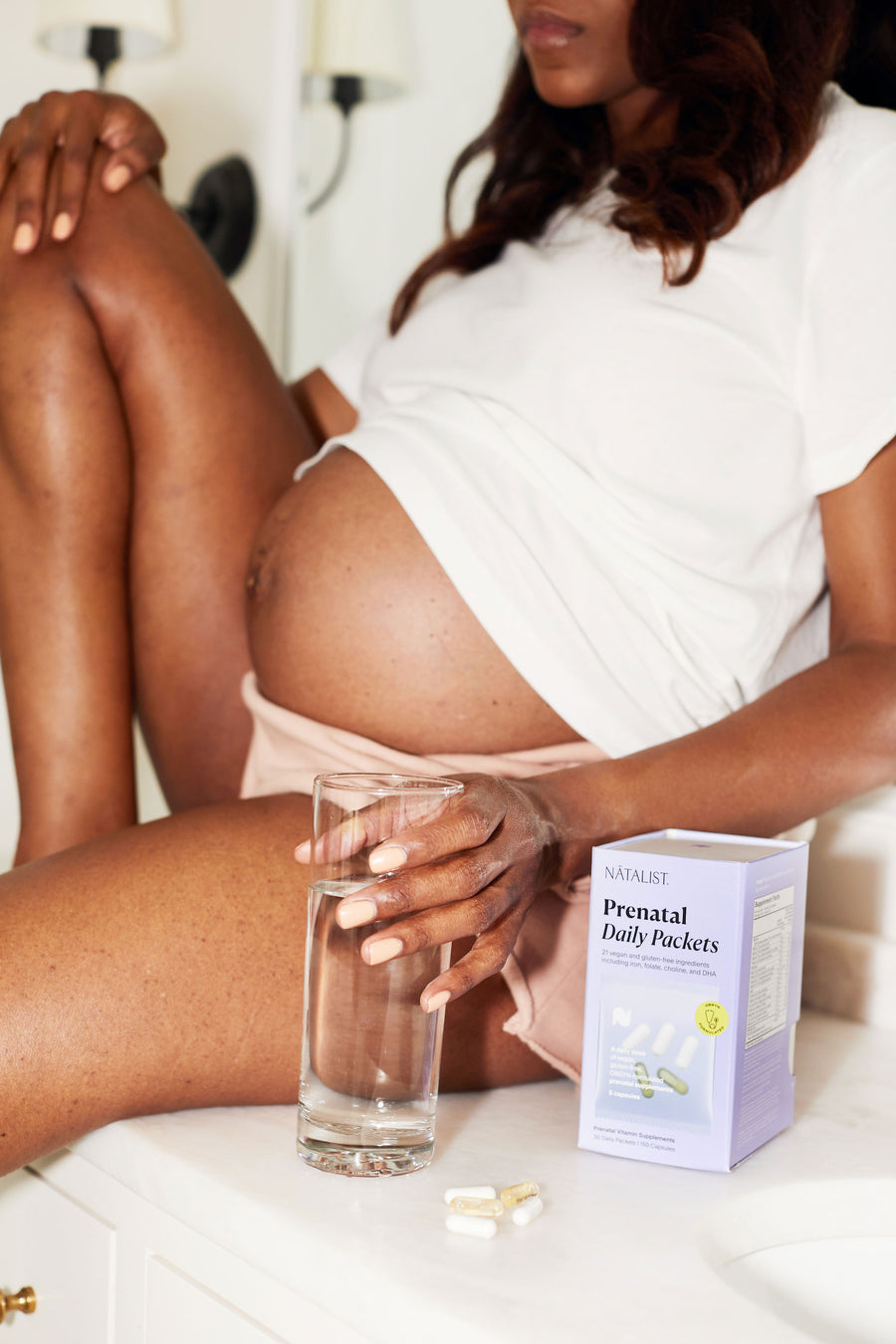 We're moms and doctors, and when we were pregnant, we could never quite find the perfect prenatal vitamins. So, we decided to create our own. Read more about the story behind our superior prenatal vitamins.
We're proud to offer you a daily dose of goodness made with superior, gentle ingredients to nourish and support your body at every stage of your pregnancy journey—all in one convenient daily packet.
Formulated with you in mind
We're moms and doctors, and when we were pregnant, we found the products marketed towards TTC and pregnancy to be confusing, misleading, and quite frankly, lacking in key ingredients and dosages. We could never find the perfect prenatal vitamins—so we decided to take matters into our hands and create our own. We are proud to share our Prenatal Daily Packets with you because it's the prenatal vitamin we always wanted. 
Our prenatal vitamin checks all the boxes
Our Prenatal Daily Packets were thoughtfully formulated by experts and include 21 high-quality, bioavailable ingredients to nourish and support your body at every stage of your pregnancy journey. And what's more, we created a product that embodies all the values we wanted when growing our babies. 
Our prenatal vitamins are:
Vegan: It was important to us to offer an option for parents-to-be who follow a vegetarian or vegan diet. We sourced far and wide to ensure all the ingredients in our Prenatal Daily Packets are vegan, particularly our DHA and vitamin D3, which typically aren't offered in vegan forms.
Gluten free: Offering a gluten-free prenatal vitamin option is essential for people managing celiac disease and other medical conditions associated with gluten. Plus, a growing number of women prefer a gluten-free diet—which is why we kept this value top of mind when formulating our Prenatal Daily Packets.
Gentle on the stomach: When you're dealing with morning sickness and pregnancy discomfort, the last thing you need is a prenatal vitamin that makes you feel even worse. When selecting an iron form for our prenatal, we chose Ferrochel® iron for its high bioavailability and gastrointestinal tolerability. Ferrochel® does not break down in stomach acid—it is delivered intact to the intestine, where it is easily absorbed. Other types of iron have low bioavailability and often produce unpleasant gastrointestinal side effects, such as nausea, constipation, and gastric upset. Additionally, Ferrochel® iron is easier to absorb and less likely to block the absorption of other nutrients, such as vitamin E and calcium.
No fishy flavor: This was a priority for us. It took us a while to get it right, but our vegan and 100% natural omega DHA is derived from a strain of wild-sourced marine algae, initially discovered and isolated from the pristine coastal waters of the Bay of Fundy, Nova Scotia, Canada. Because it undergoes an environmentally-friendly, chemical-free extraction process, it eliminates virtually all traces of taste and odor.
No allergens: It was essential for us to create a product that was free from the most common allergens. We are proud to say our Prenatal Daily Packets are free from milk, eggs, fish, crustacean, tree nuts, soybean, peanuts, wheat yeast, gluten, corn, sodium, sugar, starch, artificial coloring, preservatives, and flavoring.
High-quality ingredients in optimal dosages
Our Prenatal Daily Packets were carefully developed using peer-reviewed studies that reflect the latest research in prenatal nutrition. Led by a board-certified OBGYN, Dr. Kenosha Gleaton, and a registered dietitian-nutritionist, Lauren Manaker, RN, ingredient selection was based on strength of evidence, and the dosages are evidence-based to ensure adequate impact. 
To ensure optimal impact, the dosage of each ingredient was meticulously calculated in accordance with the latest data in prenatal research. Here are some highlights: 
Folate: Uses MTHF folate (not synthetic folic acid), the highest bioavailable folate available for dietary supplements. Folate helps form the neural tube and can help prevent some major birth defects of the baby's brain (anencephaly) and spine (spina bifida).
Vegan DHA: Derived from wild-sourced marine algae and purified to remove heavy metals. DHA supports early cognitive and motor developmental milestones and the formation of a healthy brain and eyes.
Choline: Most prenatals lack choline. But growing evidence of its benefits shows choline improves several pregnancy outcomes and protects against certain neural and metabolic disorders.
Gentle, bioavailable iron: Made with Ferrochel® iron, which is shown to be easily absorbed, causing fewer side effects and less likely to block the absorption of vitamin E and calcium. Iron is critical for building new red blood cells that carry oxygen throughout your body and to a growing baby.
Absorbable calcium: Uses calcium citrate, which is more easily absorbed than calcium carbonate and less likely to cause side effects like gas, bloating, or constipation. Calcium is in high demand in pregnancy and prepares your body to grow new teeth and bones.
Bioavailable magnesium: Uses magnesium malate, a highly bioavailable form of magnesium. Magnesium supplementation during pregnancy may help reduce chances of pre-eclampsia and increase birth weight. Magnesium can also offer benefits outside of pregnancy, including relaxation and bone health. Check out our magnesium powder supplement to learn more.
High potency iodine: Iodine is a necessary element for the production of thyroid hormone. The American Thyroid Association recommends all prenatal vitamins contain 150 mcg of iodine, and ours complies with that recommendation.
Vegan vitamin D3: While most prenatals use vitamin D sourced from lambs' wool, the vitamin D in our Prenatal Daily Packets is carefully extracted from lichen to provide a readily absorbable form of vegan vitamin D3. According to WHO, Vitamin D may reduce the risk of pre-eclampsia, low birthweight, and preterm birth, although more research is warranted.
Nature-identical biotin: A substantial proportion of pregnant women are marginally biotin deficient, although symptomatic biotin deficiency is rare. Our Prenatal Daily Packets are packed with 150 mcg of nature-identical biotin to meet the adequate intake recommendations during pregnancy. For more biotin benefits in a delicious gummy form, check out our hair growth gummies that feature biotin, collagen, antioxidants and more to support postpartum hair health.
Chelated zinc: Formulated with TRAACS® zinc bisglycinate chelate by Albion® Laboratories, Inc. Zinc bisglycinate is superior to other forms of zinc because it is highly bioavailable and easily absorbed. Zinc helps the immune system fight off invading bacteria and viruses. The body needs zinc to make proteins and DNA, the genetic material in all cells. And during pregnancy, the body needs zinc to grow and develop properly.
Affordable because we all deserve access
Let's face it. Getting pregnant, pregnancy, and parenthood itself are all expensive. That's why it was important for us to create an affordable and high-quality prenatal option. We challenged suppliers, packaging partners, and distribution partners to give us the most competitive pricing possible, so that we could carry cost savings on to you. We don't want to pay $100+ a month for our prenatal vitamins, and we don't think you should have to either! We know we aren't the cheapest option, but we're confident in the value of our formula. We all deserve access to a high-quality, affordable prenatal vitamin routine.
Convenient because we're all busy
Who has time to open multiple bottles of supplements, count out the pills, and take them every day? Not us! We conveniently packaged our prenatal vitamin routine into 30 daily packets for moms and bosses on the go! We know you're busy (heck, we are too!) and love that it's simple and quick to toss a daily packet into our purse or work bag and take it later in the day.
Tested for heavy metals
Limiting exposure to toxic elements is important, especially when pregnant. That's why we test our raw materials and use a third-party to test the final product for heavy metals.
This supplement conforms to levels deemed safe by the FDA's current Good Manufacturing Practices as well as California Prop 65. Additionally, our vitamins are manufactured under strict procedures to ensure there is no cross-contamination during manufacturing and storage.
Plastic neutral
We always keep our impact on Mother Earth top of mind, and our Prenatal Daily Packets use 55% less plastic than equivalent supplement bottles.
Plus, like all of our products, it is guaranteed 100% plastic neutral. This means that for every pound of plastic we sell, we remove the equivalent amount of plastic from the environment through our partnership with rePurpose.
We challenge you to find something better
Our vitamins are formulated based on extensive research and use high-quality, ultra-pure ingredients. We encourage you to compare our supplement label to others on the market, and look at what's included (choline, iron, etc.), the quality of ingredients (e.g. as folate vs folic acid), and the dosages. Plus, they are affordable, convenient, and plastic neutral. We are so proud to take this product every day, and offer it to women across the country!