Best Products for Male Fertility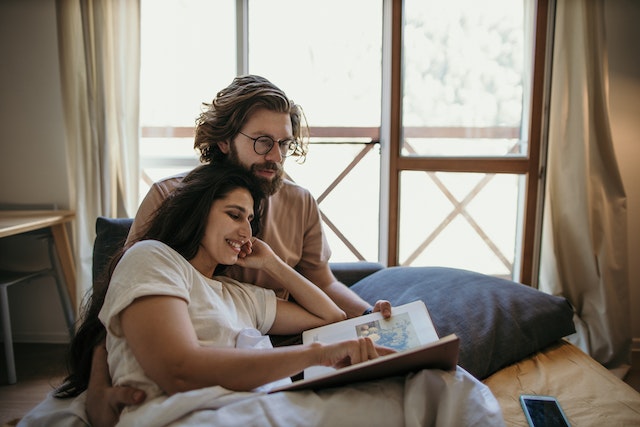 Because fertility outcomes rely on both egg *and* sperm, Natalist is proud to offer products for both men and women trying to conceive. 
By Natalist CEO Vernita Brown
If you're trying to conceive, you've probably already purchased prenatal vitamins, ovulation and pregnancy tests, maybe a DHA or Iron supplement, as well. But is there more that you can be doing to optimize TTC? Why, yes! You see, female fertility is only half of the equation, so we've put together a collection of products that support male fertility. 
Prenatal for him
A high-quality, extensively researched multivitamin for men that has been shown to improve semen quantity and sperm quality in men who are TTC. This prenatal vitamin comes in a monthly subscription, with daily packs to make your vitamin routine even easier.
Formulated with 7 high-quality ingredients, the Prenatal for him contains antioxidants shown to increase sperm DNA fragmentation and live birth, as well as other vitamins and minerals to help with erectile dysfunction (ED) and increase sperm motility. Bundle and save with the Male Fertility Support Bundle! 
The Lube
Natalist's FDA-cleared, fertility-friendly personal lubricant is formulated to simulate the natural environment where human sperm thrive—fertile cervical mucus. This clean, water-based, pH balanced lubricant keeps the little guys swimming so you can increase your chances of TTC. Our paraben-free lube is also free of harmful chemicals that might impact your fertility.
Guide to Male Fertility e-book
Containing nutrition and lifestyle guidance for men who are TTC, the Guide to Male Fertility e-book was written by a urologist and a nutritionist with expertise in male fertility.
Provides an understanding of the father's role in reproduction and how his lifestyle can impact fertility
Offers evidence to support potential enhancement of male fertility through diet and lifestyle
Covers what potential endocrine disruptors could be affecting your fertility. A properly-functioning endocrine system is critical for healthy sperm production and sexual function 
Vitamin D3 Gummies
Our tasty "sunshine" vitamin D3 gummies boost immune function, healthy bones, and healthy teeth. Not only that, but vitamin D supports IVF outcomes, reduces symptoms of PCOS and endometriosis, and is beneficial for men's fertility as well. This systematic review found that vitamin D supplementation can aid in spermatogenesis (sperm production) as well as sperm quality. It may even help with erectile dysfunction— research shows that vitamin D supplementation may help delay the onset of ED—and may even restore normal sexual function to some men when coupled with positive lifestyle changes.
CoQ10
An antioxidant fertility supplement for both of you- CoQ10 supports both egg quality and sperm health. Antioxidants help the body combat reactive oxygen species, which are unstable molecules that easily react and damage other molecules in the cell. If you have too many reactive oxygen species in your body, and not enough antioxidants to neutralize them, it can lead to damage to various tissues, including sperm. Damaged sperm means slower moving sperm that won't be able to get to the egg and fertilize it properly. Research shows that CoQ10 supplementation resulted in improved sperm motility, quality, and quantity. Get CoQ10 in gummy or liquid capsule form!
Fiber
Fiber might not do much for reproductive health, but our fiber supplement is great for improving gut health, constipation, hemorrhoids, and even heart health. Research shows that psyllium (found in our fiber supplement) can help lower cholesterol when paired with a heart-healthy diet. 
These plant-based fiber capsules are great for overall digestive relief, and can be taken with water or added to a smoothie for a healthy start to the day.  
Parent Plans
Natalist's best selling book for couples. Parent Plans is a thought-starting workbook that guides conversation from conception to parenting philosophies. With prompts and activities, you can expect to think and talk about everything from baby names, to values and finances, to birth. Parent Plans was written by parents for soon-to-be parents, and also makes a great gift! Check out our LGBTQ+ edition of Parent Plans. 
Conception 101
Parent Plan's sister book, Conception 101, is an informational guide all about getting pregnant. This guide was written by doctors and scientists and includes practical tools and tips for getting pregnant, as well as tips for preparing your body, mind, and life for a baby. Here's a sneak peak of what you can expect:
Putting the TLC into TTC: how to care for your body and surroundings when trying to conceive.
Know Your Cycle: understanding your cycle, fertile-window, and more.
Fertility Myths: myth busters that will save you time and money.
The Birds and the Bees: some basics that you may have forgotten or missed out on in sex-ed. 
It takes two to tango
We know that conceiving isn't just about female reproductive health, which is why we've created a whole collection of products and articles for male fertility. Whether you're looking to learn about the basics, to testing your sperm health, to the actual baby-making, there are a lot of ways for men to support the fertility journey. 
Up Next:
Shop Products From This Article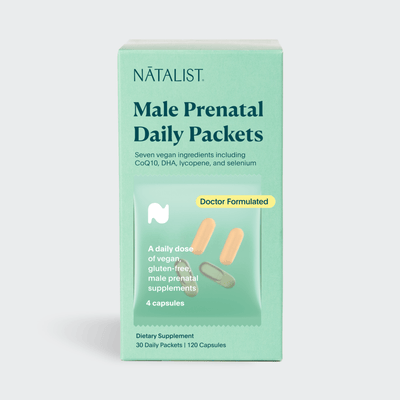 Extra 10% off your first delivery when you subscribe with code SEPT23
$60
Extra 10% off your first delivery when you subscribe with code SEPT23
$125 $110