6 Fish Oil Benefits for Women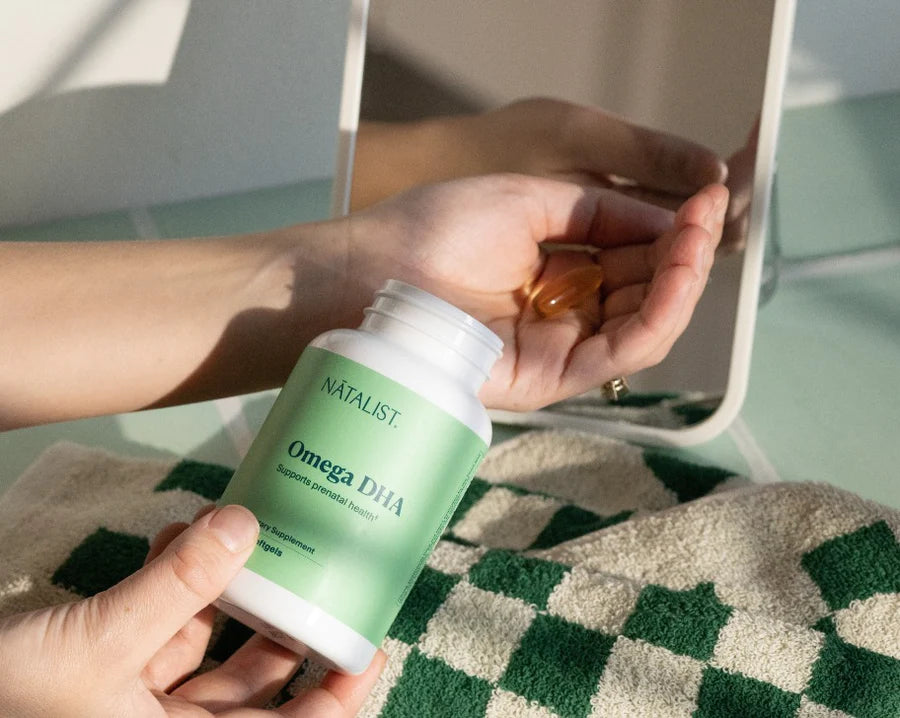 By OBGYN Dr. Kenosha Gleaton
Fish oil can provide many benefits for women/people assigned female at birth (AFAB) outside of maintaining a healthy pregnancy. [1] Read on to learn more about the positive effects of fish oil supplements.
Should Women Take Fish Oil Every Day?
Dietary supplements can be very useful if someone isn't consuming enough of a nutrient through their typical diet. Whether or not you should take a fish oil supplement every day should be a discussion between you and your healthcare provider. The general recommendation for women not pregnant or TTC is to consume at least 1.1 grams of omega-3s every day. [2] Pregnant and breastfeeding women are encouraged to consume at least 1.4 g and 1.3 g every day. [2] This can sometimes be obtained through the diet alone. but a dietary supplement may also be beneficial if you find you are not meeting the recommended intake. Some research suggests that many pregnant women don't meet the recommended omega-3 intake through diet alone, which is why prenatal vitamins and other supplements may be necessary. [3] Speak to your provider about your current diet and whether or not a supplement is right for you. 
Benefits of Fish Oil for Women
Fish oil provides many health benefits, from heart health to skin health. Omega-3s play an important role in hormone production and regulation, vital processes that can heavily influence women's health. [1] Here's what you need to know about omega-3 and fish oil benefits for women. 
Skin Health
Whether you've struggled with acne or you're experiencing dry, dull skin, omega-3 fatty acids may be useful. We've known for a long time that our diet can greatly impact our skin health, and maintaining healthy levels of omega fatty acids is a great example. Because of the important role omega-3 fatty acids play in our cellular membranes and in reducing inflammation, supplementation may lead to improved skin health. [2] Specifically, research shows that supplementing with omega-3s may actually improve the treatment of psoriasis, atopic dermatitis, acne ,and skin ulcers. Data also suggests that omega-3 supplementation may reduce skin cancer rates and the negative side effects commonly associated with certain acne medications, such as isotretinoin. [4] 
Heart Health
Supporting cardiovascular health is one of the most well known benefits of fish oil, and for good reason. Many studies have shown the beneficial effects that fatty fish and other sources of omega-3 fatty acids have on cardiovascular health. Research shows that high levels of EPA and DHA can actually lower triglyceride levels, and a diet high in omega-3s may reduce the risk of various cardiovascular diseases and complications, such as coronary heart disease. [2] Data also shows that omega-3s reduce the risk of arrhythmias and lower blood pressure. Keep reading about fish oil for heart health. 
PMS and Menstruation
Another useful benefit of omega-3 fatty acids is their positive effects on premenstrual syndrome (PMS). PMS is a group of symptoms that is often experienced prior to menstruation and is characterized by mood swings, irritability, bloating, anxiety, and other symptoms. [5] Interestingly, a systematic review concluded that omega-3 fatty acids may reduce the severity of PMS in some people. [6] Research has shown that supplementation may lead to a reduction in depression, anxiety, bloating, headache, and breast tenderness associated with PMS. Research also shows that these benefits are increased with a longer duration of omega-3 supplementation. [7] 
Additionally, research shows that some cases of dysmenorrhea (painful menstruation) may be caused by an imbalance of certain fatty acids. Increasing the intake of omega fatty acids may actually reverse some painful symptoms. 
Cognition and Mood
Some of the highest amounts of DHA in the body are found in the brain. DHA is necessary for proper brain development in babies and has been found to support cognitive function as we age. [2] Most observational studies have concluded that a diet high in omega-3s is associated with a reduced risk of dementia, Alzheimer's, and cognitive decline.  Some research also suggests that when combined with prescription medications, omega-3 supplementation can improve treatment outcomes for patients with depression. [8] As mentioned previously, omega-3s are also useful for reducing depression and anxiety symptoms in some people with PMS. 
Pregnancy Outcomes
Another well known use of omega-3 fatty acid supplements is to support healthy fetal development and pregnancy outcomes. DHA is a key component of our eyes and brain, and is necessary for adequate fetal growth. Research shows that an increased intake of omega-3s during pregnancy can influence infant birth weight, cognitive development, gestational length, and other infant health outcomes. [2] Some data also suggests that omega-3s may benefit fertility outcomes. A study found that omega-3 supplementation can actually increase uterine blood flow, potentially improving pregnancy rates in women with infertility problems. Some evidence also suggests that omega-3s may help prevent preeclampsia, postpartum depression, menopausal problems, and more. [1] 
Cancer Risk
Lastly, there is some evidence from observational studies that higher intakes of omega-3 fatty acids may decrease the risk of various cancers, including breast cancer. One study found that women with the highest dietary intake or tissue levels of omega-3s had about a 14% lower risk of breast cancer than those with the lowest intakes and levels. [2] There is also data that suggests greater consumption of omega-3s is associated with a reduced risk of colorectal cancer. 
These findings have been repeated in a few studies and systematic reviews, however researchers believe that more research is needed. It's also important to note that many other factors, including genetics, environment, and lifestyle factors, can greatly influence someone's risk of cancer. 
FAQs about Fish Oil Benefits for Women
It's normal to have questions or concerns about your diet and supplements. We've put together a list of some general questions and information on fish oil supplementation, but keep in mind that everyone's dietary needs may vary and not all supplements are created equal. You should always consult your provider directly for information on dietary supplements and nutrition. 
When Should a Pregnant Woman Start Taking Omega-3 Supplements?
When to begin and end supplementation should be discussed with your provider. In most cases, it's recommended that all prenatal supplements and nutrients be started a few months before attempting to conceive. Rapid growth and development occurs very early on in pregnancy, before many people may even know that they're pregnant. Ensuring optimal nutrition as early as possible can support positive outcomes. That being said, research shows that the most rapid neural and retinal development (when DHA levels are extremely important) occurs in the second half of pregnancy, so you'll definitely want to encourage healthy omega-3 levels in your second and third trimesters, if not throughout your entire pregnancy. [3] 
Is Fish Oil Safe?
In a majority of cases, fish oil supplementation is considered safe. [2,3] It's important to know where your supplements are sourced from and if the company you are purchasing from adheres to good manufacturing practices. The FDA and European Food Safety Authority have concluded that when used as recommended and within healthy limits, fish oil and omega-3 supplements are safe to use. [2] However, taking high doses of some omega-3s may lead to diminished immune function or increased bleeding. [2] Be sure to follow your provider's instructions for adequate intakes to avoid any harmful effects. 

What Are The Side Effects of Fish Oil?
When taken in large amounts, side effects of fish oil supplements may include reduced immune function and reduced platelet aggregation, meaning there is a risk for prolonged bleeding time. [2] Other reported side effects are usually mild, and include [2]:
Unpleasant taste
Bad breath
Diarrhea
Headache
Nausea
Heartburn
Gastrointestinal discomfort
Fragrant sweat
Fish oil supplements may interact with other medications, such as anticoagulants. Be sure to talk to your provider about any potential medication interactions. 
Natalist's Commitment to Health & Wellness
Adequate nutrition can do wonders for our health. Eating a balanced diet isn't just about maintaining a healthy weight, but research shows that certain nutrients like omega-3 fatty acids and fish oil supplements can lead to lasting positive effects on the body. From improving your heart health to managing uncomfortable PMS symptoms, finding a high-quality fish oil supplement can support your overall wellbeing. Remember that some important nutrients like DHA and EPA can be found in some fish, seeds, nuts, and plant oils. You should always speak to your healthcare provider if you're interested in taking any new supplements. Find more Natalist vitamins and supplements designed for fertility, pregnancy, and postpartum. 
References:
Saldeen P, Saldeen T. Women and omega-3 Fatty acids. Obstet Gynecol Surv. 2004;59(10):722-746. doi:10.1097/01.ogx.0000140038.70473.96
Omega-3 Fatty Acids Fact Sheet for Health Professionals. NIH. February 2023. https://ods.od.nih.gov/factsheets/Omega3FattyAcids-HealthProfessional/
Greenberg JA, Bell SJ, Ausdal WV. Omega-3 Fatty Acid supplementation during pregnancy. Rev Obstet Gynecol. 2008;1(4):162-169.
Thomsen BJ, Chow EY, Sapijaszko MJ. The Potential Uses of Omega-3 Fatty Acids in Dermatology: A Review. J Cutan Med Surg. 2020;24(5):481-494. doi:10.1177/1203475420929925
Premenstrual Syndrome (PMS). ACOG. FAQ 057. May 2021. https://www.acog.org/womens-health/faqs/premenstrual-syndrome
Mohammadi MM, Dehghan Nayeri N, Mashhadi M, Varaei S. Effect of omega-3 fatty acids on premenstrual syndrome: A systematic review and meta-analysis. J Obstet Gynaecol Res. 2022;48(6):1293-1305. doi:10.1111/jog.15217
Sohrabi N, Kashanian M, Ghafoori SS, Malakouti SK. Evaluation of the effect of omega-3 fatty acids in the treatment of premenstrual syndrome: "a pilot trial" [published correction appears in Complement Ther Med. 2023 Mar;72:102919]. Complement Ther Med. 2013;21(3):141-146. doi:10.1016/j.ctim.2012.12.008
Mehdi S, Manohar K, Shariff A, et al. Omega-3 Fatty Acids Supplementation in the Treatment of Depression: An Observational Study. J Pers Med. 2023;13(2):224. Published 2023 Jan 27. doi:10.3390/jpm13020224
Shop Products From This Article