Krill Oil vs. Fish Oil: A Comprehensive Comparison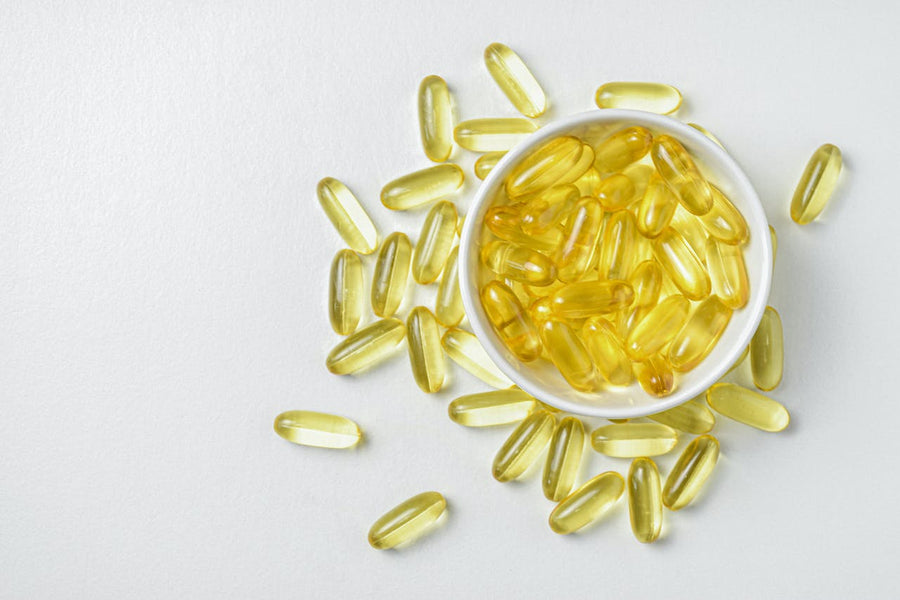 By OBGYN Dr. Kenosha Gleaton
Fish oil is a widely used supplement, often known for its benefits on cardiovascular health. [1] While fish oil can also contain other vitamins, most of the health benefits arise from the high omega-3 fatty acid content. There are several different kinds of omega-3s, but most research is focused on the effects of docosahexaenoic acid (DHA), eicosapentaenoic acid (EPA), and alpha-linolenic acid (ALA). [1] Fish oil contains both DHA and EPA, but not ALA, which is primarily obtained through vegan sources such as plant oils. [1] Read this comprehensive breakdown of DHA vs Fish Oil vs Omega-3s. 
Now that you've had an overview of omega-3 fatty acids, let's discuss the difference between krill oil and fish oil. 
What Is Fish Oil?
Fish oil is a popular supplement and well known source of omega-3 fatty acids, providing high amounts of both DHA and EPA as well as vitamins D and A. [2] Fish oil is derived from the tissues of oily fish like mackerel, tuna, salmon, and herring. Research shows that fish oil can support heart health as well as healthy fetal development. [1] 
Benefits of Fish Oil
Fish oil supplements have many benefits, including [1,3,4]:
Reduces triglycerides
Reduces the risk of some cardiovascular complications
Lowers blood pressure
Reduces the risk of arrhythmias
Improves premenstrual syndrome (PMS) symptoms
Improves skin health and treatment of various skin conditions
May reduce the risk of dementia, Alzheimer's, and cognitive decline
Supports fetal development
Read more about fish oil benefits for women. 
What Is Krill Oil?
Krill oil is similar to fish oil, a dietary supplement that is a great source of omega-3 fatty acids, especially DHA and EPA. [5] Krill oil comes from krill, a small crustacean many people know as whale food. The health effects of krill oil and fish oil are relatively similar, although the fatty acid structure and absorption rate may differ.
Benefits of Krill Oil
While it is a lesser known alternative to fish oil, research suggests that krill oil may have a multitude of similar health benefits, including [6]:
Reduces total cholesterol
Reduces triglycerides
Increases "good" cholesterol levels
Reduces inflammation
Decreases blood pressure
Antioxidant effects
Reduces symptoms of arthritis and joint pain
Improves PMS symptoms
Do I Need to Take Fish Oil If I Take Krill Oil?
Fish oil and krill oil are both rich sources of omega-3 fatty acids. While you may think otherwise, it is possible to consume too much of a good thing (like omega-3), which can lead to negative health effects. [1] Consuming more than the recommended amount of omega-3 may reduce immune system function, suppress inflammatory responses, increase bleeding time, and in some cases, may increase the risk of heart complications. [1,6] 
It's best to stay within the recommended range of omega-3 fatty acids, which is about 1.6 grams a day for men, 1.1 grams a day for women, and 1.3-1.4 grams a day when pregnant or breastfeeding. [1] It's very unlikely that you would need to take fish oil and krill oil at the same time. You should always consult with a healthcare provider if you have questions or concerns about your nutrition. 
Comparing Krill Oil vs. Fish Oil
Because the two are so similar, it can be difficult to determine if one supplement is better than the other. Let's discuss some of the differences and similarities between krill oil and fish oil. 
Bioavailability
One key difference between fish oil and krill oil is the absorption rate in the body. While both are excellent sources of DHA and EPA, some data suggests that krill oil has a higher bioavailability, meaning it can be absorbed faster. [7,8] This increased bioavailability is likely due to the structure of the omega-3 fatty acids. In krill oil, DHA and EPA are found as phospholipids, which differs from the triglyceride form of DHA and EPA found in fish oil. [6-9] The body is able to break down and use phospholipids more efficiently, meaning more chemical reactions can happen in a short time period when supplementing with krill oil over fish oil. [7-9] This being said, krill oil is still a relatively new supplement, and more data is needed to understand its effects. 
Mercury Levels
Fish oil can come from a handful of oily fish tissue, including salmon, mackerel, tuna, and others. Meanwhile, krill oil is likely to be sourced from krill alone. Research is mixed on the likelihood of contaminants or mercury in either krill or fish oil, however, some data does suggest that krill may be less likely to contain high levels of contaminants. [7] There are many factors that can influence the source and purity of a supplement. My advice is to find a reputable brand that is open about their testing practices and is committed to providing high-quality products. Natalist, for example, offers an Omega DHA supplement that is molecularly distilled and manufactured in an FDA-registered and inspected facility. Natalist's Omega DHA supplement is purified to remove arsenic, mercury, lead, dioxins, and polychlorinated biphenyls (PCBs). 
Side Effects
The side effects of most dietary supplements tend to be similar. This includes the potential side effects of fish oil and krill oil [1,6]:
Gastrointestinal discomfort
Diarrhea
Nausea
Heartburn
Bad breath
Unpleasant taste
Headache
Those with seafood allergies may have reactions to fish oil and krill oil. Research also shows that both fish oil and krill oil may have blood thinning effects, meaning those who are planning on having surgery or taking blood thinners should take additional precautions and check with a provider about their supplement routine. [1,6] 
Is Krill Oil Better than Fish Oil?
So, what's the verdict? The truth is, there isn't enough data on krill oil at this time to say for certain if one supplement is better than the other. We know that there may be slight differences in bioavailability and certain health effects, but both are great sources of omega-3 fatty acids. [1,6,8] Krill oil has not been as extensively researched as fish oil for use during pregnancy and breastfeeding, so you should take additional precautions if considering krill oil. [6] As always, speak directly to your healthcare provider to determine the best course of action for your health. Maintaining a balanced and healthy diet is often the best way to consume vital nutrients, including omega DHA, EPA, and ALA. [1] 
Discover Omega 3 DHA Vitamins at Natalist 
Adequate nutrition is so important for our overall health and wellness. Not only does a balanced diet support a healthy body weight, but research shows that certain nutrients like omega-3 fatty acids can lead to lasting positive effects on the body. From improving your heart health to supporting a healthy pregnancy, a high-quality omega-3 supplement is extremely important. Natalist Prenatal DHA softgel capsules offer 300 mg of DHA and 450 mg of EPA, providing the essential fatty acid support you need when TTC or expecting. Natalist DHA is purified to remove arsenic, mercury, lead, dioxins, and PCBs, and is free from yeast, wheat, gluten, and other allergens. Remember to always speak with your healthcare provider if you're interested in taking any new supplements. Find more Natalist vitamins and supplements designed for fertility, pregnancy, and postpartum. 
References:
Omega-3 Fatty Acids Fact Sheet for Health Professionals. NIH. February 2023. https://ods.od.nih.gov/factsheets/Omega3FattyAcids-HealthProfessional/
Mora JR, Iwata M, von Andrian UH. Vitamin effects on the immune system: vitamins A and D take centre stage. Nat Rev Immunol. 2008;8(9):685-698. doi:10.1038/nri2378
Thomsen BJ, Chow EY, Sapijaszko MJ. The Potential Uses of Omega-3 Fatty Acids in Dermatology: A Review. J Cutan Med Surg. 2020;24(5):481-494. doi:10.1177/1203475420929925
Mohammadi MM, Dehghan Nayeri N, Mashhadi M, Varaei S. Effect of omega-3 fatty acids on premenstrual syndrome: A systematic review and meta-analysis. J Obstet Gynaecol Res. 2022;48(6):1293-1305. doi:10.1111/jog.15217
Kwantes JM, Grundmann O. A brief review of krill oil history, research, and the commercial market. J Diet Suppl. 2015;12(1):23-35. doi:10.3109/19390211.2014.902000
Ilic, Mira. A Look at Krill Oil's Benefits. Cleveland Clinic. November 17 2021. https://health.clevelandclinic.org/krill-oil-vs-fish-oil/
Bengtson Nash SM, Schlabach M, Nichols PD. A nutritional-toxicological assessment of Antarctic krill oil versus fish oil dietary supplements. Nutrients. 2014;6(9):3382-3402. Published 2014 Aug 28. doi:10.3390/nu6093382
Ulven SM, Holven KB. Comparison of bioavailability of krill oil versus fish oil and health effect. Vasc Health Risk Manag. 2015;11:511-524. Published 2015 Aug 28. doi:10.2147/VHRM.S85165
Rossmeisl M, Jilkova ZM, Kuda O, et al. Metabolic effects of n-3 PUFA as phospholipids are superior to triglycerides in mice fed a high-fat diet: possible role of endocannabinoids. PLoS One. 2012;7(6):e38834. doi:10.1371/journal.pone.0038834
Shop Products From This Article