Postpartum OCD: Symptoms and Treatment Options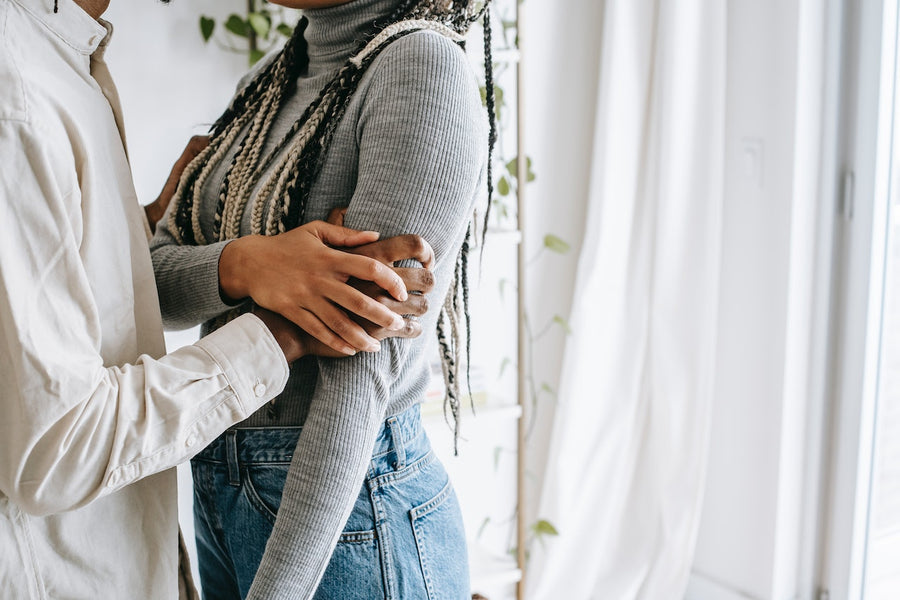 By OBGYN Dr. Kenosha Gleaton
Obsessive-Compulsive Disorder (OCD) is a condition impacting up to 3 million adults in the United States. [1] OCD is often diagnosed between the ages of 8 and 12 or in the late teen to early adulthood years, but can also be diagnosed during or shortly after pregnancy. [1-2] 
What Is PMAD? 
Perinatal mood and anxiety disorder (PMAD) encompasses many different conditions that can impact someone during pregnancy or the postpartum period. [2] This includes postpartum depression, postpartum anxiety, postpartum OCD, and many other conditions. PMAD has been identified in various age groups, cultures, income levels, and ethnicities. The first three months after childbirth are associated with an increased risk of various psychiatric disorders, particularly mood disorders. [3] Read 5 Postpartum Depression Self-Care Tips
What Is OCD?
Obsessive-Compulsive Disorder is a long-lasting condition characterized by uncontrollable, reoccurring thoughts or behaviors. [1] OCD symptoms can interfere with all aspects of life and may come and go, ease over time, or worsen over time. [4] OCD can be treated with medication, therapy, or a combination of the two. While treatments can be very helpful in managing the disorder, symptoms can persevere. [4] 
Obsessions vs Compulsions
Many people confuse obsessions and compulsions, but they are very different. It's common for many people to experience some sort of obsessive thought or compulsive behavior at some point, but those diagnosed with OCD will experience a cycle of obsessions and compulsions that disrupts day to day life, important activities, causes intense distress, etc. [1] Obsessions are intrusive, unwanted thoughts, images, or urges that cause scary or distressing feelings. [1] Compulsions are behaviors that attempt to get rid of the obsessions or decrease distress. [1] 
What Is Postpartum OCD?
Postpartum or perinatal OCD (pOCD) refers to the development of obsessive-compulsive disorder during pregnancy or after giving birth. "Perinatal" is used to define the period of time during pregnancy as well as the first year after delivery. [2] Those with perinatal OCD typically have compulsions or obsessions focused on their pregnancy or infant. POCD typically begins rapidly and can significantly impact the lives of the infant, maternal parent, and the rest of the family. [5] It's estimated that pOCD affects up to 4% of pregnant or postpartum people. [6] 
Although many people with pOCD will have scary or upsetting thoughts, the risk of harm is often low. [3] 
Postpartum OCD Symptoms and Risk Factors
Those that are struggling with pOCD may notice the following signs and symptoms [3,6]:
Intrusive thoughts that are persistent and repetitive and related to the newborn or unborn infant. Examples include thoughts of harming the infant or something bad happening to the infant.
Repetitive compulsions done to reduce a fear or obsession. Common compulsions include cleaning the baby constantly, checking things many times, counting or reordering things a certain number of times. Some people will also adopt avoidant tendencies to decrease distress. 
A fear of being left alone with the infant
Hypervigilant in protecting the infant
Anyone can develop pOCD, however, some people may be at a higher risk than others. [6] If someone has a personal or family history of OCD, depression, panic or generalized anxiety disorder, premenstrual dysphoric disorder, preterm delivery, C-section delivery, or other factors, they may be more likely to experience perinatal OCD. [6] 
When Does POCD Start and End?
The onset of pOCD is typically around a week to three months postpartum. [6] It can sometimes begin after discontinuing breastfeeding or when the menstrual cycle returns after giving birth. POCD can also begin during pregnancy.  There is no telling when pOCD symptoms will end, some people may experience the disorder for a few weeks while others may have it longer. [6] Find out if you should stop taking prescription medications for mental health when trying to get pregnant → 
Postpartum OCD Treatment
If you are experiencing any troubling emotions, feelings, or compulsions, be sure to speak to your healthcare provider right away. They may be able to refer you to medication, therapy, or another useful treatment option. [6] The American College of Obstetricians and Gynecologists (ACOG) also recommends consistent and daily routines consisting of self-care, exercise, and nutritious foods. [6] Social and community support, sleep hygiene, and accepting or asking for help with infant care are all also recommended. [6] 
When to Seek Help
If you have any concerns, questions, or symptoms regarding PMAD or pOCD, you should speak to a healthcare provider. Asking for immediate help from your family and friends can also be beneficial if you feel as though you are a danger to yourself or your baby. Remember that you are not alone and that many pregnant or postpartum individuals experience some kind of mood or anxiety disorder. [2] Your healthcare provider can walk you through your treatment options to find a care plan that works well for you. While symptoms may not go away completely, they can subside with appropriate management options. 
Natalist Products for Postpartum
Even if you have a wonderful support system in your life, the journey through fertility, pregnancy, and postpartum can sometimes feel overwhelming or lonely. Natalist is proudly run by a team of doctors and moms who understand the highs and the lows of parenthood and trying to conceive. If you're in need of a little TLC, we've got you covered. Shop our collection of postpartum products, including our postpartum essentials bundle or breastfeeding kit. Don't forget to speak to your healthcare provider before using any new products while pregnant or breastfeeding. 
References:
Hudak R, Wisner KL. Diagnosis and treatment of postpartum obsessions and compulsions that involve infant harm. Am J Psychiatry. 2012;169(4):360-363. doi:10.1176/appi.ajp.2011.11050667
Perinatal Mental Health. American College of Obstetricians and Gynecologists. Accessed August 2023. URL. 
Hudak R, Wisner KL. Diagnosis and treatment of postpartum obsessions and compulsions that involve infant harm. Am J Psychiatry. 2012;169(4):360-363. doi:10.1176/appi.ajp.2011.11050667
Obsessive-Compulsive Disorder. NIH. September 2022. URL. 
Abramowitz, J. Postpartum and Perinatal OCD.  International OCD Foundation (IOCDF). URL. 
Summary of Perinatal Mental Health Conditions. ACOG. Accessed August 2023. URL. 
PREGNANCY OR POSTPARTUM OBSESSIVE SYMPTOMS. Postpartum Support International. Accessed August 2023. URL. 
Shop Products From This Article
Subscribe & Save $7.00
Extra 10% off your first delivery when you subscribe with code SEPT23
$85 $68