The Benefits & Side Effects of Taking Biotin Supplements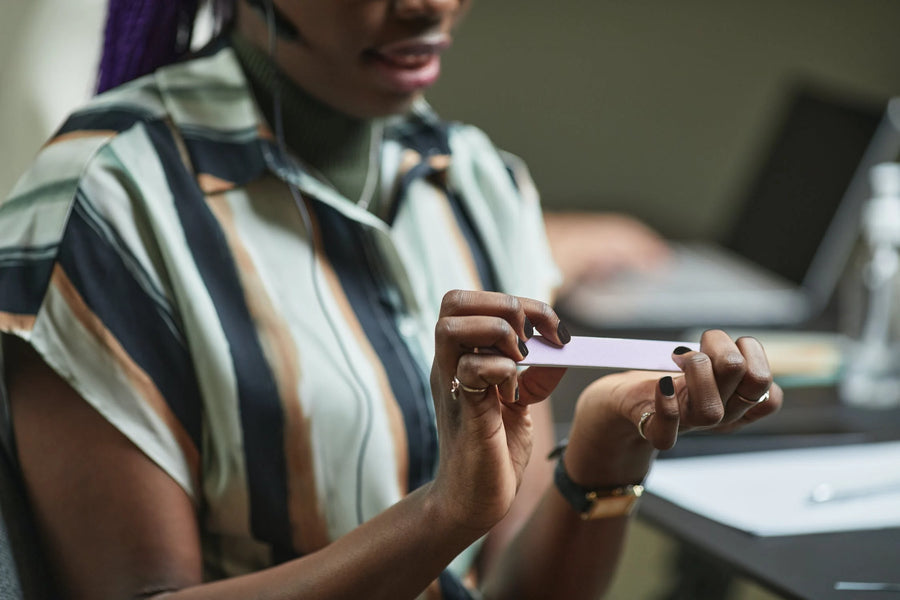 Originally published 01/20/2023. Updated for accuracy and relevancy on 08/06/2023.
By OBGYN and fertility specialist Dr Kenosha Gleaton
Biotin supplements can be helpful for supporting hair growth, heart health, fetal development, and more. Like most supplements, there are some potential side effects you may want to know about. Let's take a look at the benefits and side effects of biotin supplementation.  
What Is Biotin?
Biotin, also referred to as vitamin B7, is a naturally occuring nutrient that is necessary for cell regulation, cell signaling, protein modifications, and more. [1] Biotin also helps the body break down carbs, fats, and proteins and can be found in food sources such as salmon, beef liver, milk, eggs, avocados, and more. [2] Without biotin, body processes wouldn't function properly and we would experience brittle nails, skin rashes, and hair loss.
Benefits of Biotin Supplements
Aside from its important roles in metabolism and cell signaling, there are a lot of other benefits you may notice from supplementing with biotin, including:
Improved Heart Health
Research shows that biotin can be helpful for cardiovascular health by reducing low-density lipoprotein (LDL) cholesterol, the cholesterol responsible for blocking arteries and potentially causing heart disease or stroke. [3-4] Research shows that biotin also has a positive effect on regulating blood sugar through its metabolism of glucose and other fatty acids. [5] 
Healthy Pregnancy
Did you know that pregnant and breastfeeding individuals are at a higher risk of having a biotin deficiency? It's rare for anyone to be biotin deficient, but increased demand during pregnancy does slightly increase the chance. Biotin is a necessary nutrient for a healthy pregnancy and fetal development. [6] Talk with your healthcare provider and check whether your prenatal vitamin routine includes biotin. 
Hair, Skin, and Nail Health
Perhaps its claim to fame, biotin is commonly sold alongside collagen to help with hair and nail growth. It's true that biotin deficiencies can cause hair thinning, skin rashes, and brittle nails. A double blind study found that daily oral supplements, including biotin, resulted in hair growth, hydrated skin, increased elasticity, and stronger nails. [7] While not everyone will experience a difference in hair, skin, or nail health, some populations with lower biotin levels or increased hair loss may see benefits. [1] For those experiencing hair loss during pregnancy as well as post natal hair loss, talking with your healthcare provider about your biotin intake may be beneficial.
Shop Biotin Plus Gummies, formulated with collagen and antioxidants!
Does Taking Biotin Have Any Negative Side Effects?
Biotin is naturally occurring and considered safe for most people. [1] Reported side effects of biotin supplementation are low, but there are some potential side effects you should be aware of. [1]
Upset Stomach
It's possible that taking any medications or supplements could cause an upset stomach or nausea, especially if taken without food. [1] To avoid this side effect, try taking your vitamins with a meal and drink plenty of water.
Interference With Lab Results
In 2017, the FDA released a warning related to biotin supplements impacting laboratory blood tests. [2] Biotin is still considered safe and nontoxic; however, high levels of biotin through supplementation may impact the results of certain markers, including vitamin D, thyroid-stimulating hormone, and troponin. This could lead to a misdiagnosis or unnecessary treatment, which is why it's essential to always give your healthcare provider an up-to-date and comprehensive list of all of your medications and supplements. 
Biotin Dosage
How much biotin is there in a biotin supplement? This can vary depending on the brand and type of supplement you're taking. For instance, many prenatal vitamins and postnatal vitamins will contain some biotin as well as other ingredients. Luckily there is no established upper limit of biotin, so it's hard for the general population to take "too much" of it. [2] The FDA does warn that high doses of biotin (over 35 mcg/day) may be dangerous to infants, so pregnant and breastfeeding women should consult their healthcare provider before taking a biotin supplement. Biotin is also water-soluble, meaning your body can shed excess biotin fairly easily. The most important things to remember are to always follow the instructions on the packaging of your supplement, and to talk to your healthcare provider about any supplements you are taking or plan to take.
What to Avoid While Taking Biotin
There are no reported interactions with biotin supplements at this time, including no known herbal interactions. It is recommended that anyone taking anticonvulsants discuss their biotin dosage with a healthcare professional, as anticonvulsants can increase biotin requirements. [1] 
Key Takeaways
B7, also known as biotin, is a naturally occurring nutrient that aids in cell regulation, cell signaling, metabolizing, and more.
Biotin may have positive effects on heart health by reducing bad cholesterol and regulating blood sugar.
Biotin is vital for a healthy pregnancy and fetal development.
Hair, skin, and nail health may also benefit from biotin supplementation. 
Side effects of biotin supplements include an upset stomach and potential interference with lab results. 
Biotin is considered a safe supplement and there is no established upper limit.
Sources:
Biotin Fact Sheet for Health Professionals. National Institutes of Health. January 2022. URL. 
Biotin – Vitamin B7. Harvard Health. March 2023. URL. 
Revilla-Monsalve C, Zendejas-Ruiz I, Islas-Andrade S, et al. Biotin supplementation reduces plasma triacylglycerol and VLDL in type 2 diabetic patients and in nondiabetic subjects with hypertriglyceridemia. Biomed Pharmacother. 2006;60(4):182-185. doi:10.1016/j.biopha.2006.03.005
LDL Cholesterol. Cleveland Clinic. October 2022. URL. 
Fernandez-Mejia C. Pharmacological effects of biotin. J Nutr Biochem. 2005;16(7):424-427. doi:10.1016/j.jnutbio.2005.03.018
Mantagos S, Malamitsi-Puchner A, Antsaklis A, Livaniou E, Evangelatos G, Ithakissios DS. Biotin plasma levels of the human fetus. Biol Neonate. 1998;74(1):72-74. doi:10.1159/000014012
Glynis A. A Double-blind, Placebo-controlled Study Evaluating the Efficacy of an Oral Supplement in Women with Self-perceived Thinning Hair. J Clin Aesthet Dermatol. 2012;5(11):28-34.
Shop Products From This Article
Extra 10% off your first delivery when you subscribe with code SEPT23
$120 $110